A black swan is born at Loro Parque in Tenerife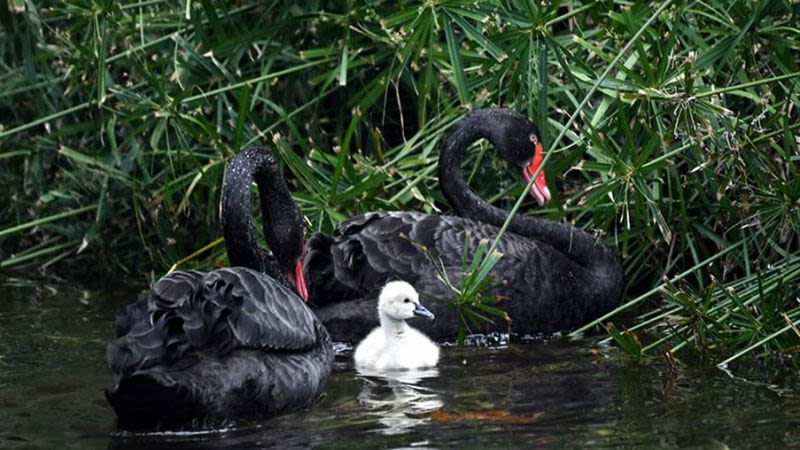 The Lake Thai at Loro Parque has recently had a new occasion for celebration. This time, it is the family of the black swans or Cygnus atratus, which has increased by a new member. These majestic birds have recently laid several eggs, which have been at the center of attention of the keepers of the park. Now, the birth of a new chick have brought joy both to the swan family and the team that watches after the birds.
The new chick is perfectly healthy and enjoys everybody's attention and affection. The visitors of the park may already observe him swimming with his family in the beautiful Lake Thai, which is home to many different species of birds and vegetation. Among them, a special attention is received by a numerous group of brightly coloured Koi carps, which come in direct contact with the black swans.
The black swans which usually breed during the rainy season, and this time was no different. These majestic birds normally build a nest using aquatic vegetation, which can measure up to two metres in diameter and one metre in height. Both parents are in charge of giving care to their offspring, and this period normally lasts 9 months since the moment of the hatching. They lay between 4 and 8 eggs, and the incubation lasts between 35 and 40 days. This is exactly the process in progress, and one of the first results is the birth of the new chick.
As for the appearance of these noble birds, their black feathers contrast significantly with the bright red colour of their peaks. They are exclusively herbivores, do not migrate and, like other swans, are characterised by their monogamy, as they maintain a life-long relationship with their couples.
Considering that breeding is one of the natural animal behaviors that take place when all the animals' needs and necessities are properly fulfilled, this new birth confirms the excellent well-being of these birds in Loro Parque.