Visit Alcala, Tenerife: Things to do, Beach, Hotels & Events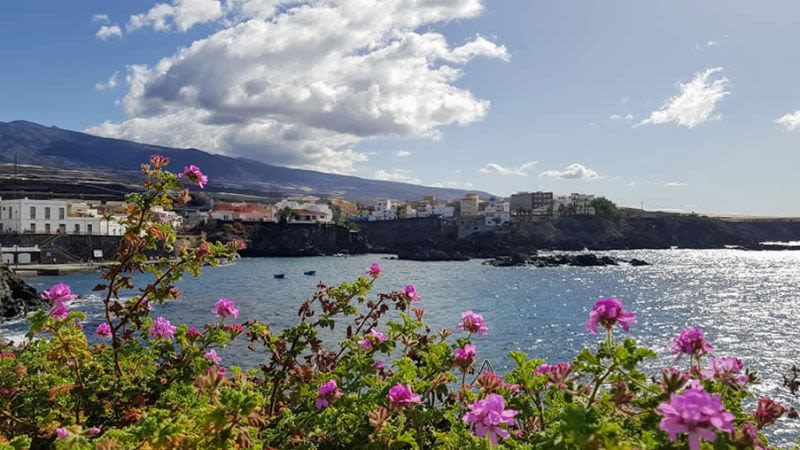 Alcala is one of the population centers in the municipality of Guia de Isora. Its original settlements are to be found next to a small coastal cove, on top of a flat terrace. It was initially a tiny dwelling area for 52 inhabitants, who lived in 11 single-story buildings (this was around the 1850s).
Dwellers in this first settlement worked as goat herders, fishermen, and cereal farmers on generally poor or arid lands. By 1950 the population had risen to around 350 inhabitants, mostly young children and elderly people, as the young adults had moved to other parts of the island looking for work, and some even immigrated to Venezuela.
Alcala started changing at first when the banana plantations appeared in the area and then in the '90s and early 2000s when new buildings were built and the town expanded.
Things to do in Alcala, Tenerife
Nowadays Alcala is a seaside town in Tenerife, where many residents live. There are some tourists, but not as many as in the neighboring Playa San Juan or Playa La Arena.
The weekly market and the promenade attract some crowds during the daytime, so it's a nice spot in Tenerife for those who are looking for the warm and sunny weather of the south, without the madness of the big resorts like Costa Adeje.
Best villas and apartments in Alcala
Hotels in Alcala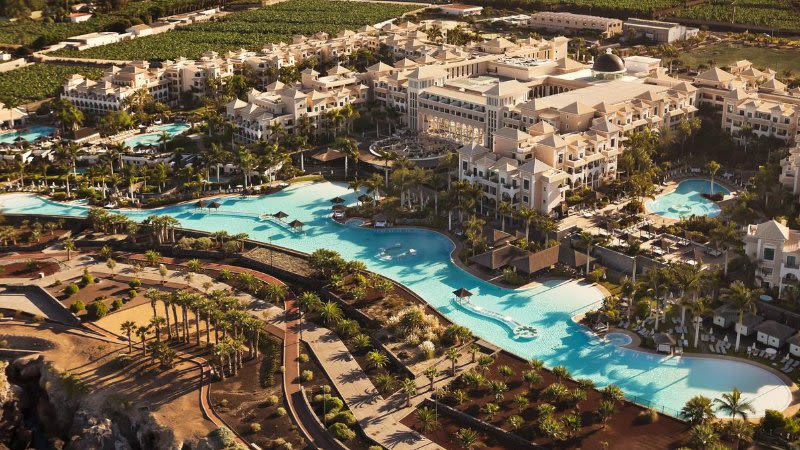 Alcala is where the renowned hotel Gran Melia Palacio de Isora is located.
Gran Melia Palacio de Isora is a luxury hotel, situated in a quiet area, right by the beach. It's one of the top luxury hotels in Tenerife, with an enormous saltwater pool and many extraordinary facilities. It is located in a quiet location in Tenerife, away from noisy resorts like Playa de Las Americas.
Beach in Alcala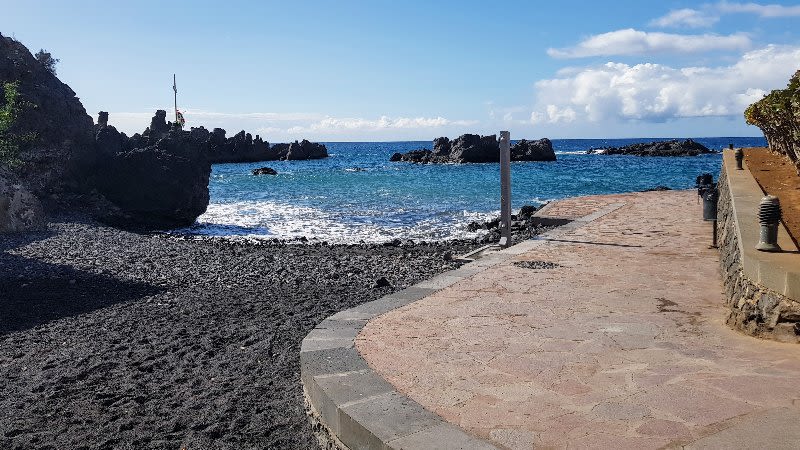 There is just a small pebble beach just off the main town square and a promenade with benches along the coast, ideal for walks. Most sunbathers sit on the benches and go in the ocean using some sets of stairs which are installed in the area.
There is a shower on the beach and depending on the season, the beach in Alcala is good for snorkeling and swimming.
Playa La Jaquita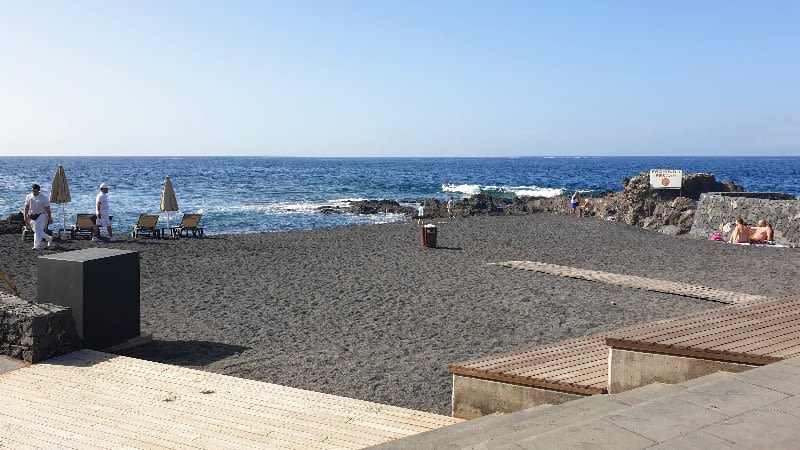 This is a blue flag beach, located near Gran Melia Palacio de Isora hotel. In this area, you'll find many natural pools with shallow water mostly and other small beaches which form what is known in Spanish as Playas y calas de La Jaquita.
Natural pools in Alcala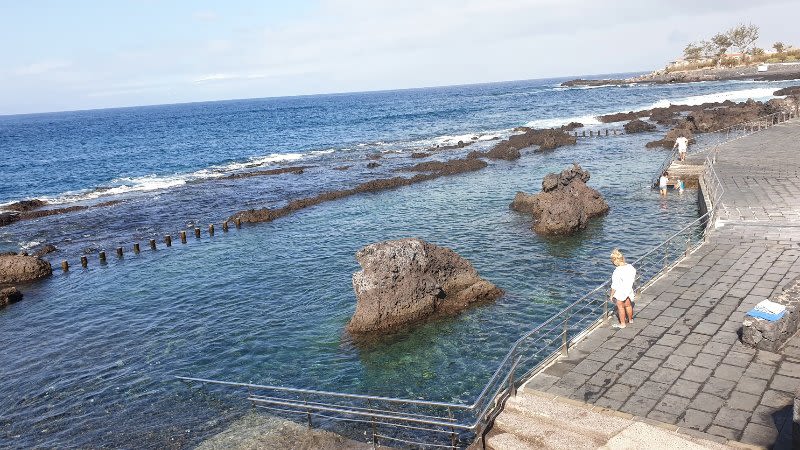 The natural pools are located close to Playa La Jaquita and they are a fun place to swim when they are filled up with water during high tide. The great thing about the natural pool in Alcala is that they can also be used during the winter months on most days.
They are some of the most popular natural pools in Tenerife, since the authorities have improved the safety and the swimming conditions here, so many families with kids come here for a swim in order to avoid the strong current that can happen along this part of the coastline.
Market in Alcala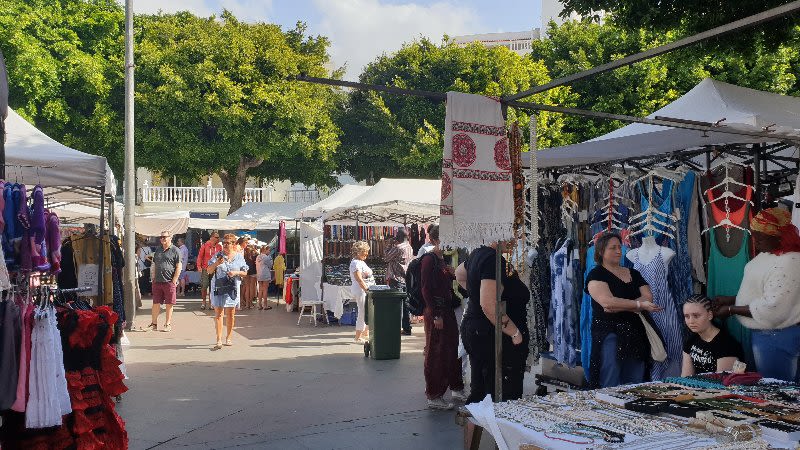 There's a traditional Market on Mondays in Alcala from 8 am to 1 pm in Plaza del Llano.
You can find locally grown fruits and vegetables, clothes, souvenirs and other types of produce.
Fiestas and events in Alcala
There is something about small town celebrations. They are more authentic than the big parties and events organized in popular tourist areas.
We participated in the 2018 edition of Fiesta del Son in Alcala and it was a lively party, with Cuban music, all people dressed in white, good food and a great atmosphere. We really enjoyed the cocktails and the churros from Churreria Alcala, which are the best churros in Tenerife in our opinion.
We encourage you to look out for events in Tenerife during your stay and if you see one in Alcala, give it a go for something different during your holiday.
Where is Alcala & how to get there
Bus lines in Alcala: 473, 477, 494, 494
Alcala is also easily accessible by car. It is located very close to both Playa San Juan and Puerto de Santiago, via TF-47. During the daytime, the traffic can be congested, due to the pedestrian crossings in town.