8 Best Beaches in Tenerife - Most beautiful beaches in the South & North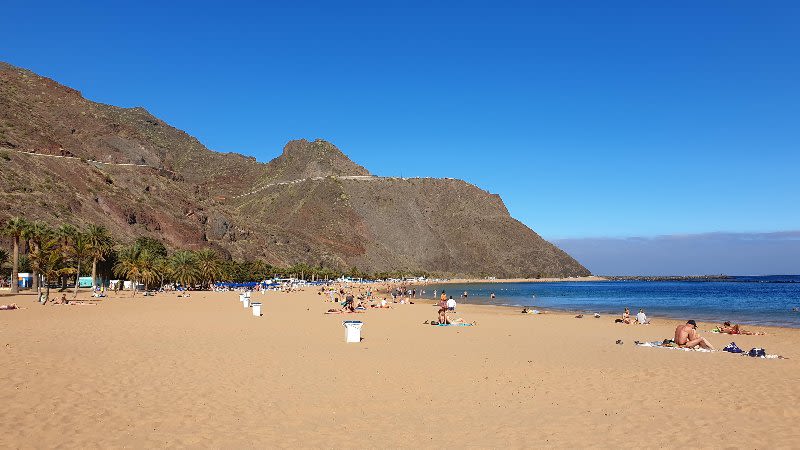 Tenerife is a great destination for a sunny holiday, but the island is of volcanic origin, which means that there are many beaches with black volcanic sand.
Best beaches in Tenerife South
The south is where most of the tourists visiting Tenerife are staying, so the beaches here are among the top beaches in Tenerife in terms of facilities, access to shops, bars and restaurants and also activities for children.
Best white sand beaches in Tenerife
Tenerife is known for its black sand beaches since it's a volcanic island, but you'll also be able to find some nice beaches with golden sand, usually in the south part of the island.
1. Las Vistas Beach - Best beach in Los Cristianos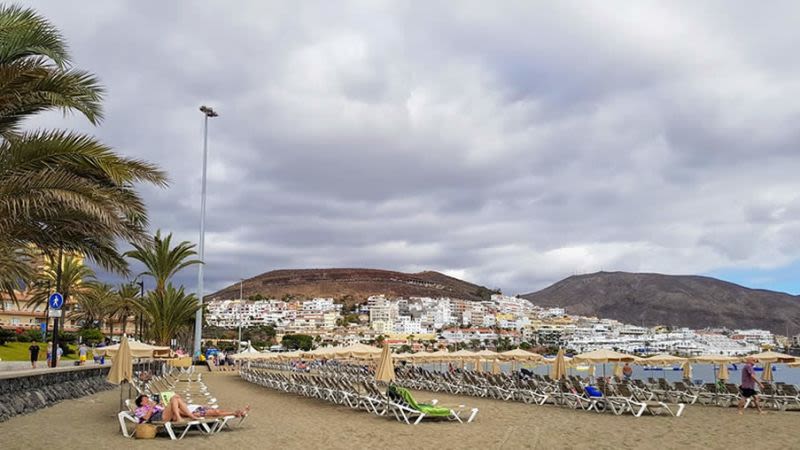 Playa Las Vistas is probably the most popular one in Los Cristianos and it's a white sand beach, man made, with all the facilities you need.
There are lots of shops nearby, Vista Sur shopping center is just a few steps away, so it's a really great beach to spend your days since you have everything you may need in close proximity.
The water is shallow near the shoreline, so it's great for kids; there aren't many waves and there are some inflatables in the water (but we are not sure if they are there all year long or how much it costs to use them).
2. Playa Torviscas
Playa Torviscas is another great beach in Costa Adeje, with calm and clean water, ideal for swimming. It is a great spot to relax and enjoy the beautiful weather and it's situated in a more upmarket area. You have many other beaches nearby, like Playa Fanabe, Playa del Duque and Puerto Colon beach.
3. Puerto Colon Beach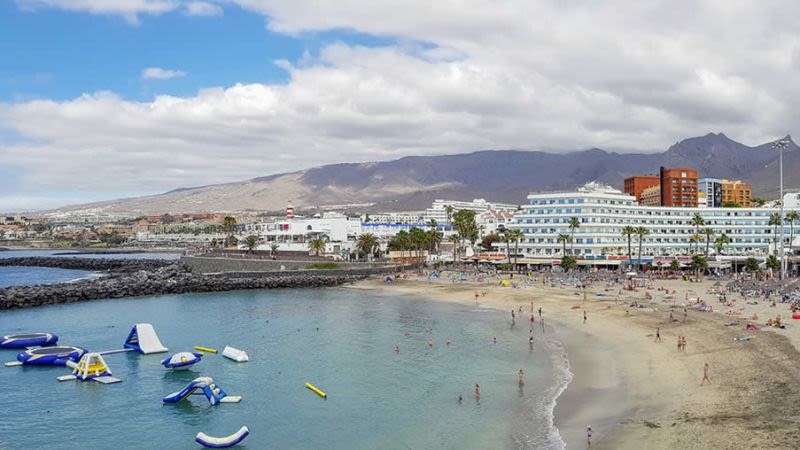 We really like this beach, with its clear and calm water, sometimes with a turquoise shade close to the shoreline. It is one of the top beaches in Tenerife for families with small children (in our opinion). You also have inflatables in the water, which will keep the kids busy for a few hours and give them something to do, while you can enjoy a beer or a cocktail. We fell like this beach has a more relaxed vibe compared to other nearby beaches, but you still have plenty of restaurants and shops in the proximity.
4. El Medano Beach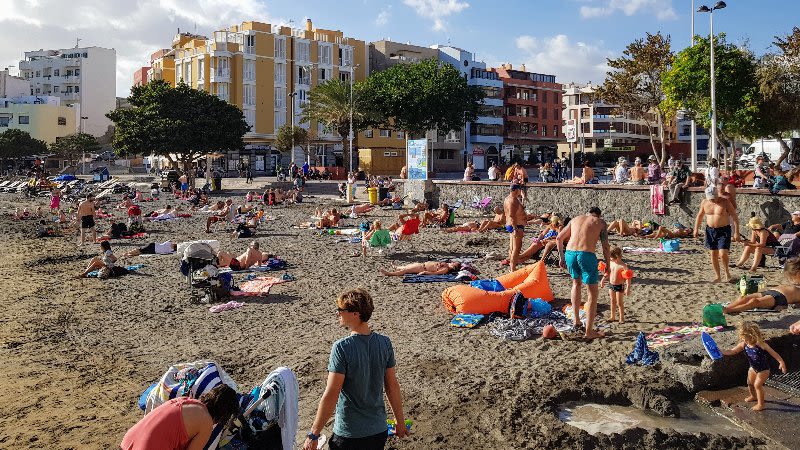 The coast in the area of El Medano is much windier compared to the south, but you do get some spectacular views and long natural beaches to walk and even practice water sports, such as kite surfing or surfing.
The town beach is usually busy and full of tourists, but you only have to walk for a few minutes to find a more quiet and remote spot if you want to escape the crowds.
5. Playa de las Teresitas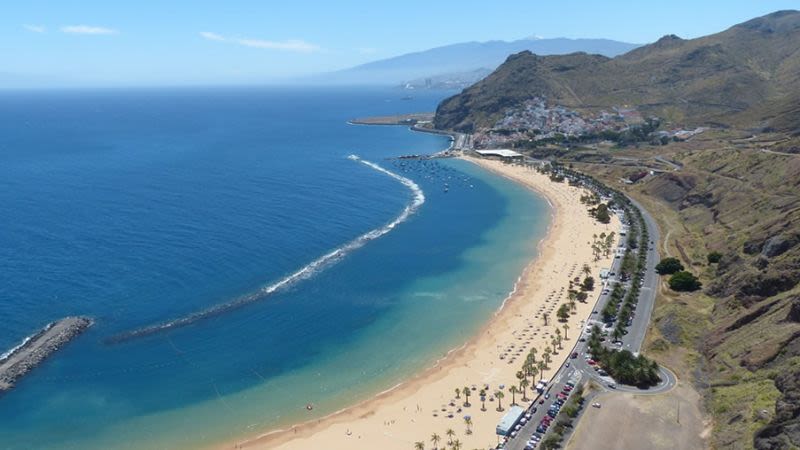 This beach is not in the south of the island, but it's definitely one of the best white sand beaches in Tenerife (the sand is actually more golden color).
As we said in the beginning, Tenerife doesn't get many natural beaches with light-colored sand, so Las Teresitas is a man-made beach, with sand imported here from Africa, beautiful palm trees, luxurious sand beds and all the facilities that you can think of.
We recommend you to go here especially in the summer months, up to late October and even November, if you want to spend time sunbathing on the beach. If you only want to visit and take a walk, admire the view, you can also come here during the winter months, especially if you pick a sunny day for your visit.
Black sand beaches in Tenerife
We know than many people don't like the black sand beaches that are specific to Tenerife, but there are a few beautiful ones, that should not be missed.
We actually love these beaches that are so typical to Tenerife, as they usually have a wild vibe and come with dramatic scenery, very different from the beaches situated in the resorts.
6. Playa La Arena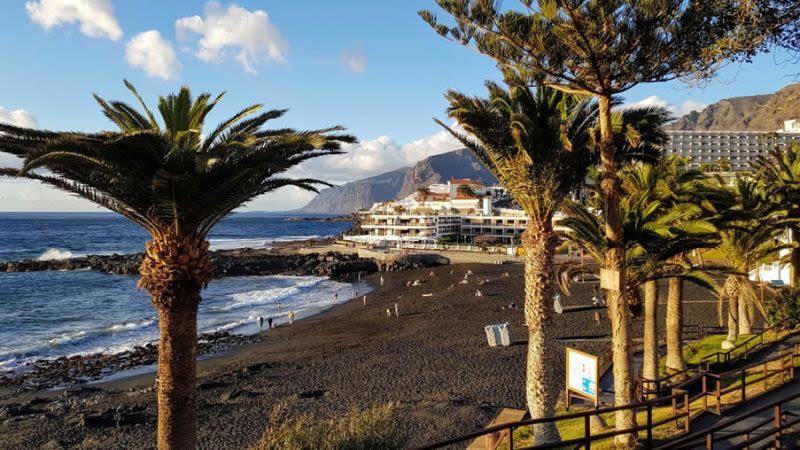 Playa La Arena probably the most beautiful and popular black sand beach in the south of Tenerife.
Although swimming at this beach is considered dangerous (and it's often forbidden by the red flag put up by the lifeguards), the dark black sand, the palm trees and the view of La Gomera, all make this a wonderful place to spend the day.
7. Playa Jardin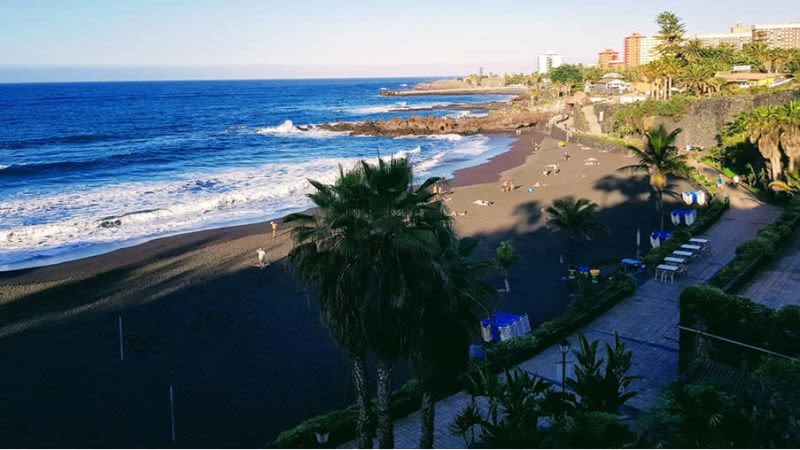 Puerto de la Cruz is the best place to stay in Tenerife if you don't want to be in the south and Playa Jardin is one of the many reasons why you should at least visit this place during your holiday.
The layout of the beach was designed by Cesar Manrique and there are lots of elements that make this place so special: a waterfall, a bridge, flowers, and palm trees.
8. Playa de Benijo
This is one of Tenerife's best beaches, wild and remote and it's situated in the North, inside Anaga Rural Park.
Playa de Benijo is super popular among photographers and it's one of those picture perfect places that you see in magazines. The currents and waves are usually strong at this beach, so swimming is dangerous and not really recommended.
During the summer it gets a fair share of visitors, but it's quiet and empty for the rest of the year. You have to walk for around 15 minutes to get to this beach (by going down some stairs), so it's not a beach with easy access since there's no parking either and you have to leave your car on the side of the road.
Want to discover more amazing am beautiful beaches in Tenerife?

Read more about the island's natural treasures in our article about 101 Beaches in Tenerife.