Best Hikes in Tenerife - Our Top 5 Favourite Hiking Trails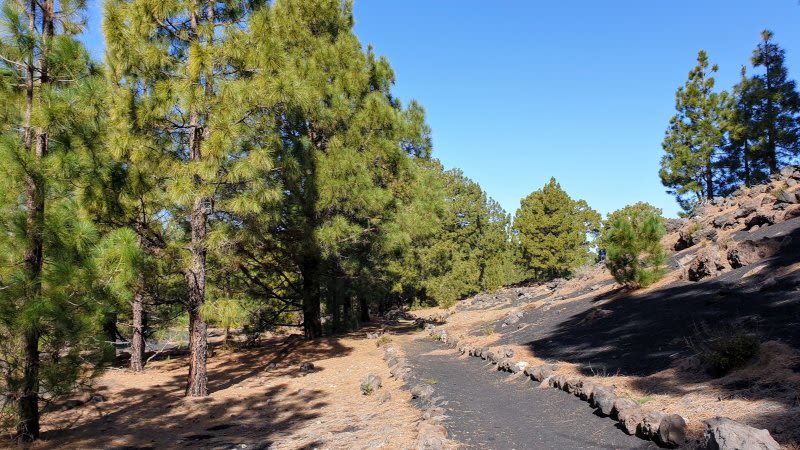 Most people come to Tenerife for the sunshine and to enjoy the beaches. But Tenerife is much more than this. We absolutely recommend exploring the forests and the trails on the island, as you will probably be amazed by the beauty that you'll discover when hiking in Tenerife.
In fact, there are so many hiking trails in Tenerife that you could stay here for a year and still discover some new paths every day.
Hiking in Tenerife South
The great thing about hiking in Tenerife is that the weather is pleasant and warm all year round and you can see many different landscapes on this island that is characterized by great natural diversity.
Barranco del Infierno
Located in the town of Adeje, this ravine is easily accessible for anyone staying in the south of the island.
Since Barranco del Infierno is a protected nature reserve, only 300 people are allowed to visit this place each day.
So you will have to book online and pay a fee of 8,5 Euros / adult and 4,25 Euros/child. This is the only trail that we know of in Tenerife where you have to pay in order to have access to it.
Best Circular Hikes in Tenerife
The great thing about circular hikes is that at the end of the day you end up where you started, without having to walk on the same path twice.
This is especially helpful if you are traveling by car and you have to get back to your car after finishing the hike.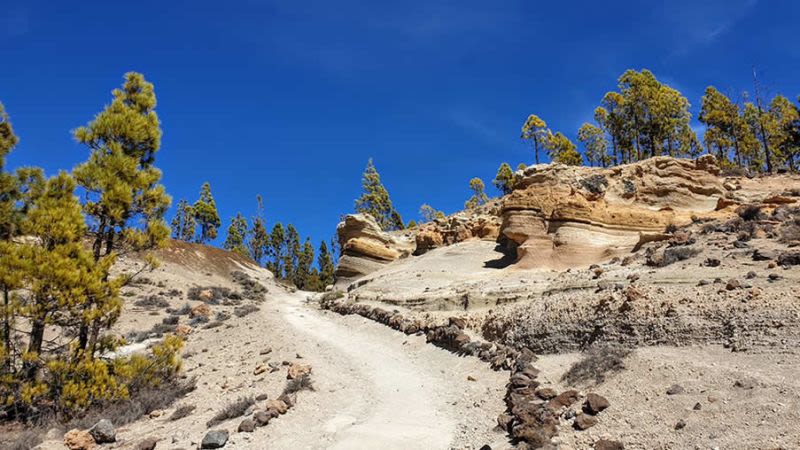 Vilaflor Lunar Landscape - Paisaje Lunar de Vilaflor
This hike starts in Vilaflor, the highest village in Tenerife. It takes you to a place known as the Lunar Landscape, due to its moon-like aspect. PR-TF 72 is an approved hiking trail in Tenerife, which means that it is well signposted trail and you can easily do it just by following the signs along the way. We also recommend using an app on your phone (we use the AllTrails app).
This hike goes through a pine forest and when you get to the highest point, if the day is clear, you will be able to see Gran Canaria, one of the other Canary Islands.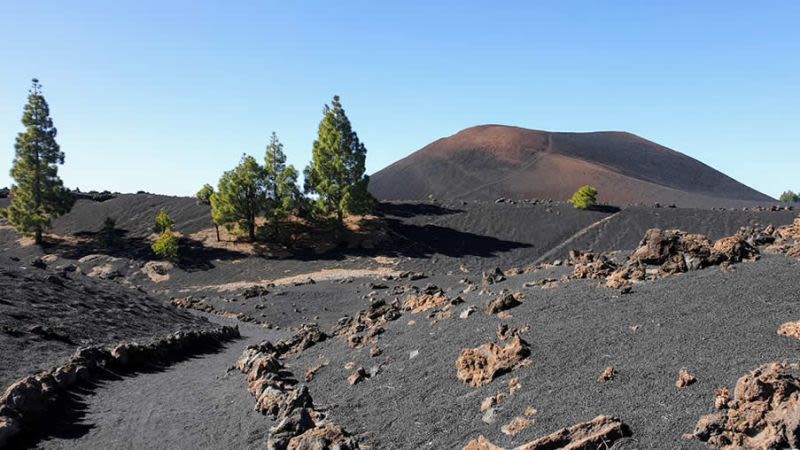 Chinyero Walk - A beautiful and easy hike in Tenerife
Chinyero Loop is actually more of a circular walk since you don't have to climb a lot during the course of this trail.
The Chinyero hike is one of the easiest hikes in Tenerife, recommended even to families with children. You will walk around the Chinyero volcano, following a path through the site of the most recent volcanic eruption that took place in Tenerife.
This trails is mostly flat and will take you through different types of landscapes, plus you will have several viewpoints from where you can observe Mount Teide.
Alto de Guamaso - The easiest hike in Tenerife inside Teide National Park
We actually did the shorter version of the Alto de Guamaso hike, since we did not start at El Portillo, instead, we kept driving for under 1 km until we reached a small parking where we could leave the car and start our walk. We explained everything in our dedicated article (just click on the link above).
Part of this path is also accessible for wheelchairs.
This is quite an easy hike and also a short one. You will have the opportunity to see the Orotava Valley from above (and maybe also the sea of clouds, a phenomenon that often happens in this area). As you go around the trail you will also see Mount Teide in all its might, although we were a bit unlucky as we did this hike on a day with calima, which is why it looks so hazy in our photos.
Hiking in the North of Tenerife
The North of Tenerife is home to some of the most magical hiking trails on the island.
Anaga is best discovered on foot and there are so many hiking trails in this part of Tenerife that you could spend an entire summer exploring these mountains and forests. But if you don't have a lot of time and you want to see the best of Anaga and the most wonderful trail there is, then we recommend that you go to El Pijaral.
El Pijaral - Hiking in Anaga's Enchanted Forest
Attention!
You need a permit in order to do this hike. The permit is free, but you will need to book ahead of time since there are only 45 permits per day available. Click on the link above to go to the dedicated page where we explain how you can obtain the permit.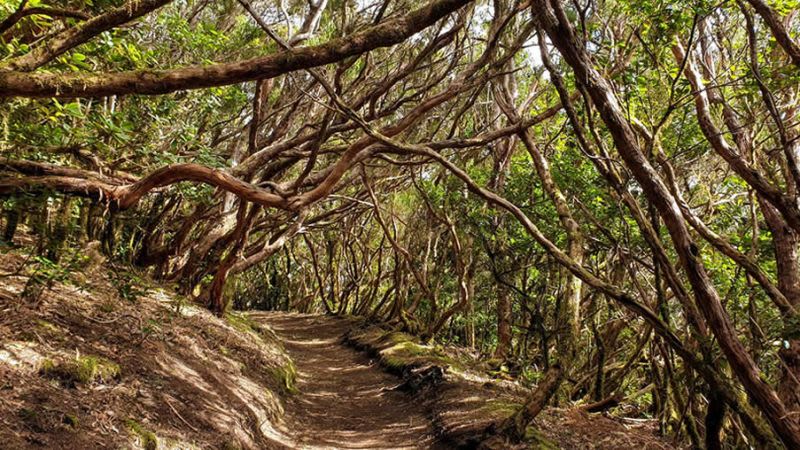 This magical hike will take you through the laurel forest also called the "Enchanted Forest". The pictures really don't do it justice, as this place is really like a fairy tale forest. The forest trail leads to a viewing point with a spectacular view over the beaches of Anaga. This is also a circular hike and you will go around the forest in order to get back to the car.
If you don't have a permit you can skip the hike through the forest (that's the only part of the trail for which you need a permit since the forest is a protected natural space) and you can come of the other route straight to the viewpoint. You can read more in our dedicated article, where we explain everything in detail.
Choose an easy trail for your first time hiking in Tenerife
As you can see, there are many hikes that you can do in Tenerife and these are just some to get you started if you are a novice, or it's just your first time thinking of exploring Tenerife on foot.
You can start by doing the Chinyero Volcanic Walk, which is one of the easy hikes in Tenerife to get you familiar with the terrain here. This is also quite a scenic route, with wonderful views of Mount Teide and portions of the trail that will take you through a pine forest.
We recommend that you wear proper hiking shoes since the terrain is rough on most places and safety must come first. If you go on approved trails they are well signposted and it would be hard to get lost, but we still recommend using a map or at least an app on your phone (keep in mind that in some places you will have no internet connection - this was the case for the forest hike in Anaga and also part of the Lunar Landscape hike).