15 Best Places To Stay in Playa Las Americas: Apartments & Hotels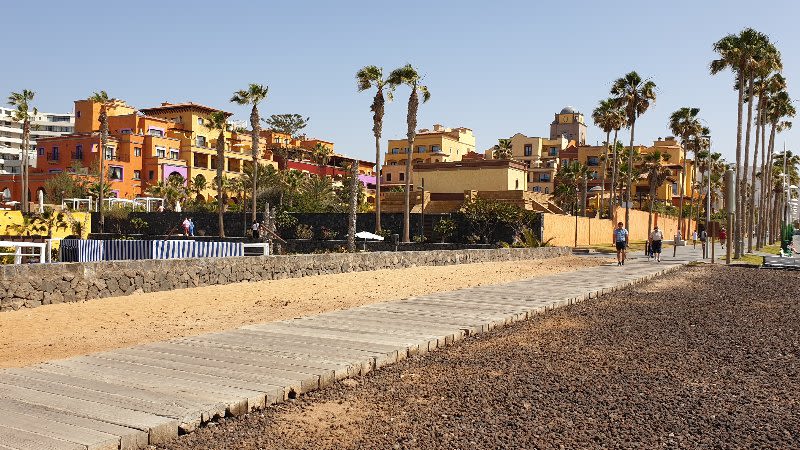 Playa de Las Americas is probably the best-known resort in Tenerife and here you have lots of opportunities for nightlife, entertainment and day trips, as it is close to all the main attractions in the south.
Playa de Las Americas is a lively resort, ideal for first-time visitors to Tenerife who wish to stay in a lively place, with plenty of opportunities for nighttime entertainment. From bars with live music to nightclubs and fun pubs, Las Americas has it all. It is an ideal resort for young couples and groups of friends who wish to enjoy the best nightlife in Tenerife.
Best places to stay in Playa de Las Americas
5 Best Apartments in Playa de Las Americas
There are some really beautiful holiday apartments in Las Americas, where you can have privacy and all the comforts of a real home, like a fully furnished kitchen, where you can cook some of your meals.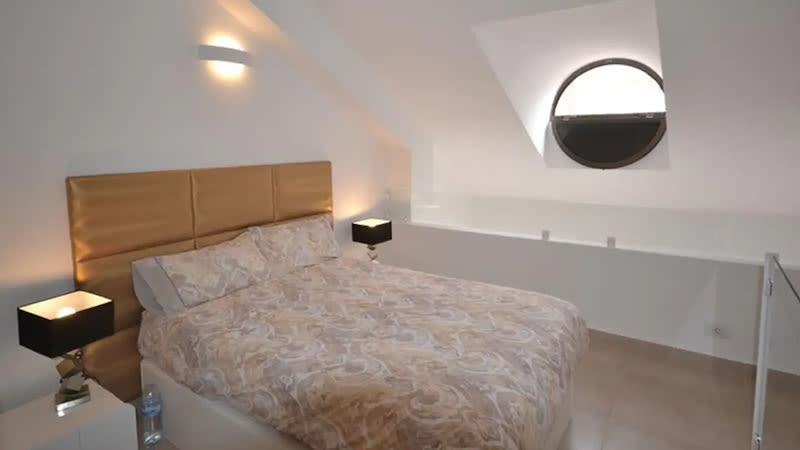 Frontline duplex apartment
Close to shops and restaurants
Access to communal heated pool and garden
Capacity: 4 guests
1 bedroom, 1.5 baths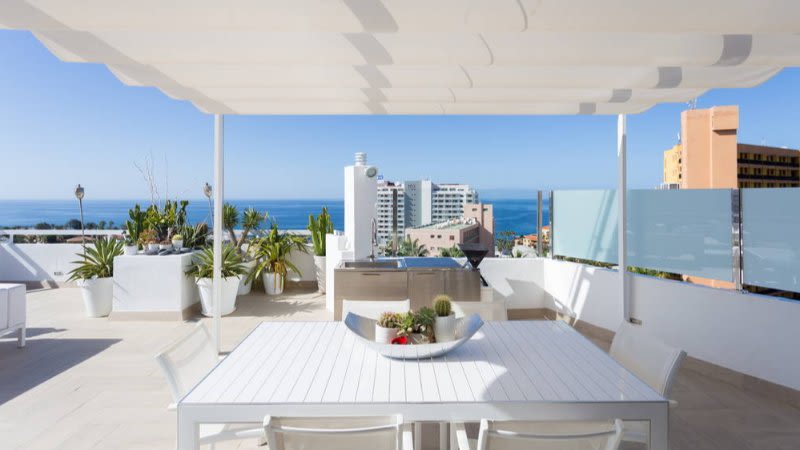 150 meters from the sea
Large terrace with ocean views
Modern design, with lots of amenities
Capacity: 2 guests
1 bedroom, 1 bath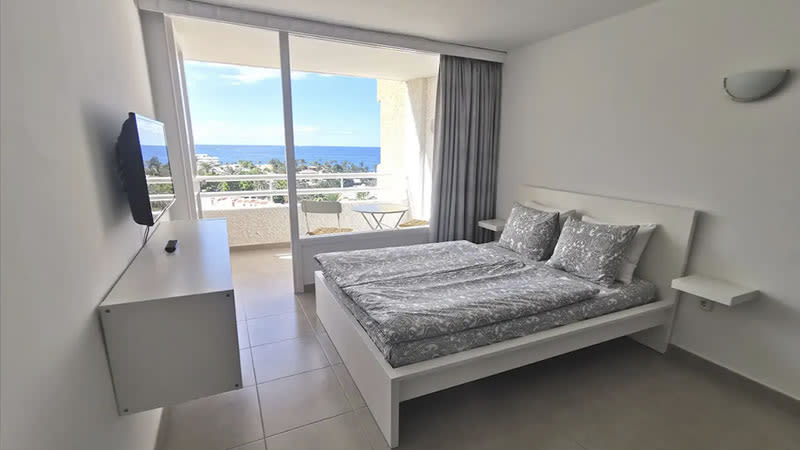 Newly refurbished studio apartment
150 m from the ocean
Sea views with breathtaking sunsets over La Gomera
Capacity: 2 guests
Studio, 1 bath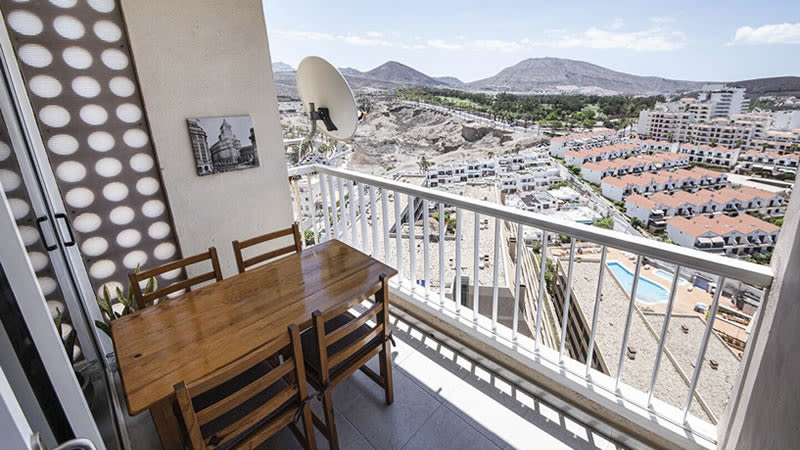 13th-floor apartment
Panoramic views of the resort
Fully equipped kitchen
Capacity: 5 people
1 bedroom, 1 bath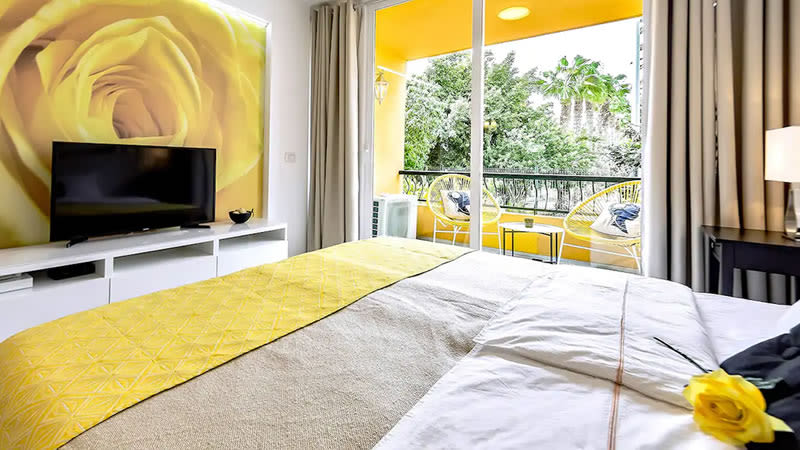 Unique interior design
Fully fitted kitchen
Complex Torres del Sol with 2 swimming pools
Capacity: 3 people
studio, 1 bath
10 Best Hotels in Playa de Las Americas
If you're looking for the best place to stay in Playa de Las Americas for your upcoming holiday, take a look at the best hotels and apart-hotels we recommend in the area. Las Americas is ideal for people who want to savor Tenerife's nightlife as well as enjoying the best beaches on the island in terms of facilities.
5-star hotel
Best hotel for a luxury experience
Beachfront location
A 5-star beachfront hotel, with easy access to Playa El Camison. They offer impeccable service, a great breakfast buffet and guests can use the neighboring Mare Nostrum's spa.
Sir Anthony Hotel is our recommendation for a couple's romantic and luxury trip to Playa de Las Americas.
4-star hotel
Best beachfront hotel
Ideal for couples
This hotel is part of the Mare Nostrum Resort and it's a top pick in the area, as it features a spa and a children's play area, plus sports facilities. They offer a lovely breakfast with live music from the piano, which makes for a really soothing atmosphere.
4-star hotel
All-inclusive option
Friendly staff
This hotel has 3 outdoor pools and 4 restaurants, so you really have a choice when staying here. The H10 Hotel also has a great location, close to the promenade and ideal for evening walks.
4-star hotel
Close to Golf Course Las Americas
Great entertainment team
If you plan to go to Siam Park during your stay in Tenerife, then from this hotel you can easily walk there, so there's no need for a shuttle or driving. Ole Tropical Hotel is located about 10 minutes walk from the beach, but the hotel has great outdoor pools and 2 cocktail bars.
4-star hotel
Buffet restaurant
Ideal hotel for golfing
If you're looking for a quiet couples holiday to Las Americas, this adults-only hotel might be a good option. You only need to walk 3 to 5 minutes to get to Veronicas Strip, but this also means that you'll be able to rest comfortably at night.
5-star hotel
One of the top hotels in Playa de Las Americas
Beachfront property
If you're looking for a luxury holiday in Tenerife South, the Mediterranean Palace is one of the best hotels to stay at. It's in a great location and it offers a great entertainment program for children, which means that you'll get to enjoy your holiday as well.
5-star hotel
Seafront position
Best hotel for unique and colourful design
A really beautiful and special hotel, situated right by the seafront in Las Americas. Enjoy the Mexican theme of the hotel, which means colourful design and a cheerful atmosphere. They serve an excellent breakfast and you can also opt for the half-board, which includes dinner as well.
A popular place to stay
Aparthotel with kitchenette
Good price for the location
If you want to be in a central location in Las Americas without breaking the bank, then Columbus Apartments might be just the best choice. The apartments are simple, but if you spend most of your time out and about this should not matter too much. It has a good price for the quality they offer.
4-star hotel
Hotel with an amazing infinity pool overlooking the ocean
Offers 1 to 4 bedroom apartments, ideal for large families
This resort is further away from the center of Las Americas, but it offers a shuttle to the beach. Rooms are decorated in an oriental style and they have a really cozy and romantic feel to them. An ideal hotel to relax and recharge your batteries.
3-star boutique hotel
Perfect location in Playa de Las Americas
Good price the area
A simple hotel, with no frills but with a great location and close to the beach. Their apartments also have a kitchen where you could comfortably prepare some meals.
Where to stay in Playa de Las Americas
Playa de Las Americas is the best place in Tenerife for nightlife since it's home to the infamous Veronica's strip, a popular spot for hen & stag parties. But even if you're not interested in the resort's nightlife, you can still have a good time in Las Americas, since you'll have easy access to lots of bars, restaurants and shops.
Where to stay in Playa de Las Americas depends on the type of holiday you wish to have. If you're looking for a quiet and relaxing holiday, renting a holiday apartment might be the better choice for you. The further away you stay from the main strip, the quieter it will be.
We would recommend Playa de Las Americas as a place to stay in Tenerife if you're after a lively resort, with lots of options for bars and restaurants and you plan to go out every night.
The weather in Tenerife is great all year round and you can swim even in winter, although especially for the months of January, February and March we would recommend booking a place with a heated pool. If you're undecided about when to visit, read our article about the best time to visit Tenerife.
READ ALSO