Best Time to Visit Fuerteventura - Which Month Is The Best?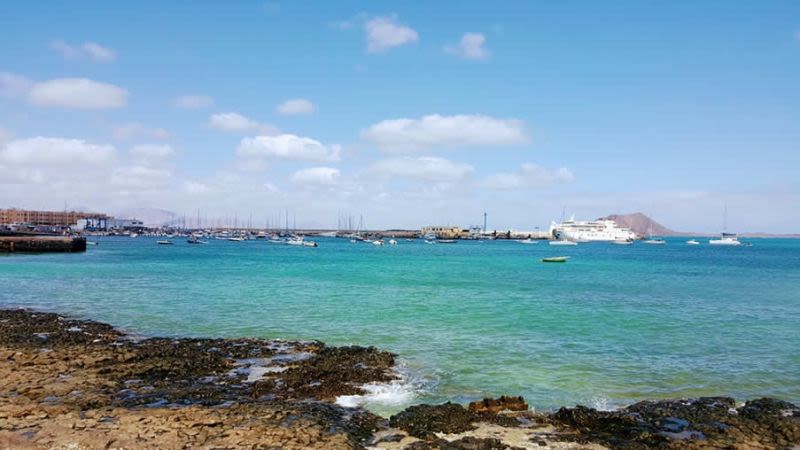 Fuerteventura is the second largest Canary Island after Tenerife and it's mostly recognized for its amazing beaches, some of the best in all of the archipelago.
When to visit Fuerteventura
Fuerteventura is an all year round destination, with people coming over from January until December, precisely for its mild climate and relatively constant temperatures.
So if you're wondering when is the best time of the year to come to Fuerteventura, then this depends on your expectations and what you plan to do while you're here.
Fuerteventura in Spring
The average high temperatures in spring are between 22°C and 23°C, but it gets much warmer in May towards the end of the month.
Out of all the spring months, March gets the most rainy days, while in April and especially May it tends to rain much less.
May is a good time to visit Fuerteventura, while April can get quite busy during the Easter Holy Week.
Fuerteventura in Summer
The months June, July and August are considered high season in Fuerteventura.
The weather is constantly warm, ideal for sunbathing and the ocean water starts to really warm up from July on.
For many people the summer months are the best time visit Fuerteventura, due to the constantly high temperatures and the total lack of precipitation, which means that it is the perfect weather for sunbathing.
Flights and hotels during the summer months are also more expensive than during the previous months, due to the many families from all over Europe who book to come over during the children's school holidays. So if you are on a budget you should either look at another time frame, or start searching for deals many months ahead of your planned date of travel.
Fuerteventura in Autumn
September still feels like summer on this beautiful island and it's actually our favourite month to visit Fuerteventura.
The ocean water is warmer than is summer, temperatures are still high and the island is less busy (especially during the second half of the month).
October is still a good month to visit if all you want to do is sunbathe and swim, while November comes with some risk of rain and storms, as the seasons change and winter makes it's presence felt.
Fuerteventura in Winter
The winter in Fuerteventura does not resemble the typical winters in most European countries.
There's no snow and no temperatures below freezing level.
The mild winter climate is actually why the Canaries are such a popular tourist destination. Of course that the weather in winter is not as warm and always sunny as it was in summer, but you won't need thick coats and boots either.
If it's sunny outside it means that you'll still most likely wear only a T-shirt and shorts, while at night you will need a jacket or a cardigan at least.
Although December is the wettest month of the year it is still a very popular time to visit for tourists looking to get some sun during their winter holidays. Christmas in Fuerteventura has its charm if you spend it sunbathing, while on New Year's Night you can pop a bottle of champagne on the beach.
What temperatures can you expect if you are visiting Fuerteventura in winter?
During the daytime you can expect temperatures around 20°C up to 22°C, although temperatures can vary by a few degrees up and down depending on the day. But as long as the sun is out you can usually still sunbathe or at least you can enjoy the beautiful scenery from a terrace, while sipping on a cocktail or a beer.
At night temperatures drop to 16 - 17°C, which means that it will be quite chilly and you will need a jacket and long trousers.
Although winter temperatures might not be what you consider ideal for a beach holiday, the weather is still much warmer and better than back home in the UK or any other country in Europe, including mainland Spain. So if what you're looking is to escape the harsh winter back home, then December through February are ideal for visiting Fuerteventura.
So when is the best time of the year to go to Fuerteventura?
Best time to visit for sunbathing: June - September
Best time to visit for swimming: August - October
Best time for a walking holiday: April & May, October & November
Best time to escape the cold winter in Europe: December - March
Fuerteventura low season - Which are the cheapest months to visit Fuerteventura
Since summer and winter are both considered high season, you should avoid both this seasons if you're looking for a budget holiday (unless you find a great last minute deal, or perhaps an early booking discount).
So in our opinion, sometimes in spring and autumn you can find the best price deals for the Canaries.
Although there's no such thing as low season in Fuerteventura, you have the best chances of finding a cheap holiday either in April, May, October or November, excluding of course those weeks with public holidays such as Easter or the weeks during half term school holidays.