Casa de los Balcones in La Orotava, Tenerife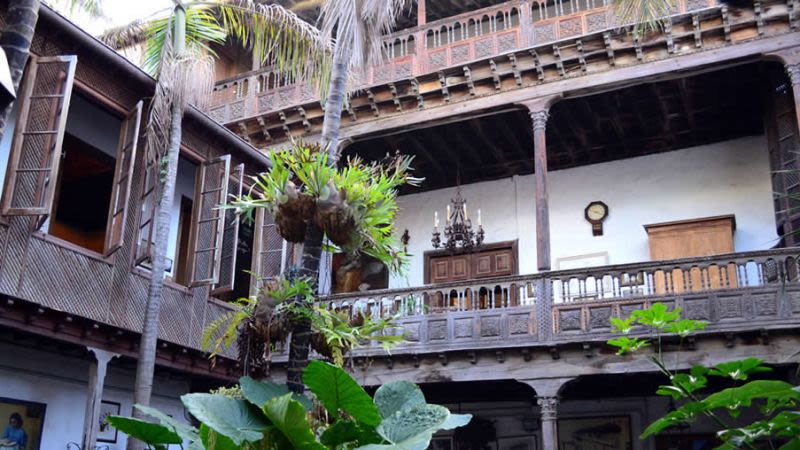 Casa de los Balcones can be translated to English as the House of the balconies, referring to the beautiful wooden balconies, typical Canarian, that adorn the outside of the building.
Useful info about Casa de Los Balcones (La Orotava)
Address: Calle San Francisco, 3, 38300 La Orotava
Entrance price: 5 Euros (this includes the audioguide) / Residents get a 50% discount
Children under 12 years: free entrance
Visiting hours: open every day from 8:30 to 18:30
Parking: free parking for visitors right across the street from the Museum
Casa de los Balcones is located in the North of Tenerife, in the town of La Orotava. Also known as Casa Fonseca, Casa de los Balcones was first built in 1632. The house is considered one of the most emblematic constructions in Tenerife, due to its imposing facade and its interior courtyard, decorated with unique balconies made out of carved wood.
The house can be visited today as a museum, so you can take an historical tour around to learn about old traditions in Tenerife and also info about how people used to live their life on the island back in the day.
Across the street from Casa de Los Balcones is Casa de Eladia Machado, which acts today like a souvenir shop. This interesting house overlooks the valley of La Orotava and offers an incredible view of Mount Teide.
If you come to visit La Orotava, don't forget to include Casa de los Balcones on your list of places to see; this is actually the most iconic building in town and it's the most popular attraction in La Orotava.