Christmas in Gran Canaria 2021 - Events, Christmas menus, What To Do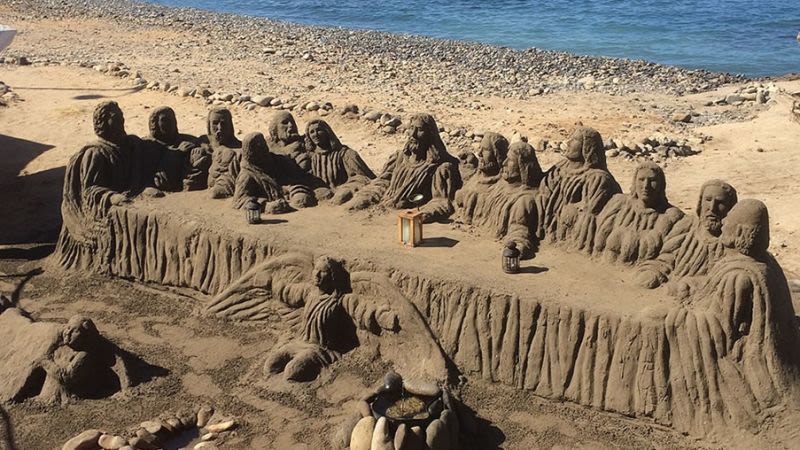 A holiday in Gran Canaria is probably your best bet for a sunny and warm Christmas, along with the rest of the Canary Islands, which have the best climate in Europe during winter.
If you want to know more about it read further regarding the hottest Canary Island, to get a better sense of how warm you can expect the weather to be during the winter months.
How is the weather at Christmas in Gran Canaria
Will it be warm enough to spend Christmas day at the beach?
Can you swim in the ocean on Christmas in Gran Canaria?
We get these types of questions all the type and it's usually from visitors who are coming for the first time to the island or maybe it's their first visit during a winter month.
Although the Canary Islands have a very mild winter, with temperatures usually in their mid-20s°C during the daytime, nobody can predict the weather accurately, especially several months in advance, given all the climate changes happening around the globe.
But you do have great chances to swim in the ocean if you're spending Christmas in Gran Canaria, although you can expect the water temperature to be around 19°C - 20°C, so a bit chilly, but definitely doable if you want to want to have a splash.
You could also do some shopping a few days before Christmas and then take your friends or family for a picnic on the beach, as this definitely be an experience to remember, something very different compared to a Christmas at home.
For sunny and warm winter holidays in Gran Canaria, we recommend staying in the south of the island, where it's normally warmer and drier, with fewer chances of precipitation.
Christmas day temperature in Gran Canaria
Maspalomas, December 25th, 2019
Max temperature: 21°C
Min temperature: 14°C
Las Palmas de Gran Canaria, December 25th, 2019
Go see the Belen de Arena (Sand Sculptures) on the beach of Las Canteras in Las Palmas de Gran Canaria
Sculptors from all over the world are participating in the creation of all the sand sculptures on the beach of Las Canteras and the Belen de Arena has become a symbol of the island around the holiday season.
You can see some of these sculptures in the photo above, but there are many more and some of them are really spectacular.
At a time of the year when some people are going on ski trips and staying in ice hotels, you can come to Gran Canaria and walk in flip flops around sand sculptures.
Christmas events in Las Palmas de Gran Canaria
The city council of Las Palmas usually publishes a program of all the activities in the month of December - we will update this page when we have the info for 2020.
Christmas dinner in Gran Canaria 2021
Since Gran Canaria is an island with an economy that is dependent on tourism, Christmas means it's business as usual for bars and restaurants, so you can expect to have a lot of options, not just the traditional English food that is usually served on Christmas.
TASTE MESóN Gran Canaria
Address: Paseo de las Marañuelas 1 Arguineguín
For reservations go to their Facebook Page
"Book your Christmas dinner at Taste Mesón. We have a Christmas inspired set menu waiting for you! On Christmas (24-25/12) we serve our menu all ready from 15:00 and last seating 20:00. We have lowered the price due to the difficult situation for many this year! We only have 45 seats now during Covid-19 due to distancing so make your reservation now!"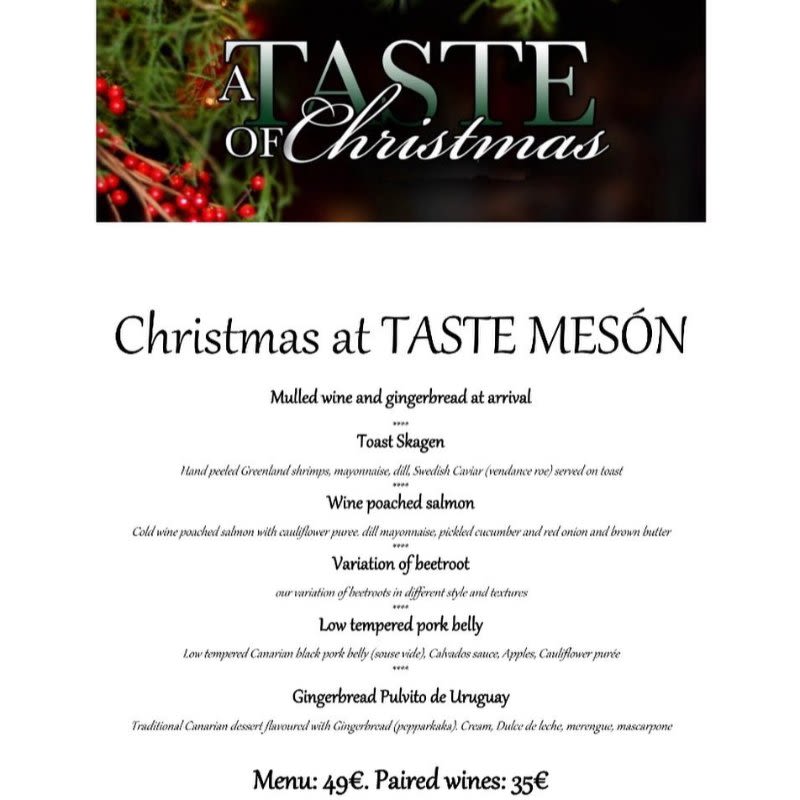 Christmas at PACHA Gran Canaria

PACHA is one of the popular places for nightlife in Gran Canaria, but at the moment it is still closed, due to the restrictions imposed on clubs and discos, which are not allowed to open yet.
This page will be updated as soon as we have more info about events and things to do in Gran Canaria at Christmas.
RESTAURANT OWNERS: If your place has a special menu for Christmas day please just send us a message on Facebook or an e-mail with your info/menu and we will add it to our page! Please help us share this message and reach local businesses!