Driving in Tenerife - Top 3 Scenic Drives On The Island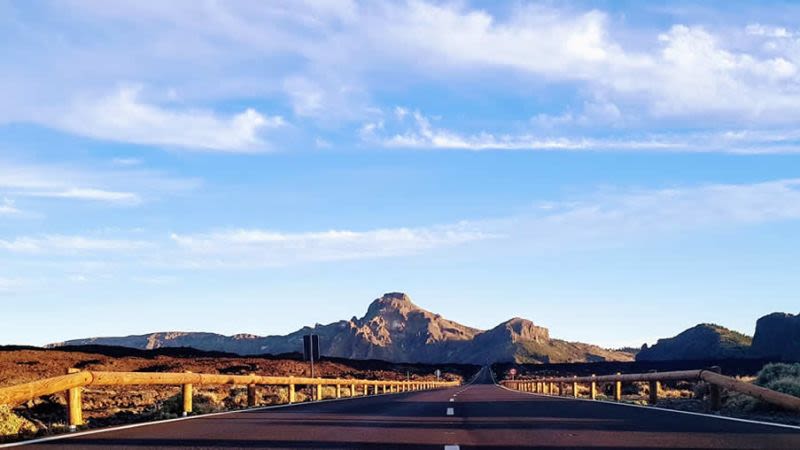 Driving in Tenerife can be a scary thought for some people, especially if you are a visitor from the UK, used to drive on the other side of the road.
But Tenerife is such a beautiful island, meant to be discovered by any means possible: either by using the local buses (guaguas), by walking, going on organized excursions or by renting a car and driving on your own around the island.
Info & advice for driving in Tenerife
Driving in Tenerife is on the right hand side (just like in continental Spain)
Speed limit on motorways (autopista) is 120 km/h - TF-1 and TF-5 are the 2 motorways in Tenerife
Speed limit on single carriageway roads is 90 km/h and 50 km/h in urban areas
Parking is free in parking spaces marked with white lines
Parking is forbidden between yellow lines
Parking is paid if you park on a spot marked with blue lines
Parking can be difficult in many areas, especially in the busy resorts in the south like Playa del Duque, Playa de las Americas and even Los Cristianos, if you want to be close to the beach. This changes between seasons according to how busy it is at that moment, but in general it would be better to book an accommodation where you can park the car at night, without having to worry about that.
Best driving routes in Tenerife
Compared to Fuerteventura and Lanzarote, which are mostly flat, Tenerife's landscape is diverse and it changes fast, as at one moment you can be on a sunny beach in the south and then in about one hour you can be in Teide National Park, looking at the majestic volcano that dominates the island (which is also the highest peak in Spain).
Drive to Masca Valley
Masca is probably the most charming little village in Tenerife and the drive itself, although challenging, offers some of the most wonderful views on the island.
If you are driving from the south of Tenerife you will have to follow the TF-1 road until Santiago del Teide, then follow the signs in town until you enter TF-436, the road that will take you all the way to Masca.
TF-436 is where the fun starts and the road becomes challenging, as it is very narrow and with many hairpin turns. You will also encounter many tourist buses as well as guaguas (the public transport buses). Some of the turns are difficult for the big buses, so they create a lot of traffic jams.
The drive to Masca is recommended for confident drivers, who don't get anxious easily.
You can stop on the way at Mirador de Cherfe, one of the very few places where you have a place to stop the car safely, without bothering other drivers.
Our advice if you decide to drive to Masca village if to do it early in the morning, before the crowds start to arrive and before the buses get here.
There are very few parking places here and in summer it can get very busy and it will be almost impossible to find a place to park. Last time we went there sometimes in January and we had to turn around 5 or 6 times until a spot opened up and we were able to park the car.
Also, be very careful with your personal belongings here and don't leave anything in the car. There are many thieves "working" the area and you must take everything with you when you leave the car. Don't leave anything unattended, not even for a second. Unfortunately this is the real situation and it's better to be cautious, than let anything spoil your holiday.
Drive through Teide National Park
Teide can be considered the symbol of Tenerife and no visit would be complete without a trip to see Mount Teide.
There are 4 access roads to Las Canadas del Teide:
TF-21, from the direction of Vilaflor. This is the best choice if you are staying in the area of Playa de Las Americas or Los Cristianos. Vilaflor is the town situated at the highest altitude in Tenerife and we had some lovely pastries from a bakery, situated only a few minutes walking distance from the main square.
TF-38, through Chio. This is the best choice is you are staying in Playa San Juan, Playa La Arena, Puerto Santiago or Los Gigantes. On the way you can even stop to do the Chinyero Walk, an easy circular hike around the Chinyero volcano.
TF-21, from the direction of La Orotava. This is the best choice if you are staying in La Orotava or Puerto de la Cruz.
TF-24, from Santa Cruz. This is the best route if you are coming from San Cristobal de La Laguna or Santa Cruz de Tenerife
We found driving through Teide National Park very easy, although there are many cars and sometimes it's difficult to find parking.
We drove on all the routes and in all combinations, as they all show you different parts of the volcanic park.
Regarding safety, we advise you to also take all your belongings with you, even if you only step out of the car for a moment to take a picture.
Also be advised that the speed limit inside the national park is 70 km/h.
A scenic drive through Anaga Rural Park
Anaga seems like a different world compared to the arid south of Tenerife.
With its old and dense laurisilva forest and the wild beaches like El Benijo, the Anaga Rural Park is an amazing experience and if you hire a car you will be able to explore it on your own terms.
We recommend you to drive towards Mirador del Carmen, where you have the Sendero de Los Sentidos (Path of the Sensen), an easy walking route where you see up close the magic of the laurisilva forest. From there you can continue driving to El Bailadero, then to Taganana and from there you can stop at one of the beaches and have lunch at one of the small restaurants that serve fresh seafood and fish.
Should you rent a car and drive in Tenerife on your own?
YES.
Hiring a car is cheap in Tenerife and petrol prices are low (usually between 0,91 and 1 euro/liter).
Make sure to avoid the busy hours, when locals drive to work or come back from work. Congestion usually happens in the direction towards Santa Cruz de Tenerife on TF-1 in the evening after 5 PM and in direction to Los Cristianos in the mornings.
Many of the exits from TF-1 are crowded during the daytime: this is the case for Los Cristianos, Los Abrigos, Las Galletas.
The big roundabout in Alcala is also often busy, usually due to the crossings in town and there's no way to bypass Alcala.
But if you drive carefully, respect the speed limits and are careful where you park, driving in Tenerife should pose no difficulty to anyone. There are many driving routes with a beautiful scenery, so we definitely advise you to explore on your own different parts of the island.