Playa de Famara - Best beach for surfing in Lanzarote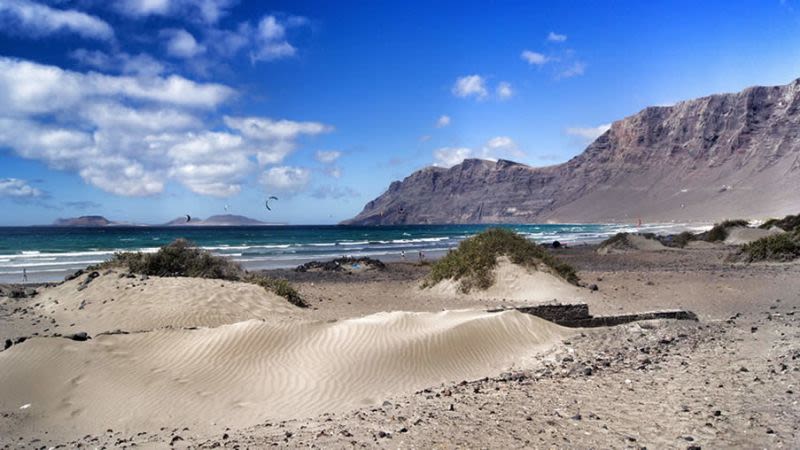 Famara beach is located on the north west coast of Lanzarote and provides one of the most epic sceneries on the island, with the Risco de Famara cliffs in the backdrop.
Playa de Famara - an ideal beach for surfing and other water sports
Famara beach, with its 5 km of fine sand, is popular among water sports lovers thanks to the swell of the waves and the constant winds, which make it ideal for kitesurfing, windsurfing and surfing.
Swimming is not recommended at this beach, because the currents are strong and most of the people you'll see in the water are experimented surfers that know how to ride the waves.
You'll also see many surfing schools at Famara beach, as this is the best place for surfing in Lanzarote.
Famara beach is a great place to visit while in Lanzarote even if you're not into watersports, just for the amazing scenery and the sunsets, which are always breathtaking. However, this beach is not ideal for those who just want to lounge in the sun all day long, as the wind blows constantly and you will get slapped with sand, which is not pleasant. Also, there's no sun loungers or umbrellas as this beach, as most visitors come here for the waves, not for chilling on the beach.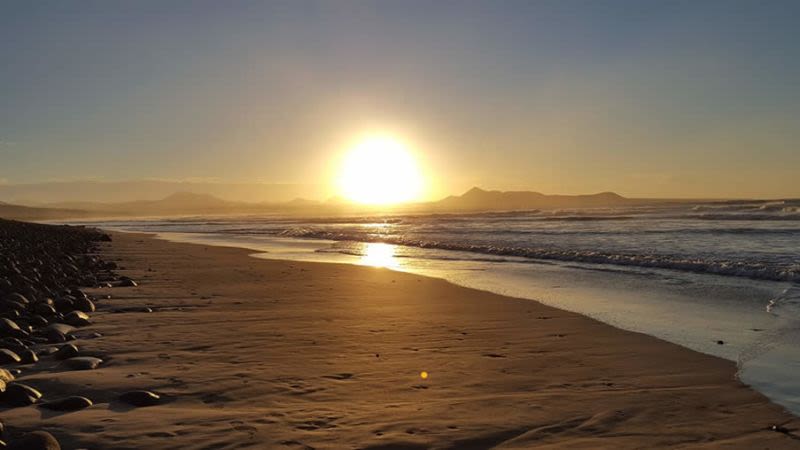 Sunset at Famara beach - probably the best in Lanzarote
Since it's situated on the west coast, Famara beach offers a great spectacle of colors at sunset.
Usually by then the beach is deserted, as most of the tourists visiting from other resorts would have left and the majority of surfers also.
With the Risco de Famara cliffs in the background, watching the sunset on the beach is a great experience while in Lanzarote.
Caleta de Famara - the small village close to the beach
A few kilometers away from the beach you'll find the small village called Caleta de Famara, where you can enjoy a lovely meal of fresh fish in a local setting - no fancy bars or restaurants here.
Cesar Manrique used to spend his summers here as a teenager and it's easy to understand why. Caleta de Famara is located in a beautiful natural space and the atmosphere is very different from the big resorts like Puerto del Carmen, Costa Teguise or Playa Blanca.
There's not many options in terms of accommodation, as here you won't find any all inclusive hotels or family friendly hotels. Private rentals are your best bet and you can find some great options on Airbnb.
Caleta de Famara