Family Holidays in Fuerteventura: Best Resorts & Places to Stay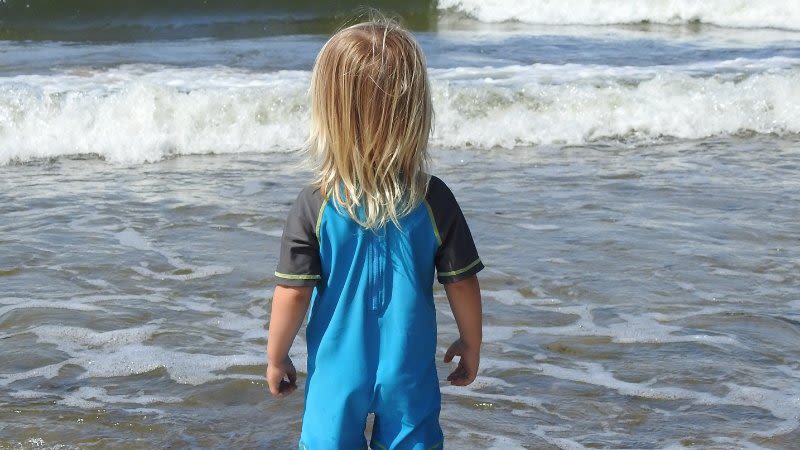 Fuerteventura, the second-largest Canary Island, is a great place to visit for families since you have endless beaches, beautiful weather all year round and the atmosphere on the island is laid-back and relaxed.
If you're looking for the perfect destination for your next beach holiday as a family, look no further than Fuerteventura. Here you'll find many things to do with the kids, resorts with safe beaches and nice bars and restaurants to try if you decide to go self-catering.
Why Fuerteventura is good for families
European standards, as it's part of Spain
Safe destination for you and your family
Only 4 or 5 hours away from the UK and mainland Europe
Gorgeous weather all year round
Lots and lots of beaches
Good choice of family-friendly hotels
Best hotels in Fuerteventura for families
Best villas and apartments for families in Fuerteventura
Best resort in Fuerteventura for family holidays
If you are still undecided about which part of the island to choose as a base for your holiday in Fuerteventura, you can read more in our dedicated article about where to stay in Fuerteventura.
In our opinion, the best Fuerteventura resorts for families are Corralejo and Caleta de Fuste.
We will try to explain why, so you can decide which is best for you.
1. Corralejo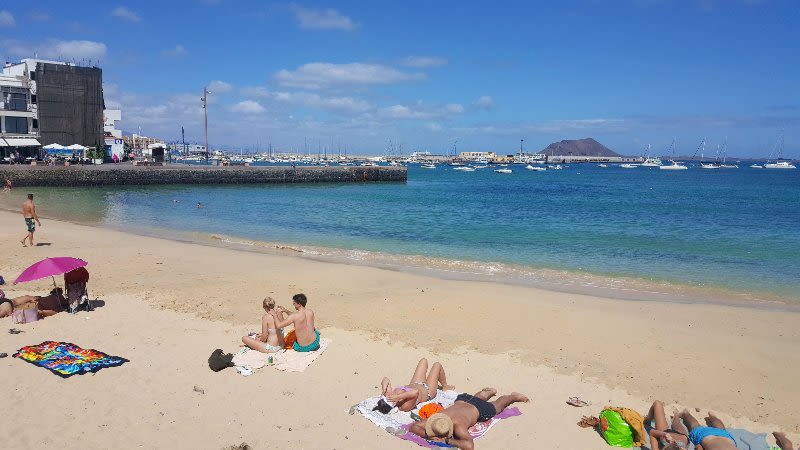 Corralejo is the best resort in Fuerteventura for families with teenagers.
Corralejo is the liveliest resort in Fuerteventura, located in the north of the island.
Corralejo is also the most popular resort on the island, which means that it's the busiest and also has the best bars and nightlife. If you're traveling with teens and you want to stay out a bit later at night and keep them entertained, Corralejo has the best options.
In Corralejo, you have some amazing activities to do and places to visit with the kids:
Enjoy the town beaches
Corralejo sand dunes and the many kilometers of stunning beaches
Popcorn beach - read more about it in our article about things to do in Corralejo
The market at El Campanario
The water park - Acua Water Park
Boat trip to Los Lobos island
Try surfing at one of the local surfing schools
Where to eat in Corralejo: family-friendly restaurants
Places to stay in Corralejo for families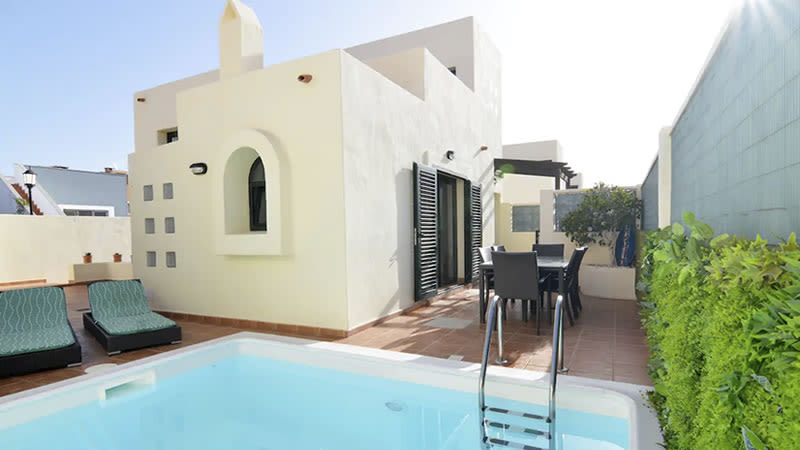 Private pool
Close to town and beaches
4 bedrooms, 2 baths
Playa Park Zensation ****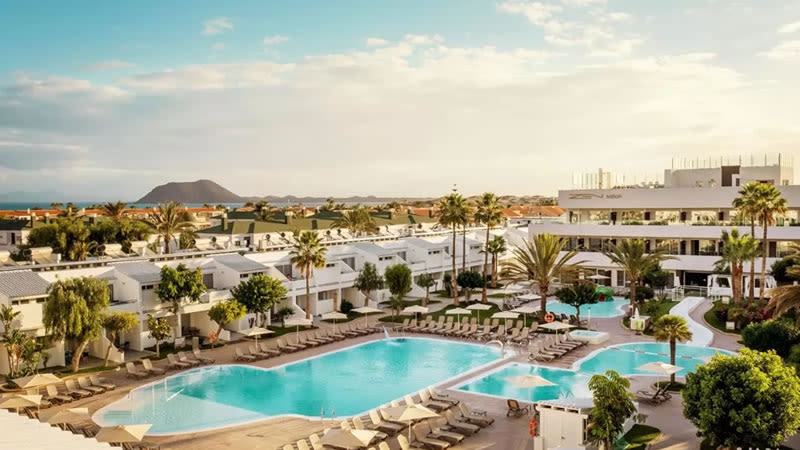 family-friendly aparthotel
3 seawater pools
tennis mini-basketball and mini-football courts
2. Caleta de Fuste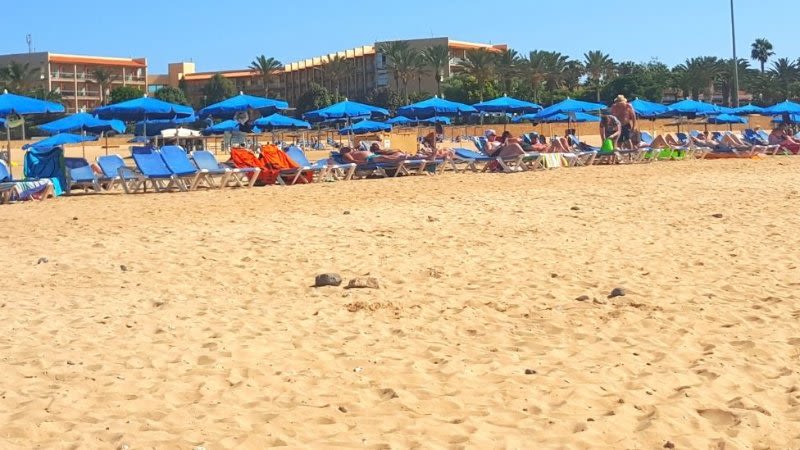 Caleta de Fuste is the best resort in Fuerteventura for families with small children.
Caleta de Fuste (El Castillo) is the closest resort to the airport in Fuerteventura and it's a resort that was purposely developed for tourism, so you have many hotels, restaurants and a lovely beach for sunbathing.
The beach in Caleta de Fuste is really great for toddlers and small children because the water is always calm, no big waves, no dangerous currents and the kids can play freely and safely.
What to do with the kids in Caleta de Fuste:
Enjoy the beach - Playa El Castillo
Swim in the rock pool (only for older kids who know how to swim)
See the chipmunks
Oceanarium explorer - swim with the sea lions
Places to stay in Caleta de Fuste for families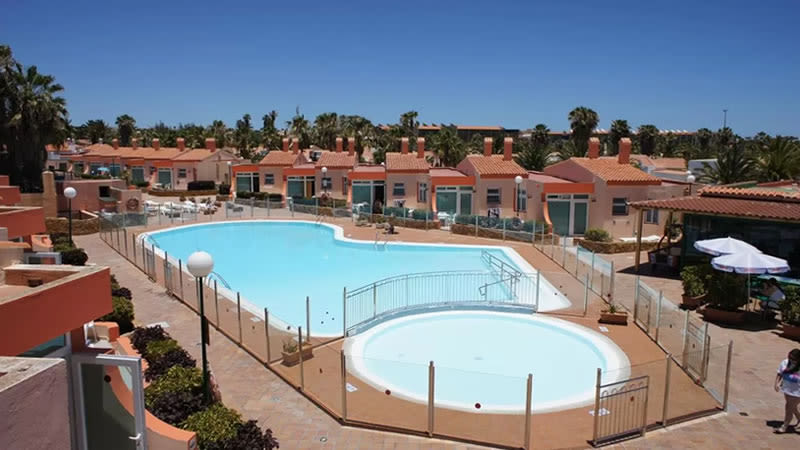 sauna, gym, laundry facilities
kid's pool and playground area
close to the beach in Caleta de Fuste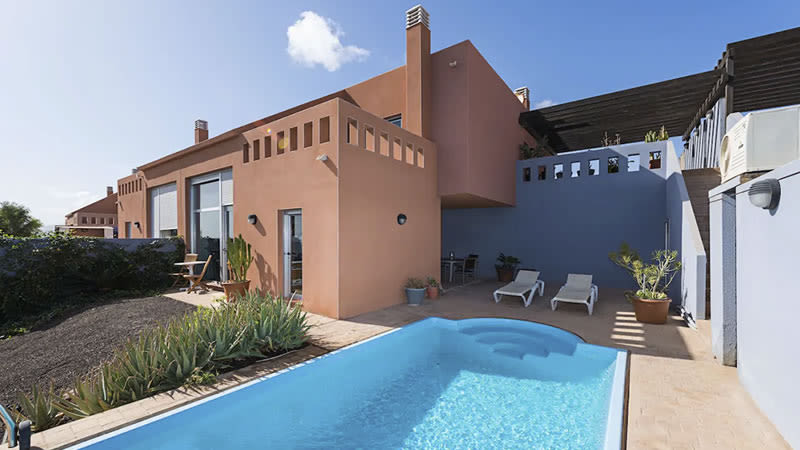 residential area of Caleta de Fuste, very quiet
private heated pool
2 bedrooms, 2.5 baths
FAQ about family holidays in Fuerteventura
What are the best family resorts in Fuerteventura?
Corralejo and Caleta de Fuste are the best resort towns in Fuerteventura for families.
Is Corralejo good for families?
Yes, Corralejo is a great place to stay for families in Fuerteventura. Here you have many options for restaurants, activities and beaches, plus the only water park in Fuerteventura is located in Corralejo.