Fanabe Beach - The Heart and Soul of Costa Adeje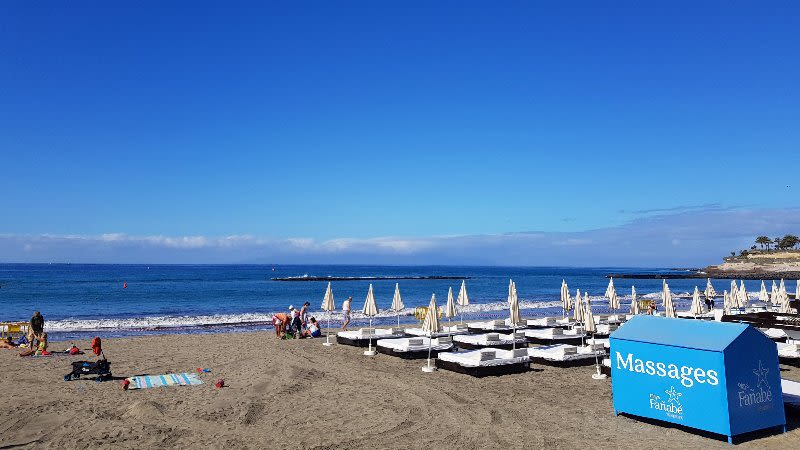 Playa de Fanabe, part of the Playa de las Americas resort, is one of the busiest and most popular beaches in Tenerife and the largest one in Costa Adeje. Situated in the south of the island, it is connected through a promenade with the neighboring Puerto Colon and Playa del Duque.
| | |
| --- | --- |
| Location: | Costa Adeje, municipality of Adeje |
| Map: | see on Google maps |
| Beach type: | Urban beach with fine sand |
| Access: | Easy access |
| Facilities: | Sunbeds, umbrellas, toilets, waste bins, showers |
| Nudist friendly: | No |
| Lifeguards: | Yes |
| Parking: | Yes |
| Public Transport: | Yes |
| Wheelchair accessible: | Yes |
Playa Fanabe - The heart and soul of Costa Adeje
If something important is going on in Costa Adeje, Playa Fanabe is where it's at. The beach is close to many types of restaurants, with food from all over the world and bars and clubs that throw enormous parties at night. If you want good food and a place to dance the night away, Fanabe beach is a great choice for a holiday in Tenerife!
Compared to other beaches, the man-made beach of Playa Fanabe is long and offers plenty of space for everyone. Some want to enjoy the comfort of a sun lounger and umbrella, and others just want a place to throw their towel. At Playa Fanabe there is a space for all types of tourists and also, ideal conditions for swimming.
The ocean here has crystal clear waters, which are calm and safe, protected by breakwaters. The beach is supervised by lifeguards during the day.
In the evening, Playa de Fanabe is a wonderful place to watch the sunset in Tenerife. The views towards the ocean are amazing and you can enjoy a cocktail in one of the many bars and pubs while admiring the spectacle of nature.
Fanabe Beach offers a wide variety of activities for everyone
Families with children will find a playground for kids and a mini-golf course, which can offer you a way to spend a few hours during the day.
There are many excursion shops right by the beach and a medical center in the close vicinity.
For the more adventurous ones, you can rent jet skis or take a banana boat ride if you want some thrill. For families, there are pedal boats available for rent. For around 15 euros you can spend an hour doing some exercise and admiring the beach from the ocean.
Playa Torviscas is just a few minutes away, separated from Playa de Fanabe only by the breakwater in the middle. You can easily walk between the two beaches and explore all your options.
With its Blue Flag distinction and upscale restaurants, the area of Playa Fanabe is considered more upmarket than other resorts in the south. Similar conditions, luxury hotels and restaurants can also be found in Playa del Duque.
Want to explore more? Read our complete guide for all 101 Beaches in Tenerife