Fuerteventura Weather in March - What Should You Expect?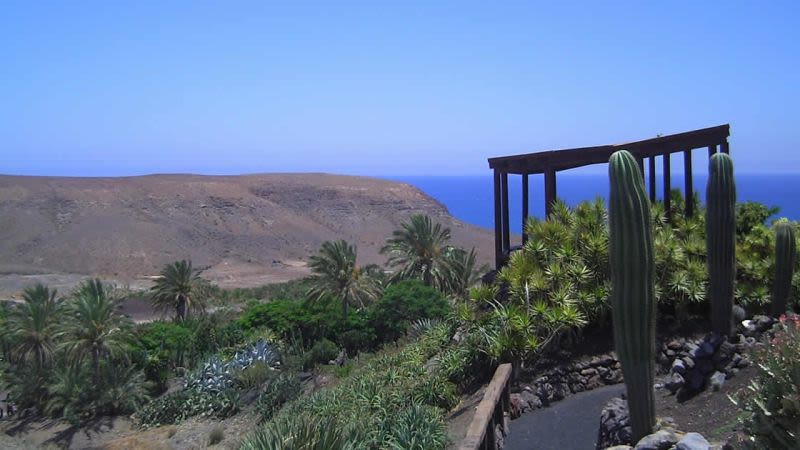 Although even the winter season is warm in Fuerteventura, the month of March marks the beginning of spring, and so the weather can be sometimes tricky and moody (just like people are when they are going through some big changes).
Fuerteventura is one of those fortunate places in Europe where it's warm during winter and the sunny days are not an exception from the rule, but the norm here.
What's the weather like in Fuerteventura in March
Fuerteventura's climate is classified as subtropical-dessert, as the island is the closest to Africa of all the islands in the Canary Islands archipelago.
March is the last of the "rainy months" before spring sets in. We say "rainy months" because the Canaries don't have an official rainy season like other places such as Thailand, Bali or Maldives. The winter months just tend to receive more rain, but the rain is not constant or happening every day. March is the first month of spring, so temperatures start to go up and the rainy days are fewer compared to January and February.
In March temperatures tend to go up a bit compared to the previous months, so you can expect daytime temperatures around 22 - 23°C.
Hours of sunshine in Fuerteventura in March: 233
Average rainfall mm in March: 12
Temperatures in Fuerteventura in March
Usually, in March, the temperatures during the day are in the low 20s°C and it's possible to sunbathe, as long as the wind is not too strong. Even in March, we recommend that you use a high factor sun lotion, as the sun can burn even if the weather seems cloudy, as the sun is stronger in the Canary Islands due to their proximity to the Equator.
Average high temperature: 22°C (72°F)
Average low temperature: 15.5°C (59.9°F)
Daily mean temperature: 18.9°C (66°F)
In Fuerteventura, the daily mean temperature is 18.9°C in March, which is calculated as a mean between the average high temperature of 22°C and the average low of 15.5°C.
Record low & record high temperatures
The highest temperature ever recorded in Fuerteventura in March (at the Airport station) was 34°C and the record low was 8°C.
The temperatures are pretty much the same between all the major resorts in Fuerteventura. If you have a favorite place on the island, then we'd recommend you go with that one, as the island is small enough that you can easily travel in-between places if you have a rental car.
Rainfall
Average rainfall (mm): 12 mm
Average rainy days (>=1mm): 2
What about rain in Fuerteventura in March?
The start of spring comes with a fair chance for rainy days in Fuerteventura, however, there should be fewer rainy days compared to the month of February in Fuerteventura.
March is still one of those months when you can see a few green spots on the island, due to the precipitations that happened in winter. El Pinar de Betancuria is one of those "unusual" places for Fuerteventura, as you can actually see vegetation and trees in the heart of the island.
March should also have fewer stormy days compared to the winter months. So even if you start the day with a few raindrops, by lunchtime it could be business as usual with the sun shining upon the sky.
Sunshine hours
Sunshine hours per month: 235
Sunshine hours per day: 8.4
Fuerteventura gets an average of 8 sunshine hours per day in March.
Snow in Fuerteventura
Does it snow in Fuerteventura?
NO.
The island is practically a desert, so no snow here. Winter boots are not necessary, maybe just a raincoat.
How about the breeze - how windy is Fuerteventura in March?
We have a dedicated article about this subject, so please read more about wind in Fuerteventura there.
Sea temperature
This is the average sea temperature in March in Corralejo:
Average sea temperature: 18.6°C / 65.5°F
Can you swim in Fuerteventura in March?
Since the average sea temperature is 18.6°C / 65.5°F during the month of March, the water will be too cold for swimming for most people. Of course, this depends on the beach where you go and your personal tolerance, but it would be advisable to book a place with a heated pool at this time of year.
What to pack for a spring holiday in Fuerteventura
Essentials for a trip to Fuerteventura (at any time of the year):
Bathing suit
Slippers/ flip flops
Water shoes
Raincoat or Light jacket
A cardigan or long sleeve blouse for layering for chilly nights
A scarf
Sun lotion (you can buy on the island also, but it might be pricier)
Closed footwear
The temperatures still drop enough at night that you will most likely need a cardigan or a light jacket, so it's best to bring it with you. We recommend to also have a pair of closed footwear in case of rainy days.
Things to do in March
We always recommend that you go out and explore the island that you are visiting, because there are plenty of things to do and see in the Canaries and it would be a shame not to experience some of them.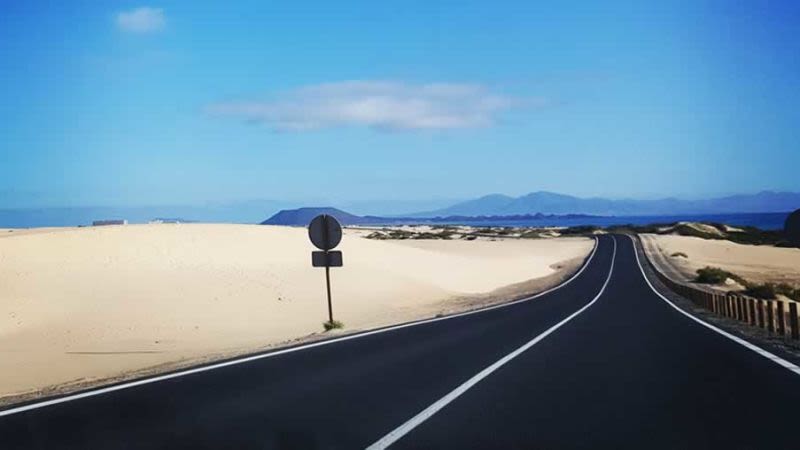 Drive through the Corralejo Dunes
The beautiful road through the Corralejo Dunes is probably the best drive in Fuerteventura and a must when visiting the island (at least for the first time).
If you are staying in Corralejo you will probably take this route anyway, although now there is an alternative route and you can avoid the dunes in case you are in a hurry and you want to avoid all the hire cars with tourists visiting the natural park and the beaches.
Have a picnic in El Pinar de Betancuria
Did you know there was such a place in Fuerteventura, with pine trees and spaces set up to do a barbecue or just have a picnic lunch?
We recommend a visit in March because after the rainy days in winter the place might be green and bright, as opposed to the summer months when it's usually arid and dry (like it is in the photos in our dedicated article).
What's the best resort for a holiday in Fuerteventura in March
If you're thinking of choosing a place based on the chances for the best weather in March... then it's impossible to say, as no one can guarantee the weather and anyway the temperatures are pretty constant in between resorts. Corralejo might a bit cloudier than the south of the island (especially in the mornings), but it's nothing so tragic that you should run away from the north of Fuerteventura.
Just go where you would normally want to go and make the most of it. Don't let the weather spoil your holiday, as the temperatures should still be better than back home if you can from places like the UK, Germany or the north of Europe.
If you come during the first half of March you sometimes have chances to be on the island for the carnivals that happen in most of the towns and resorts. There are carnivals in Corralejo, Caleta de Fuste, Puerto del Rosario and several towns in Pajara as well.
FAQ about Fuerteventura in March
Is it warm in Fuerteventura in March?
Yes, Fuerteventura is a warm place to visit in March, with temperatures around 22ºC during the daytime and 18ºC at night.
Can you sunbathe in Fuerteventura in March?
You can definitely sunbathe in March in Fuerteventura. Although temperatures might not seem high enough, the UV index is pretty high and so it feels much hotter than what you see on the weather apps. So when the sun is our, you can definitely sunbathe in March in Fuerteventura.