Fuerteventura Weather in May - What's the weather like?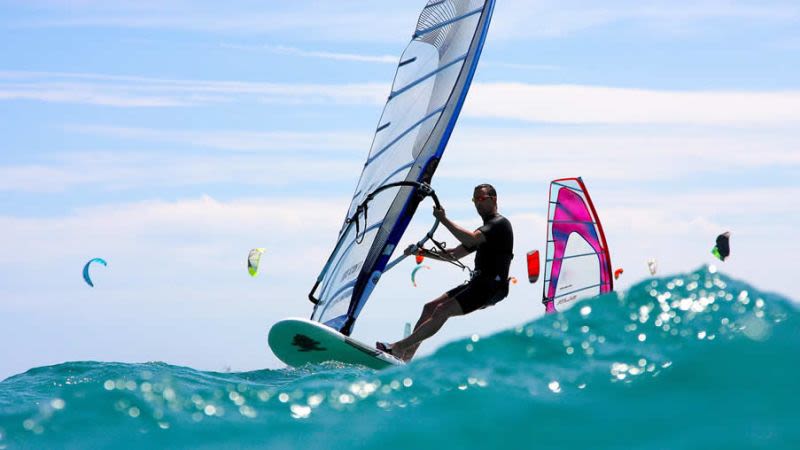 By the time May gets to Fuerteventura, the weather is starting to really warm up and temperatures are really nice to enjoy long days on the beach or by the pool, with a beer or a cocktail in hand. Although temperatures don't go up like they do during the summer months, May is still a nice month to visit Fuerteventura, because the atmosphere is more relaxed and chilled, ideal for a quiet holiday meant to recharge your batteries.
On most days you'll need nothing more than a T-shirt & some shorts or a dress and of course, your bathing suit is a must anytime you come to Fuerteventura. Nights are still a bit nippy and temperatures still drop to around 18°C, so a jacket would be handy in case there's also some wind.
Weather in Fuerteventura in May
May is pretty much the start of summer and temperatures start to rise towards the end of the month. There's still a long way to go towards the crazy hot temperatures during the height of summer, but May is definitely a month when you can comfortably sunbathe and even swim, although water temperature is still under 20°C in most places.
Temperatures in Fuerteventura in May
The average high temperature in May in Fuerteventura is around 24°C, while in the evening you can expect temperatures of around 18°C. While it's not yet hot like in summer, temperatures are pretty constant and you can only expect them to rise as the month progresses towards June.
Average high temperature: 24.1°C (75.4 °F)
Average low temperature: 17.1°C (62.8 °F)
Daily mean temperature: 20.6°C (67.1°F)
In Fuerteventura, the daily mean temperature is 20.6°C in May, which is calculated as a mean between the average high temperature of 24.1°C and the average low of 17.1°C.
Record low & record high temperatures
The highest temperature ever recorded in Fuerteventura in May (at the Airport station) was 36.8°C and the lowest was 11.6°C.
Since the island is mostly flat, the temperatures stay pretty much the same across all major resorts in Fuerteventura: Corralejo, Caleta de Fuste, and Morro Jable. The north can be more prone to cloudiness though, so if you're staying in Corralejo and the time isn't great, you have the option of heading south for a sunnier day.
Rainfall
Average rainy days (>=1mm): 0
After the winter months that do see some rain and the first two months of Spring (March, April) when chances of precipitation start to decrease, May is the first month of the year with virtually no rain in Fuerteventura. The average rainfall in May is 1mm and usually, you won't see more than a few wet hours during this month.
Sunshine hours
Fuerteventura gets an average of 9 hours of sunshine per day in May, so the days have increased considerably, being very close in duration to the summer months, when the island gets an average of 30 minutes more of sunshine per day.
Sea temperature

Average sea temperature in April in Corralejo: 19.6°C / 67.3°F
Can you swim in Fuerteventura in May?
With an average of 19.6°C / 67.3°F, the water temperature is on the rise and towards late May it becomes warm enough to go swimming in some places. We would prefer places like the Cotillo lagoons, where the temperature might be more tolerable than on other open beaches, like Corralejo Grandes Playas.
What's Fuerteventura like in May
The data below is from the weather station at Fuerteventura Airport and it represents the weather averages for the month of May.
| May Weather Averages | Fuerteventura Airport |
| --- | --- |
| Average high temperature | 24.1°C (75.4°F) |
| Daily mean temperature | 20.6°C (69.1°F) |
| Average low temperature | 17.1°C (62.8°F) |
| Mean monthly sunshine hours | 280 |
| Percent possible sunshine | - |
| Mean monthly daylight hours | 405 |
| Average Ultraviolet index | 10 |
| Average sea temperature | 19.6°C / 67.3°F |
Things to do in Fuerteventura in May
If you're coming to Fuerteventura for the beach and relaxation, then you're chosen the correct destination. But we always recommend that you go out and see a bit of the island, either with an organized tour or on your own, using a hired car (which are cheap to rent and the island is an easy place to drive).
Day trip to El Cotillo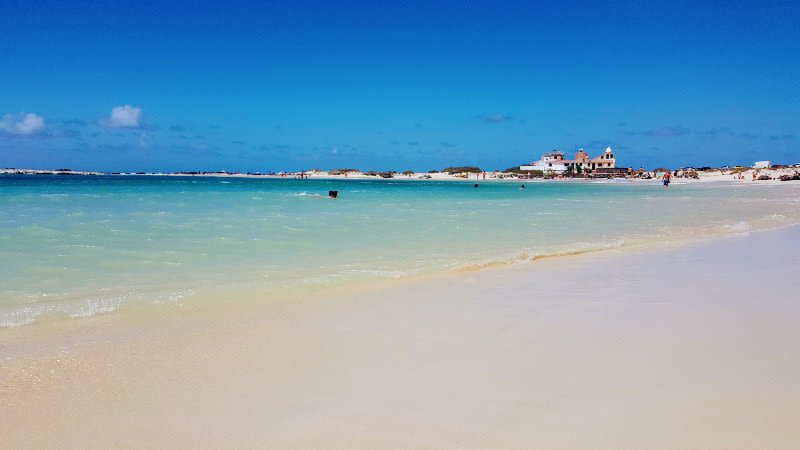 No matter the season and no matter where you are staying, a visit to El Cotillo is kind of a must.
Compared to Corralejo and Caleta de Fuste this village seems sleepy and quiet, but this is actually part of its charm. You can take the day to explore the lagoons, La Concha Beach and Piedra Playa on the other side of town.
Adventure day in Ajuy

If you're feeling particularly adventurous on one day, we recommend that you drive to Ajuy to explore the caves and the surrounding area.
The beach in Ajuy offers a spectacular sunset, although you should keep in mind that this beach is dangerous due to the strong currents, as it is situated on the west coast of the island and it is not recommended to swim here. We like to arrive here in the afternoon, explore the caves, admire the views and the waves crashing, then watch the sunset from the beach and then enjoy a dinner at the restaurant that is located right next to the beach (admittedly they don't serve a memorable meal, but the views and the colors of the sky are amazing and sunset, so this is compensation enough for us).
Events in May
Labour Day (Fiesta del Trabajo)

1 May 2021
This is a festive day in Spain, which means that the local workers get a day off from work. This means that supermarkets and most shops will be closed on the day, which is why you should do your shopping the day before.
Canary Islands Day (Dia de Canarias)
30 May 2021
This is a day of celebration in all the Canary Islands and it means it's again a public holiday, so everything will be closed.
There will usually be celebrations in different towns in Fuerteventura, local music, and traditional dances, which is a nice way to experience local traditions and culture.
FAQ about visiting Fuerteventura in May
Is Fuerteventura warm in May?
Yes, Fuerteventura is quite warm in May and during the daytime, you can expect temperatures around 24 - 25°C.
Is May a good month to visit Fuerteventura?
May is a nice time to visit Fuerteventura, especially because it's not as crowded as during the summer months. So if you want a warm and sunny May holiday, Fuerteventura might be one of the best options in Europe.