Gáldar in Bloom - Visit this town in Gran Canaria to see a lovely display of flowers in the old town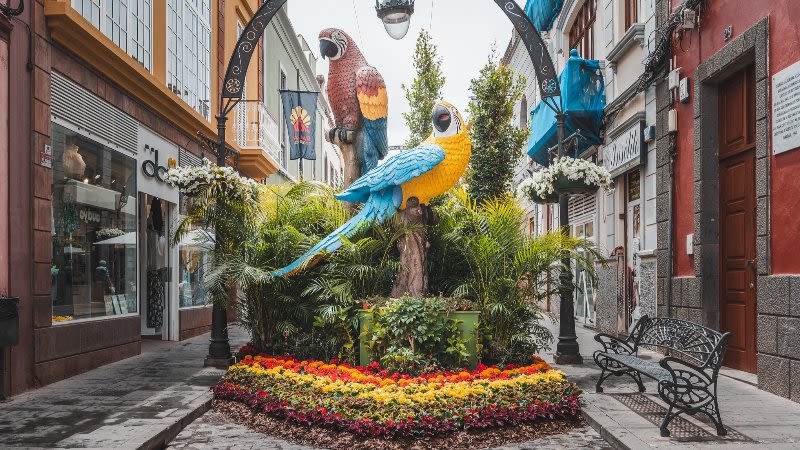 Wondering what to do in Gran Canaria in May? If you're looking for a new and interesting place to visit in Gran Canaria, why not plan a day trip to Gáldar, a town located in the north of the island, which organizes an exhibition called "Gáldar in Bloom" ("Gáldar en Flor") from May 13 until June 2?
The exhibition "Gáldar in Bloom" will show off a collection of flowers and plants that will fill the main street of the historic center with color and beauty, on the emblematic street Captain Quesada.
The councilor of the area, Carmen Pilar Mendoza Ramos, explained that this exhibition, which is the same as the one held in December on the occasion of Flower Week, aims to respond to the request of residents and visitors who asked that this iconic street would be decorated on more occasions similar to how it was back in December when it is filled with flowers and plants in different compositions. "Hence, we have taken advantage of the arrival of spring and the month of May, which is the month of flowers, to offer this new exhibition under the name of "Gáldar en Flor ".
Visitors to Gran Canaria are invited to take a stroll through the streets of the old town to admire the flower exhibits and they can also browse through the shops or stop for a coffee and lunch in this charming town in the north of Gran Canaria.
The flower compositions can be admired along the main street until reaching Plaza de Santa Lucía, where visitors can see the pieces made by the Academy of Painting and Drawing in front of the Antonio Padrón Museum in a tribute to the celebration of its 50th anniversary.
The entire tour is a burst of sensations, with intense colors, a variety of plants and fragrances that mix in perfect harmony, and the exhibit that can be enjoyed until June 2.
Gáldar in Bloom