Giniginamar - A secluded village in Fuerteventura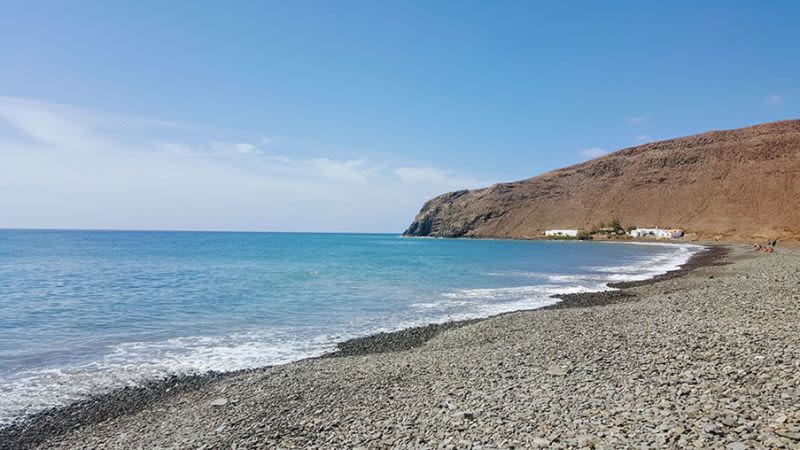 Giniginamar is a small village on the southeast coast of Fuerteventura, between Gran Tarajal and Tarajalejo, in the municipality of Tuineje.
How to get to Giniginamar
From the FV-2 highway, you have to exit onto FV-525 road, a few km south from Gran Tarajal and then follow the course of the road up to Giniginamar.
Most of the houses and villas are located on right, on top of the hill, overlooking the small bay and the beach.
Enjoy the quiet beach in Giniginamar
The beach in Giniginamar is around 500 m long, with small pebbles and black sand towards the south end. The bay of Giniginamar is a protected area of high biological interest.
The beach is usually quiet and with low occupancy. Only during the summer months, especially during the weekends, locals from the village and nearby towns come here to spend time away from busy tourist areas.
There are a few restaurants in the village, but nothing fancy, just a place to eat simple local food and watch the world go by.
Giniginamar doesn't get near as many tourists as the big resorts, but you can find private rentals on sites like Airbnb, Holiday Lettings etc.
It's the kind of place for a quiet holiday in Fuerteventura, where you just want to recharge your batteries.
It is nice to visit a place like Giniginamar on an island like Fuerteventura that lives from tourism. The Giniginamar beach is almost always empty and you can have a day of quiet and peace, before returning to the busier resorts. This is also the reason why we included Giniginamar on our list of the best villages to visit in Fuerteventura.
The clip below was filmed on a Saturday afternoon in September when there were just 3-4 people on the beach. It was very peaceful and relaxing and you could hear the rocks being swept by the ocean each time a wave reached the shore.