Gran Canaria Weather in December - Warm Winter Holidays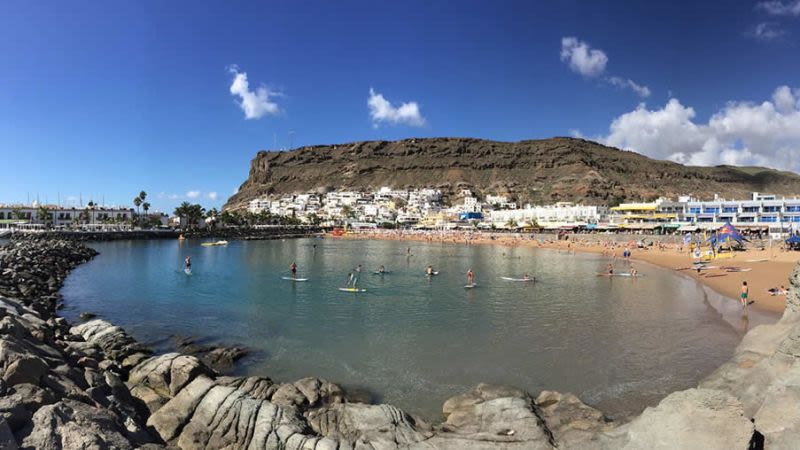 We will say it from the start: Gran Canaria is an excellent destination for the winter holidays if you love warm weather and sunny skies!
While some people can't wait for winter to come in order to go skiing, we personally can't stand the cold and the snow, so we are always looking to escape the winter back home. And the Canary Islands are the perfect warm winter destination, especially for travellers coming here from Europe.
These "fortunate islands" islands as they are sometimes called, enjoy mild temperatures even during the winter months, when the rest of Europe is shivering under the sub zero temperatures. This has to do with the fact that the Canary Islands are actually part of the African continent and their geographical position comes with the advantage of a warm weather even throughout the winter season.
Gran Canaria is known as the "miniature continent", due to its diverse landscape, from lovely sandy beaches in the south, to high mountains in the middle of the island and 2 very diverse west and east coasts. This is why the weather in Gran Canaria can be very different from one region to another and during the winter season the south usually has the best weather on the island. Las Palmas de Gran Canaria, the island's capital, also is a good place to stay in Gran Canaria, especially for digital nomads, who are also looking for a place to work during their stay on the island.
Weather in Gran Canaria in December
The numbers mentioned in this article (temperatures, sunshine hours, water temperature, etc.) are from the GRAN CANARIA AIRPORT WEATHER STATION, but you can find info about other parts of the island in the table below.
The temperatures during the day in December fluctuate between 20°C and 25°C and it all depends on how cloudy the sky is, or how windy it is. When the sun is out, even if the thermometers show "only" 20°C, the real feel will be much higher and you can easily get a tan even just by walking in the sun.
Although the weather in December in Gran Canaria can be a bit tricky, since this is the month of the year with the most amount of rain, usually the south is more protected and gets far less rain compared to the north. So if you want to increase your chances of a sunny winter holiday, we recommend that you book a hotel in Maspalomas, Puerto Rico or Puerto de Mogan, as these are the best places on the island in terms of good weather.
December is considered high season in Gran Canaria, as lots of people come here during Christmas and New Year's Eve and places get booked many months in advance. So if you want to travel somewhere where it's possible to spend Christmas day on the beach while enjoying a cocktail, Gran Canaria is a top candidate, especially if you want to avoid the more expensive destinations like the Caribbean or Mauritius.
Average temperature in Gran Canaria in December
The average high temperature in December in Gran Canaria is around 22°C, while at night you can expect temperatures of around 16-17°C.
Average high temperature: 22.2°C (72°F)
Average low temperature: 16.2°C (61.2°F)
Daily mean temperature: 19.2°C (66.5°F)
In Gran Canaria the daily mean temperature is 19.2°C in December, which is calculated as a mean between the average high temperature of 22.2°C and the average low of 16.2°C.
Record low & record high temperatures
The highest temperature ever recorded in Gran Canaria in December (at the Airport station) was of 28.2°C and the lowest was of 10°C.
The temperatures in the south of the island are usually a bit higher than the ones registered at the Airport station.
See more info about the weather in Maspalomas and Playa del Ingles in December
Rain in Gran Canaria in December
Average rainfall (mm): 31 mm
Average rainy days (>=1mm): 5
According to statistics, December is the month with the highest amount of rain throughout the year.
The average rainfall in December is of 31 mm and this occurs during 5 or 6 days throughout the month. So although there is a higher chance of rain compared to other months, Gran Canaria still gets far less precipitation than most places in the UK do.
Sunshine hours in December
Sunshine hours per month in December: 179
Sunshine hours per day: 6
Percent of possible sunshine: 54%
Daylight hours: 310
Average UV index in December: 4
Gran Canaria gets an average of 5.5 hours of sunshine per day in December. As long as the sun is out the weather is usually nice and warm enough for T-shirts or short sleeved blouses.
Sea temperature in December in Gran Canaria

Average sea temperature in December: 20.8°C
Can you swim in Gran Canaria in December?
With an average temperature of 20.8°C the water is at that point where for some it might be too cold to even attempt to go in, while others still swim comfortably. If you like warm water then you should look for a hotel or an apartment complex with a heated pool.
December weather averages for different parts of Gran Canaria
December Weather
Average
High °C (°F)
Average
Low °C (°F)
Rain
mm (inches)
Rain
Days
Average
Sun Hours
Gran Canaria (Airport)
22.2 (72)
16.2 (61.2)
31 (1.22)
5
6
La Aldea De San Nicolas
22.7 (72.9)
13.9 (57)
22 (0.88)
3
7
Las Palmas De Gran Canaria
22 (71.6)
17.9 (64.2)
14 (0.56)
3
6
San Cristobal (LP Gran Canaria)
22.5 (72.5)
17.6 (63.7)
17 (0.66)
4
6
Maspalomas (Playa del Ingles)
22.3 (72.1)
16.6 (61.9)
22 (0.85)
5
7
Puerto de Mogan
24.1 (75.4)
16.7 (62.1)
12 (0.48)
2
6
Things to do in Gran Canaria in December
December is a festive month in Gran Canaria, although it may seem odd to see winter decorations while you are lounging on a beach chair in the sun. We always advise people to go out and explore Gran Canaria, at least for a day or two during their holiday here. December is a perfect month for visiting and hiking, as the temperatures aren't as high as in summer and you can comfortably walk during the entire day.
Sioux City Park
This is a theme park build like a town from the Wild West, with lots of shows involving music, dancing, talented actors. Horseback riding is also available and it's the ideal family trip, very entertaining and fun. You'll still have time for a bit of sunbathing
Visit the Ruta de los Belenes in Las Palmas de Gran Canaria
Las Palmas has been recognized for having one of the best urban beaches in Spain, Playa de Las Canteras and it is actually a lovely city to visit, with many attractions and things to do for both adults and kids. You have Poema del Mar, one of the more recent attractions in Las Palmas, a big aquarium which will keep the kids fascinated. Also, in December, you can see the famous Ruta de los Belenes in Las Palmas (The Nativity Scenes), built entirely from sand - these are huge sand sculptures, created by amazing artists who come to Gran Canaria from all over the world.
Events in December
Fiestas de Santa Lucia

13 December 2019
This is a local celebration in Santa Lucia de Tirajana, when the village celebrates its beloved patron saint. This celebration combines religious customs with local folklore and it is an interesting event to see in case you are in the area.
GRAN CANARIA WEATHER - MONTHLY REPORTS