Gran Canaria Weather in March - What Temperatures To Expect?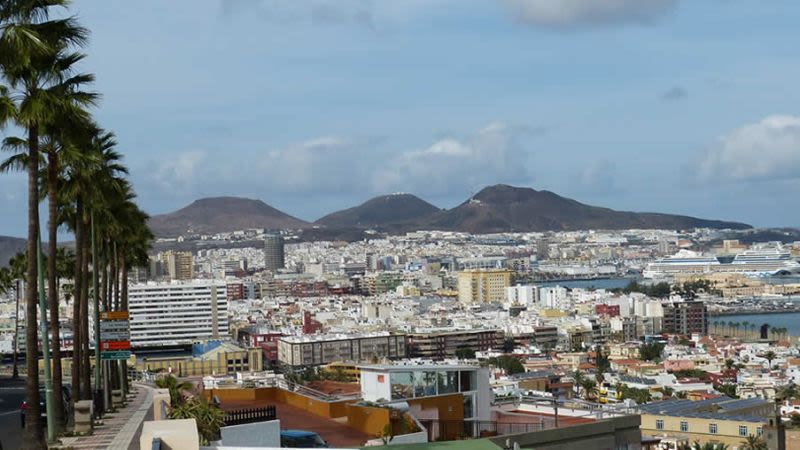 Although March marks the beginning of spring, in most places in Europe it's still a cold month, with low temperatures and even snowfall.
But this is not the case in Gran Canaria.
The temperatures are slowly rising and the number of sunshine hours as well. You'll be able to sunbathe on most days and the weather is also ideal for hiking and exploring, since the temperatures are just right to walk the trails of this beautiful Canary Island.
Gran Canaria is a great destination if you're looking for a warm holiday at the beginning of spring without having to travel too far from continental Europe. Where else so close by can you comfortably walk wearing just a T-shirt when the winter is barely out the door in most countries? You can get a head start on spring by visiting the island in March, while it's not as hot and crowded as during the summer months.
Weather in Gran Canaria in March
THE NUMBERS MENTIONED IN THE ARTICLE (temperatures, sunshine hours, sea water temperature etc.) ARE FROM GRAN CANARIA AIRPORT WEATHER STATION
The end of February and the March are sort of transition periods, while the weather changes from winter to spring. Although winter in Gran Canaria is very different from winter in most places in Europe and the weather stays fairly warm, by the time March is here the temperatures are again on the rise and the amount of rain drops considerably.
February and March are usually the months when the carnival in Gran Canaria happens, so it is a festive time all over the island, with the largest celebrations happening in Las Palmas and Maspalomas. So if you're looking for a spring holiday to a fun destination, that's also sunny and warm, Gran Canaria should be at top of your list.
Temperatures in Gran Canaria in March
The average high temperature in March in Gran Canaria is 22.2°C, while at night you can expect temperatures of around 15-16°C (average low temperature is 15.6°C).
Record low & record high temperatures
The highest temperature ever recorded in Gran Canaria in March (at Airport station) was 34°C and the lowest was of 6.5°C.
Temperatures recorded in Gran Canaria in March 2018
Highest temperature during daytime: 26 °C
Lowest temperature during daytime: 19 °C
Highest temperature during nighttime: 19 °C
Lowest temperature during nighttime: 15 °C
Rain in Gran Canaria in March
March gets an average rainfall of 12mm over the course of 2 days, which means that March sees a lot less rain compared to the previous months of the year.
Sunshine hours in March
Gran Canaria gets an average of 7.2 hours of sunshine per day in March. The days are getting considerably longer compared to February, which means a lot more time to spend on the beach during your holiday.
Sea temperature in March in Gran Canaria

The average surface sea temperature in March at the Gran Canaria Airport station is approximately 19°C / 66.5 F, which is the lowest temperature of the year. From here on the water temperature will start to improve, but if will only reach its highest point in September - October.
Can you swim in Gran Canaria in March?
With an average temperature of 19°C / 66.5 F, the sea is will still be too cold for some visitors, but many people will be able to swim comfortably. In any case, if the ocean is too cold for you and you haven't booked a place with a heated pool, you can always look for a nearby hotel that has one and ask at the reception if you can pay to use the facilities for the day.
Things To Do in Gran Canaria in March
Although you might choose Gran Canaria as a destination in March due to the beautiful and warm weather, we recommend that you don't spend all your time at the beach and also take some time to travel around the island. You can do organized tours, which are great if you don't want to drive and plan everything yourself, or you can just rent a car or take a bus and do things on your own (see more recommendations).
Boat trip to see dolphins and whales
Explore the ocean around Gran Canaria with a boat or catamaran trip, which will take you to the best spots where you can see whales and dolphins. You can book excursions online or buy directly from the harbors or excursion shops.
There are many weekly markets in Gran Canaria, but the one in Puerto Mogan organized on Fridays is quite large and many people come for the day just to go to this market. You can buy some souvenirs and then explore the town, have a relaxed lunch and wonder through the colorful streets.
Events in Gran Canaria in March
7 Feb. - 1 March 2020
March is usually carnival month in the Canaries and in Spain in general.
If you're in Gran Canaria and the carnival is on during this time, make sure to go there at least for a day, to see how the atmosphere is, party with the locals and enjoy the good music, drinks and overall experience. Each year the carnival has another theme, so no two years are the same.