Gran Canaria Weather in October - Hot Enough For A Beach Holiday?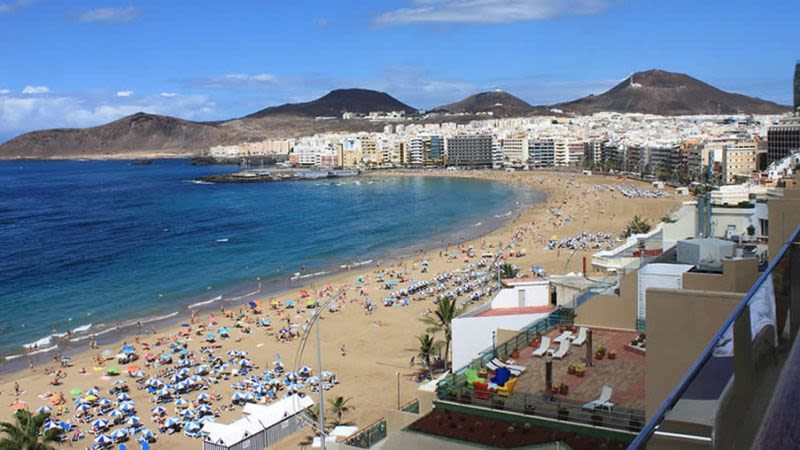 The month of October can be a tricky one in terms of weather in Gran Canaria and in the Canary Islands in general. It's when the transition from summer temperatures to autumn starts and it may rain a bit and you may also get some cloudy days, but in general, the weather will still be warm enough to suntan and also swim in the ocean.
Actually, the month of October has the second warmest ocean temperature in Gran Canaria (only September has warmer ocean water than October). So one can say that October is the perfect month to come for a beach holiday to Gran Canaria, even more so given the fact that in the rest of Europe the temperatures are starting to drop and the rainy rains are more frequent than before.
Prices should for October also drop compared to the summer months, except for the period during the half-term break, when the prices surge uncontrollably. If you plan to travel during the school holiday you should book ahead of time for the best prices, as a last-minute offer is improbable at that time of the year.
Weather in Gran Canaria in October
The numbers mentioned in this article (temperatures, sunshine hours, water temperature, etc.) are from the GRAN CANARIA AIRPORT WEATHER STATION, but you can find info about other parts of the island in the table below.
The temperatures during the day in October fluctuate between 22°C and 26°C, which is hot enough to get a beautiful suntan, as long as you use a high SPF sun cream. The sun in the Canaries may be deceiving, as it can burn your skin really bad even it outside it's cloudy or the temperatures are not overly hot. The UV index in Gran Canaria is still at high levels in October, so you really need to protect your skin by using a good sun lotion or clothing that provides sun protection.
Temperatures still remain around mid and high 20s°C during the daytime, but at night you may already need a cardigan, especially if it's windy. I know some people can even make it through winter nights outside in Gran Canaria wearing just a T-shirt, but if you are more like me and you get cold the first moment when the sun disappears, then you will probably need to pack a light jacket, just in case.
In terms of rain, October gets around 2 to 3 rainy days this month, but the rain won't usually last the entire day and also the usual autumn storms in the Canaries are more common to happen in November than in October.
In conclusion, October usually gets warm temperature, a lot of sunny days and also the ocean is at a record high (similar to September), which means it's great for swimming. If you like a more quiet holiday, then try to come during the first two weeks of the month, when the kids are still at school and the prices are more reasonable as well.
Average temperature in Gran Canaria in October
The average high temperature in October in Gran Canaria is around 26°C, while at night you can expect temperatures of around 20-21°C.
Average high temperature: 26.2°C (79.2°F)
Average low temperature: 20.1°C (68.2°F)
Daily mean temperature: 23.1°C (73.5°F)
In Gran Canaria the daily mean temperature is 23.1°C in October, which is calculated as a mean between the average high temperature of 26.2°C and the average low of 20.1°C.
See more detailed info about weather in Maspalomas and Playa del Ingles in October
Record high & record low temperatures
The highest temperature ever recorded in Gran Canaria in October (at the Airport station) was 38.1°C and the lowest was 14.6°C.
Rain in Gran Canaria in October
Average rainfall (mm): 16 mm
Average rainy days (>=1mm): 2
The average rainfall in October is of 16 mm and this occurs during 2 days throughout the month. Compared to most other places in Europe, this is not a large amount and there are high chances that you won't see much rain in October in Gran Canaria, especially in the south of the island (Maspalomas, Puerto Rico and Playa Mogan).
Sunshine hours in October
Sunshine hours per month in October: 220
Sunshine hours per day: 7
Percent of possible sunshine: 64%
Daylight hours: 341
Average UV index in October: 7
Gran Canaria gets an average of 7 hours of sunshine per day in October. You also have a probability of 64% for a sunny day and the average UV index is 7 during this month. You still need to use at least an SPF 30 sun lotion if you want to protect your skin from sun damage.
Sea temperature in October in Gran Canaria

Average sea temperature in August: 23.6°C / 74.5°F
Can you swim in Gran Canaria in October?
With an average temperature of 23.6°C, the ocean is really warm and pleasant, ideal for swimming or other water sports. If you like to stay in private apartment then you won't even need a heated pool, since the ocean is warm enough to swim comfortably.
October weather averages for different parts of Gran Canaria
Please keep in mind that these numbers can be very different for places located high in the mountains, where the temperatures drop more and there are more chances of rain.
October Weather
Average
High °C (°F)
Average
Low °C (°F)
Rain
mm (inches)
Rain
Days
Average
Sun Hours
Gran Canaria (Airport)
26.2 (79.2)
20.1 (68.2)
16 (0.63)
2
7
La Aldea De San Nicolas
26.4 (79.5)
19.3 (66.7)
5 (0.2)
1
8
Las Palmas De Gran Canaria
26.3 (79.3)
21.8 (71.2)
48 (1.89)
5
7
San Cristobal (LP Gran Canaria)
26.8 (80.2)
21.7 (71.1)
33 (1.3)
3
7
Maspalomas (Playa del Ingles)
26.2 (79.2)
20 (68)
11 (0.41)
1
9
Puerto de Mogan
27.9 (82.2)
20.5 (68.9)
9 (0.34)
2
7
Things to do in Gran Canaria in October
For us, October marks the start of the ideal season for long walks and hiking in Gran Canaria. It's not as hot as during July and August and you can be outside during the midday hours without risking a heat stroke. We also like to explore more around the island, rent a car and visit new places in Gran Canaria that we haven't visited before.
Visit Cocodrilo Park
If you are bringing the kids with you, Cocodrilo Park will be the perfect half-day excursion to make them happy during this holiday.
If you are getting a cloudy day and you don't know what to do, you can choose to go to this park or any other, as the weather will probably be perfect for visiting and exploring on foot, without having to worry about the sun.
Drive North and explore Arucas
Arucas is one of the hidden gems of Gran Canaria and a beautiful little town to visit during your trip.
Arehucas Rum is produced here in Arucas and you can do a tour of the factory and sample the locally produced rum, the most famous Rum brand in the Canary Islands.
Events in October
Gran Canaria Walking Festival

22 - 25 October 2020

Explore Gran Canaria on foot by taking part in some of the routes that will show you the most fascinating sights of the island. The Gran Canaria Walking Festival is the best way to enjoy the island and there are many options for walks and hikes to choose from, suitable for all people.
GRAN CANARIA WEATHER - MONTHLY REPORTS