Gran Canaria Weather in September - Still Feels Like Summertime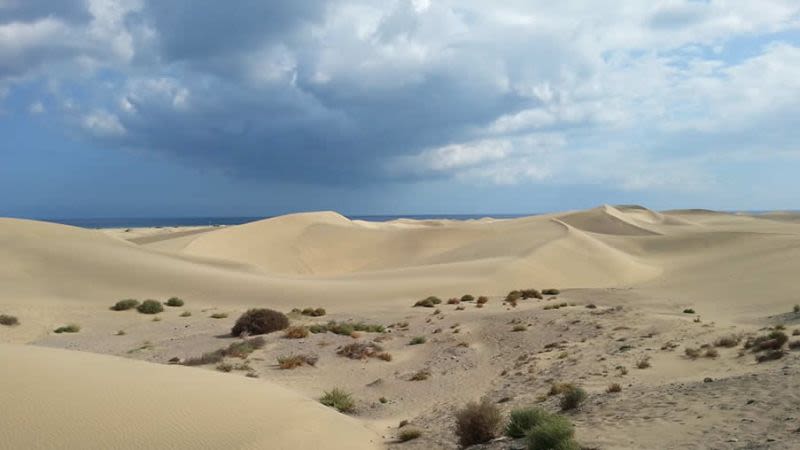 September is a great month to visit Gran Canaria: it is still hot, rain is unusual and the island gets less crowded after the school starts in most European countries. So if you're looking for an adults only romantic trip to Gran Canaria September might be the perfect time to visit.
In Gran Canaria, the month of September still feels like summer and sometimes the first weeks are just as hot as August. The water gets even warmer during this month and it is actually the warmest throughout the year (only October has similar water temperatures).
For September is actually one of our favorite months to come to the Canary Islands, since it is almost guaranteed to be warm and dry, but it is not so hot and windy as it is during the full-on summer months July and August.
Weather in Gran Canaria in September
The data mentioned on this page (temperatures, sunshine hours, seawater temperature, etc.) is from GRAN CANARIA AIRPORT STATION.
The temperatures during the day in September are between 25°C and 28°C, which may not seem like a lot, but the sun is very strong here in the Canary Islands due to their closeness to the Equator, so you will feel it burning your skin if you don't use a high factor sun lotion. For September we still recommend that you use a 50 SPF sun cream, especially if your skin is white and you burn easily. We use a 30 SPF sun lotion even in winter, otherwise, our skin would go completely red.
The wind tends to be less strong compared to previous months and this will create that the sensation that the temperature is higher than it really is.
In our opinion the weather in September in Gran Canaria is perfect for a beach holiday because we can easily go swimming all over the island, enjoying the many different beaches. During winter we usually avoid the north and the west coast for swimming and we stick only to the south, but in September the water is warm enough to allow us to comfortably swim wherever we want (and wherever we feel it is safe at that moment).
In regards to the rain, it hardly ever rains during this month and you can expect at most 1 wet day in September.
If you are not conditioned by school holidays then this is a good month to come over and enjoy the great weather. Prices for flights and accommodation should also be lower compared to the summer season or the winter season (which is also considered high season in the Canary Islands, since they are the warmest winter destination in Europe).
Temperatures in Gran Canaria in September
The average high temperature in September in Gran Canaria is around 28°C, while at night you can expect temperatures of around 21-22°C.
The data below is from Gran Canaria Airport station but in the south of Gran Canaria, it's usually a bit hotter.
Average high temperature: 27.2°C (81.0°F)
Average low temperature: 21.4°C (70.5°F)
Daily mean temperature: 24.3°C (75.7°F)
How hot is Gran Canaria in September?
In Gran Canaria, the daily mean temperature is 24.3°C (75.7°F) in August, which is calculated as a mean between the average high temperature of 27.2°C (81.0°F) and the average low of 21.4°C (70.5°F).
During the daytime, it still gets pretty hot and September is one of the best months to visit Gran Canaria in our opinion.
Record low & record high temperatures
The highest temperature ever recorded in Gran Canaria in September (at the Airport station) was 39.3°C and the lowest was 16.5°C.
September is still a month when the weather is great all over the island and you can easily explore the mountains as well as the beaches on the island.
Rainfall
Average rainfall (mm): 7.31 mm
Average rainy days (>=1mm): 0.9
Is Gran Canaria rainy in September?
September still gets at most 1 rainy day per month, so you should not worry about it ruining your holiday.
You can expect more rain towards the end of the month, as the month is progressing towards October, but remember that even in autumn or winter the island still gets much better weather than anywhere else in Europe (although there have been the odd occasions when it has been warm and sunny in the UK and cloudy and chilly in the Canaries - for example Easter 2019).
Sunshine hours
Sunshine hours per month in September: 250
Sunshine hours per day: 8.3
Percent of possible sunshine: 70%
Daylight hours: 360
Average UV Index in September: 9
Gran Canaria gets an average of 8.3 hours of sunshine per day in September. You still have 70% chances for sunny days and the UV index factor is now at a level of 9, decreasing from the maximum level of 11 during the months of June, July and August.
Sea temperature

Average sea temperature in September: 23.7°C/ 74.66°F
Can you swim in Gran Canaria in September?
With an average temperature of 23.7°C/ 74.66°F, the ocean is at its warmest temperature throughout the year.
This is why we love coming in September because we can enjoy the ocean at its fullest and we also get fewer chances of getting sunburn because the UV index is lower compared to the summer months. If you want to swim and spend a lot of time in the water, then September has the perfect weather for this in Gran Canaria.
Things to do in Gran Canaria in September
Since the weather is still so great in September, we usually prefer to explore the beaches and water parks and leave the walking and hiking activities for days when it's cooler. But the great thing about Gran Canaria is that it's so diverse that you can easily find new things to do and see even if it's not your first visit to the island.
Be amazed at Bufadero de la Garita
Calle Romero, 1, 35212 La Garita, Las Palmas, Spain
This is a popular attraction on the island and it is easy to find and park right next to it.
It's a place where you will see many professional photographers and the light is at its best early in the morning, right around sunrise. But it's a great place to come and see at any moment of the day but it is more impressive when it's the high tide and the water level is high. El Bufadero is actually a blowhole - a hole in the rock that gets filled with a large amount of water and when the water is "spit" out it makes a rather distinctive and scary sound.
Holiday World Maspalomas
Av. Touroperador Tui, 35100 Maspalomas
Holiday World can be a good option for an evening if you are coming over with the kids in September. The nights are still warm and it is not as crowded as in summer. The entire park will be undergoing a massive renovation and will reopen in summer 2019, with everything brand new and many new attractions as well.
Events in Gran Canaria in September
11 September 2020

This is a popular local fiesta in La Aldea de San Nicolas, which is not well known among tourists and you will mostly see locals here. The participants gather around the pond (Charco in Spanish) behind the white line and wait for the signal to be given; when people hear the sound of the explosion everyone runs towards the pond and goes in.
See more info available on Wikipedia in Spanish, as this is considered one of the most important and unique celebrations in the Canary Islands archipelago (you can use the Google Translate website to read the info written in Spanish). So if you are visiting Gran Canaria in September during the time when this fiesta is celebrated it would be a great opportunity to learn more about the local culture, well beyond the usual tourist spots.

GRAN CANARIA WEATHER - MONTHLY REPORTS