La Aldea de San Nicolás Carnival 2021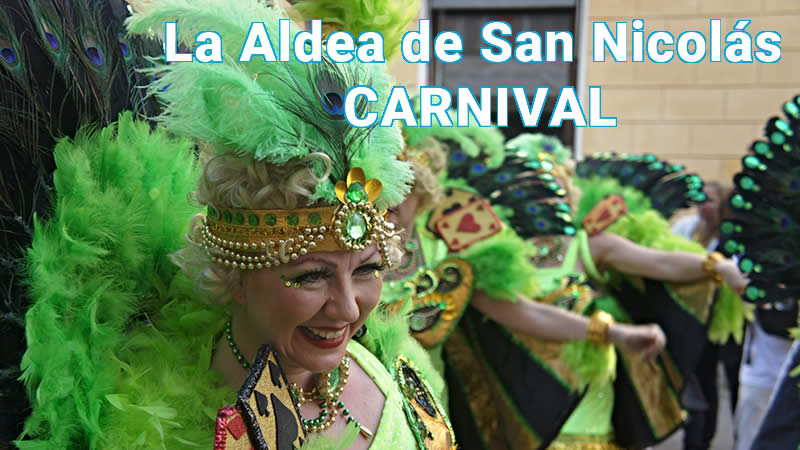 The 2021 Carnival of La Aldea de San Nicolás was dedicated to the 'One Thousand and One Nights' theme. This theme was chosen by 496 people, out of the 936 who participated in the survey held by the Council of Culture and Celebrations, conducted by Cleofé Cubas, on the municipal website.
Will there be a Carnival in La Aldea de San Nicolás in 2021?
Due to the ongoing Coronavirus pandemic, there are no large events currently scheduled to happen in Gran Canaria.
Even the big carnival in Santa Cruz de Tenerife is canceled in 2021, with everyone hoping that things will return to normal by 2022 so that the next edition of the carnival will be celebrated as usual in La Aldea de San Nicolas once again.
How is the carnival usually celebrated in La Aldea de San Nicolas?
In regards to costume, you can usually let your imagination fly. Any costume will do really, it doesn't have to be anything extravagant; you can simply wear a wig or some funny glasses and a hat. Like we said, just let your imagination take charge and be as crazy as you want.
The carnival in La Aldea usually means a series of acts for the whole family, with lots of entertainment and fun.
The traditional Pasacalles of the educational centers of the municipality - The children, dressed in a traditional way, will parade through the main streets of the Old Town to end in La Alameda, where they taste carnival tortillas. The next day, Carnival Day will take on the streets of the Old Town, on a day that promises to be very festive and fun, for the whole family, with attractions, activities and live music.
On Sunday, the Elders choose their Carnival Queen, in a Gala which is held at the Centro de Majores de la Calle Real.
Carnival Tuesday - Once again, La Aldea de San Nicolás will be the scene of one of the only Carnival celebrations in the Canary Islands which date back to the beginning of the last century: the departure of the goats and rams. Races, shouts, laughter, fill the streets of El Casco for one afternoon so that this tradition is not lost.
La Aldea de San Nicolas Carnival Parade
On a Saturday, the massive Carnival Cavalcade takes place followed by the first Mogollón.
The route of the parade usually starts from the Picos Warehouse (Almacén de Los Picos) towards the Plaza del Proyecto Cultural de Desarrollo Comunitario.
Sunday marks the end of the party, with the Burial of the Bream and the second Mogollón.
SEE ALSO