La Palma Weather in November - Is the weather still hot?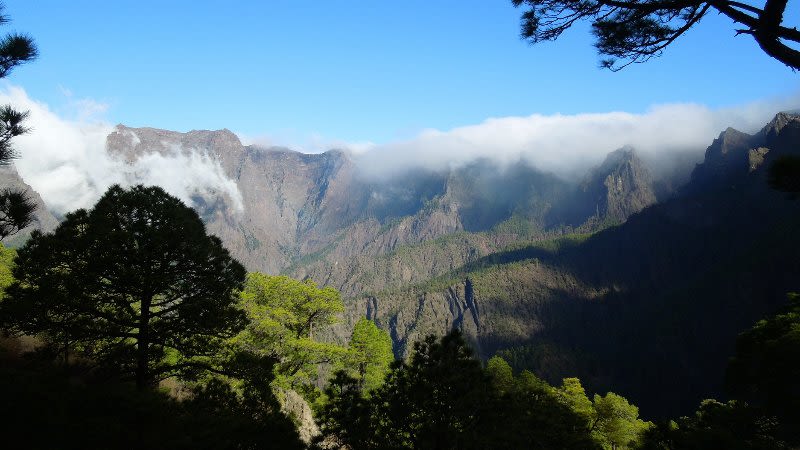 With winter slowly approaching the northern hemisphere of the planet, La Palma in the Canary Islands seems like a nice and pleasant destination for November, as well as the following months.
If you're looking to escape the cold but you want to avoid the most touristic islands in the Canaries like Tenerife or Gran Canaria, La Palma might be the perfect destination for you and your family.
Weather averages for November in La Palma (Santa Cruz de La Palma)
These temperatures are measured at the meteorological station in La Palma Airport (close to the island's capital - Santa Cruz de La Palma), on the east coast of the island.
RECORD HIGH TEMPERATURE: 31.6°C
AVERAGE HIGH TEMPERATURE: 23.5 °C
DAILY MEAN TEMPERATURE: 21 °C
AVERAGE LOW TEMPERATURE: 18 °C
RECORD LOW TEMPERATURE: 10 °C
AVERAGE RAINFALL: 66 mm
AVERAGE RAINY DAYS: 7
MEAN MONTHLY SUNSHINE HOURS: 137
MEAN DAILY SUNSHINE HOURS: 5
SEA TEMPERATURE: 22 °C
What is the weather like in La Palma in November
While it is true that the temperatures are dropping and the average temperature in November is almost 2°C lower than it was in October, La Palma is still one of the warmest places to visit this month, especially for European residents.
Autumn is actually the perfect season for hiking in the Canary Islands, as the temperatures start to cool down and the time is nice for long walks, without having to worry about the sun and the UV index (although you should always use sun cream).
November in the Canaries is usually known as the month of the big storms, but keep in mind that these islands don't get hit by hurricanes or cyclones, only tropical storms that usually go away in 2 or 3 days.
See our recommendations: 5 best things to do in La Palma
Average temperature in November in Santa Cruz de La Palma
The average temperature is 21 °C, which is a mean value calculated between the average high temperature during the daytime of 23.5 °C and the average low temperature of 18 °C.
With temperatures still reaching 23°C during the daytime, November is still a month when you can pack mostly T-shirts and shorts for your trip to La Palma.
At night you will need a jacket most likely, which we also recommend that you bring with you whenever you decide to go on a walk or hike in the mountains, as the weather can change quickly there.
Average rainfall in November in La Palma
The average rainfall in November: 66 mm
The amount of rainfall in November rises by almost 50% compared to October, so it is possible to get some wet days while you're here. But in our opinion, it's still better than the weather in the UK or the Nordic countries at this time of the year, so it really depends on where you are coming from.
Rain usually happens throughout 6 to 7 days this month, so you might get 2 or 3 rainy days in a row, but usually not more than that. If you have a rental car at your disposal you can easily drive around the island and find a place where it's dry (if not sunny).
Average sea temperature in November in La Palma
Average sea temperature in November: 22°C
The ocean temperature is still at a comfortable 22°C during November, so you can swim and enjoy the ocean water during your stay.
Average sunshine and average daylight hours in November in La Palma
Daily hours of sunshine: 5
With 5 hours of daylight in November, the days are getting pretty short and you'll have to plan carefully if you want to go on trips to the mountains. Start early in the morning and try to make the most of the daylight, as the sunset at this time of year tends to come pretty early.
Events in November
November 1st - Todos Los Santos
All Saints Day is a Christian celebration of all saints and it happens on the first day of November each year. It is a widely popular celebration in Spain and it is a bank holiday, so most shops, banks and supermarkets will be closed.
Should you come on holiday to La Palma in November?
Although no one can guarantee you'll have perfect weather in November in La Palma, it is still likely that temperatures during the day will be above 20°C, which is pleasant enough for walking and exploring.
La Palma is quieter and more chilled in November and autumn in general compared to the summer months when most of the visitors arrive on the island. So if you're looking for a really quiet and relaxing holiday in the Canary Islands for your autumn getaway, you might want to try La Palma, an island that hides incredible natural treasures waiting to be discovered.