La Tejita Beach - Nudist-Friendly Beach in Tenerife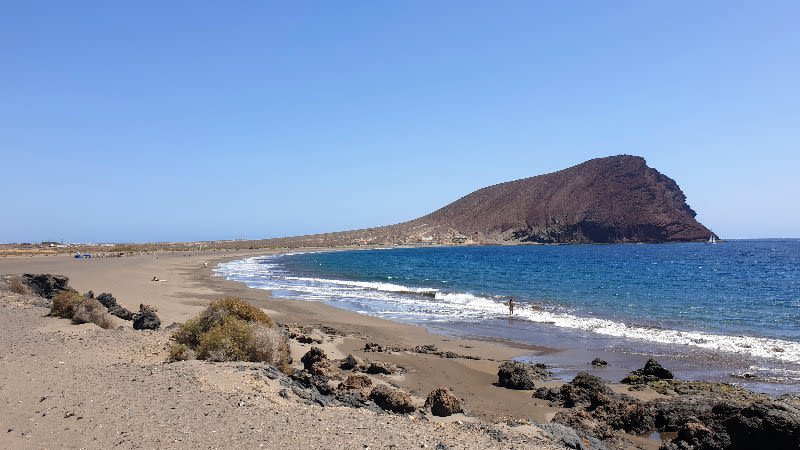 Playa de La Tejita is the largest natural beach in Tenerife, with 1 km in length and almost 40 m wide. It is located close to El Medano beach, on the other side of the volcanic cone called Montana Roja.
| | |
| --- | --- |
| Location: | El Medano, Granadilla de Abona |
| Map: | see on Google maps |
| Beach type: | Isolated beach with fine dark brown sand |
| Access: | Easy access |
| Facilities: | Sunbeds, umbrellas, toilets, waste bins |
| Nudist friendly: | Yes |
| Lifeguards: | No |
| Parking: | Yes |
| Public Transport: | Yes |
| Wheelchair accessible: | No |
La Tejita Beach is a naturist-friendly beach in Tenerife
The part of the beach that is closer to Montana Roja is considered nudist friendly and it is a great place to spend an entire day. On the other side of La Tejita beach, you will find some sun loungers and umbrellas, a small kiosk shop, but the area, in general, is not commercial like the big tourist resorts.
Similar to El Medano, the wind is constantly blowing here at Playa de la Tejita, so it has ideal conditions for water sports like surfing and kite surfing. For swimming, the water can be dangerous, due to the currents and waves and also the lack of lifeguards.
For families with children, the beach offers a lot of room for running and playing, but the ocean here is dangerous for small kids, so pay extra attention.
Montana Roja, the big hill right next to the beach is declared a nature reserve and it takes around 30 minutes to climb on top of it for the best views of the ocean and the beach itself.
La Tejita beach is a good place to visit if you want to escape the crowds
If you plan on spending the day at La Tejita beach you should consider bringing some snacks and an umbrella or beach tent, because the area is very open and you will not find many places to hide away from the wind and the sun.
Chiringuito Pirata - a good beach bar on the southern end of Tejita Beach
This is a very chilled and popular bar situated on the very end of Playa La Tejita, on the opposite end to Montana Roja. This is the place where you can come for a drink or lunch, or maybe for a nice barraquito coffee.
Centro Comercial La Tejita
There is a shopping center close to Tejita Beach, but when we visited the place it looked almost completely deserted and we were one of the few people there.
There are some bars and restaurants in this shopping mall but some of them weren't even open and the ones that were open had no customers, so it all looked kind of sad.
If you're in the area and you want to grab a drink or something to eat, we would recommend that you go to Chiringuito Pirata, where you also get a view of the ocean.
Maybe the place is more animated during other times of the year, but when we visited in March there wasn't much to do or eat there.
There is a Dialprix supermarket inside the shopping center, so it's useful if you're staying in one of the nearby villas or at Camping Montana Roja, situated right in front of La Tejita Beach.
There are several places where you can park your car close to Tejita Beach:
The largest parking is the one directly with access from TF-643
The parking at Centro Comercial La Tejita
The parking next close to Chiringuito Pirata
Compared to other beaches, Playa de la Tejita is never crowded due to the isolated position and lack of restaurants and hotels. It is a favorite spot for naturists and people who seek peace and quiet, away from the big resorts.
Want to explore more? Read our complete guide for the most beautiful beaches in Tenerife.