Lanzarote Weather in January - Hot Warm Is It Really?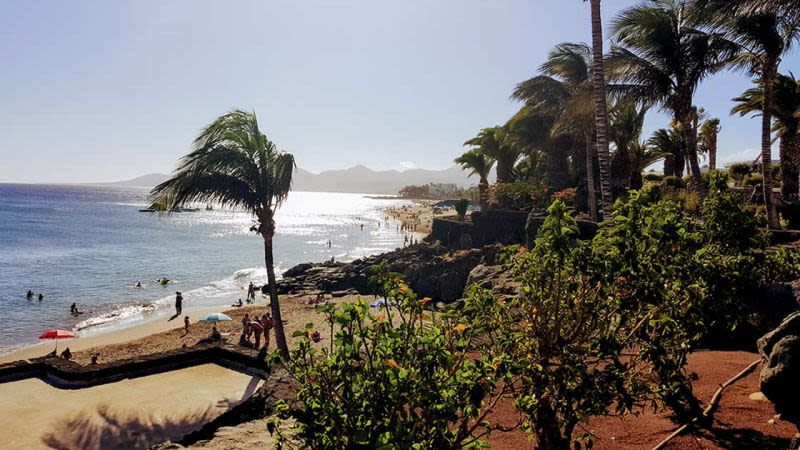 When in doubt about where to go for a sunny winter break, Lanzarote is always a good idea. No matter the season, Lanzarote is blessed with a mild climate, which makes visitors fall in love with both its beauty and its warm weather.
The Canary Islands are our top choice as the warmest destination in Europe during winter, with plenty of hours of sunshine and temperatures that still rise above 20°C during the daytime.
What's the weather like in Lanzarote in January
Lanzarote's climate is classified as subtropical-dessert as the island is located just 125 km off the coast of Africa.
The Canary Islands are often called The Islands of the Eternal Spring, as their weather is pretty constant throughout the year, especially when compared to other countries on mainland Europe.
Average temperatures
The average high temperature in January in Lanzarote is around 20 - 21°C, while at night you can expect temperatures of around 14°C. During the day time, you will usually be able to sunbathe, while at night you will need a cardigan or a jacket to feel warm and cosy.
Average high temperature: 20.7 °C (69.3°F)
Average low temperature: 14 °C (57.2°F)
Daily mean temperature: 17.3°C (63.1°F)
In Lanzarote, the daily mean temperature is 17.3 °C in November, which is calculated as a mean between the average high temperature of 20.7 °C and the average low of 14 °C.
Record low & record high temperatures
The highest temperature ever recorded in Lanzarote in January (at Airport station) was of 27.9 °C / 82.2 °F and the lowest was of 8.0 °C (46.4 °F).
UV Protection
Don't skip on sun lotion, even if it is January and it doesn't seem hot enough to burn your skin. The sun is misleading and you can get sunburns even when it's cloudy outside, so always use UV protection, no matter at what time of the year you are visiting.
How warm is the weather in reality - actual photos from Lanzarote in January
Due to the fact that rainy days happen more often during winter months compared to the rest of the year, the island usually looks greener in January and February. The north of Lanzarote is the island's greenest part and if you have the possibility, you should make a trip to Haria and the surrounding areas, to see a different Lanzarote from the one you may know from the arid summer months.
Golfing in Lanzarote is always a good idea and January is no exception.
The grass is always greener in winter and with temperatures around 20°C, it may just be the perfect activity for a day.
Lounging on the beach or by the pool is the no 1 activity for the island's visitors, no matter the season.
During the winter months, the beaches may be less crowded compared to summer, but that doesn't mean you can get a winter tan. Be careful with the sun protection and always wear lotion, as you can get sunburned easily even if you think it's a bit cloudy.
Rainfall
Average rainfall (mm): 17 mm
Average rainy days (>=1mm): 3
Winter is the rainiest season in Lanzarote, with December being the month with the most amount of rain usually.
Although you can expect some rainy days in January also, the weather should still be mostly warm and there's still plenty of things to do in Lanzarote when it's raining.
The fact that it's raining is what makes the island change its appearance and become greener, which makes the whole landscape look less arid and moon like.
Snow in Lanzarote
Does it snow in Lanzarote?
NO.
You don't have to pack your winter boots and gloves, as there will be no snow on the island, no matter when you visit.
Sunshine hours
Lanzarote gets an average of 7 hours of sunshine per day in January, which is very similar to the previous months.
Sea temperature
Average sea temperature in January: 19.4°C / 66.9°F
Ocean temperature is measured in Puerto del Carmen.
What to wear in Lanzarote in January
Packing advice
The first thing you should throw in your suitcase is the bathing suit. Never come to the Canary Islands without your bikinis or bathing suit, unless you plan on going on a shopping trip while on the island!
The other item that shouldn't miss from your luggage is a cardigan or better yet, a light jacket that is wind resistant and waterproof. This will be necessary especially for those evening walks by the ocean, when the temperatures drop and the wind may feel colder.
If concerned about the fashion aspect, a cardigan might do also for the ladies, for it's always a good idea to bring a jacket with you as well.
What's the best resort for a holiday in Lanzarote during the month of January
Although the temperatures are fairly constant throughout the island, the north tends to get more wind, which may make it seem cooler.
Costa Teguise is usually windier than Puerto del Carmen and Playa Blanca and out of the three, Playa Blanca may have the best weather in January and in winter in general. But this isn't an exact science as weather is quite unpredictable nowadays, so you should make the decision according to personal preferences, especially if you plan to rent a car and drive around Lanzarote to explore the island.
For more info on the subject you can read our dedicated article about where to stay in Lanzarote.
January weather averages for different parts of Lanzarote
January Weather
Average
High °C (°F)
Average
Low °C (°F)
Rain
mm (inches)
Rain
Days
Average
Sun Hours
Lanzatore (Airport)
20.7 (69.3)
14 (57.2)
17 (0.65)
3
7
La Graciosa
20.4 (68.7)
14.7 (58.5)
23 (0.91)
4
6
Playa Blanca
20.8 (69.4)
14.4 (57.9)
22 (0.87)
3
7
What to do in January
As the weather is great pretty much all year round, you can do in January almost anything that you can do in summer. Here's our list of things to do in Lanzarote to convince yourself that there's a lot to see and do on this small island.
The water temperatures may be too low for some of the visitors to venture into the ocean, so it may be a good idea to look for a place with a heated pool.
On the 5th of January there's the Cabalgada de los Reyes Magos - the parade of the Three Magic Kings, an important event in the Spanish culture.
There are processions and parade in all parts of the island the following day, the 6th of January is a public holiday. The Three Kings will bring presents for kids on the 6th of January (just like Santa Claus in other cultures).
Walking in Lanzarote is always a good idea, as the weather in January is great for this activity since the temperature allows you to be out and about even at midday when the temperatures are sometimes unbearable during the summer months.
Is a trip to Lanzarote a good idea for the month of January?
In our opinion, YES.
However, this depends on where you're from and what your expectations are.
If you're coming from the UK, northern Europe, Germany or Eastern Europe, then the weather will certainly be better than at home.
It may not be scorching hot like in the summer, but with temperatures still above 20°C you simply can't go round.
LANZAROTE WEATHER - MONTHLY REPORTS