Lanzarote Weather in August - Hottest Month of The Year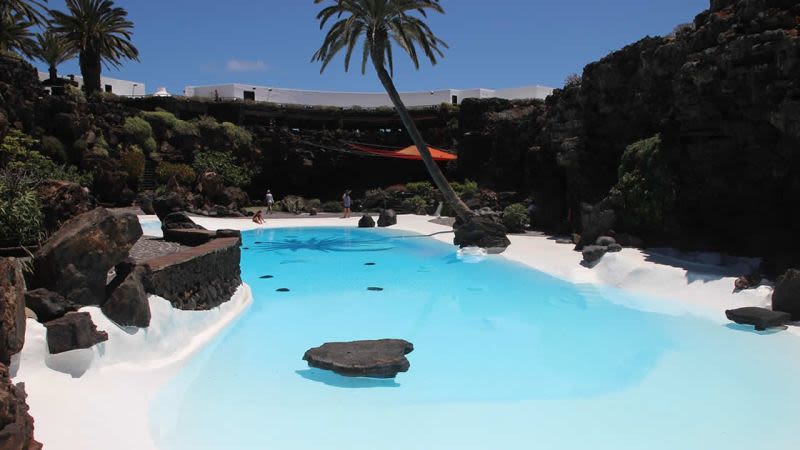 August is the hottest month in Lanzarote and there's no doubt about it.
July is not that far behind, but August really takes the lead in terms of high temperatures here in Lanzarote.
In August it's all about spending time on the beach and working on your tan. Just don't forget about buying a sun cream with a high level of protection, since the sun will be burning all throughout August. This is by August is one of the busiest months on the year in Lanzarote, with holidaymakers from the UK and also mainland Spain coming over for their summer breaks.
How is the weather in Lanzarote in August
If you like it hot...then August is the perfect month for you to come to Lanzarote.
On most days temperatures surpass 30°C during the daytime, while at night it cools down a bit with temperatures around 22°C. During the day you'll need to hide in the shade in the afternoons and you will need to keep yourself hydrated, so make sure to always have a nice bar in sight.
The ocean is finally pleasant and warm enough for everyone to enjoy swimming in it. The water parks in Costa Teguise or Playa Blanca are always a good idea, but they are also crowded with all the other visitors who are looking to cool down.
High temperatures come with a high risk of calima as well. But when this phenomenon happens it doesn't last for a long time and in maximum 3-4 days the sun will be clear again and the temperatures will get back to normal (temperatures usually go up during the calima).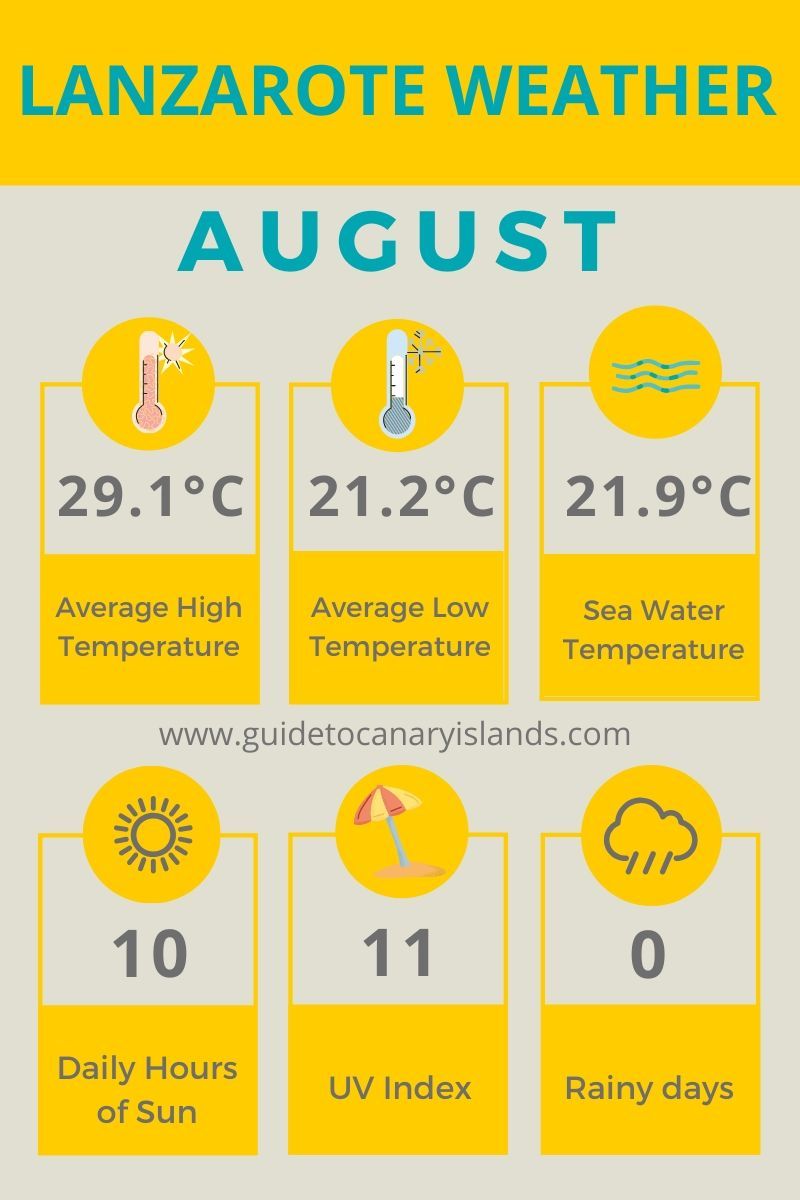 Temperatures in Lanzarote in August
The average high temperature in August in Lanzarote is around 29°C during the day, while at night you can expect temperatures of around 21°C.
Average high temperature: 29.1°C (84.4°F)
Average low temperature: 21.2°C (70.2°F)
Daily mean temperature: 25.2°C (77.4°F)
In Lanzarote, the daily mean temperature is 25.2°C (77.4°F) in August, which is calculated as a mean between the average high temperature of 29.1°C (84.4°F) and the average low of 21.2°C (70.2°F).
As you can see, in August the weather is really hot during the day, while at night it's cool and refreshing, making Lanzarote the perfect place to visit for a summer holiday.
Record low & record high temperatures
The highest temperature ever recorded in Lanzarote in August (at Airport station) was 43.6°C and the lowest was 16.6°C.
Since the island is mostly flat, the temperatures stay pretty much the same across all major resorts in Lanzarote: Puerto del Carmen, Playa Blanca and Costa Teguise.
Rainfall
Average rainfall: 0.5 mm
Average rainy days: 0
It is highly improbable for the rain to occur in Lanzarote in August, so leave your umbrellas and raincoats at home.
On normal years Lanzarote gets 0 mm of rainfall in August and even on years when exceptions from this rule occur, you won't see more than 1 or 2 days of rain across the entire month.
Sunshine hours
Monthly hours of sunshine: 295
UV index in August: 11
Lanzarote gets an average of 10 hours of sunshine per day in August, similar to July. From here on the days start to become shorter, but August is still one of the months when you get plenty of daylight to make the most of your trip.
The UV index in August in Lanzarote is 11, which is very high.
Sea temperature

Can you swim in Lanzarote in August?
With a small increase in temperature from the previous month, the sea in August is warm enough for you to swim.
Beaches like Papagayo and also resort beaches are packed in August and there's no wonder why. Everyone wants to enjoy the sun in Lanzarote and beaches are flooded with holidaymakers who take advantage of their children's summer break to come over for a family holiday.
What's Lanzarote like in August
Summary - The data below is from the weather station at Lanzarote Airport and it represents the weather averages for the month of August.
| August Weather Averages | Lanzarote Airport |
| --- | --- |
| Average high temperature | 29.1°C (84.4°F) |
| Daily mean temperature | 25.2°C (77.4°F) |
| Average low temperature | 21.2°C (70.2°F) |
| Mean monthly sunshine hours | 295 |
| Monthly rainfall (mm) | 0 |
| Average relative humidity | 68% |
| Average Ultraviolet index | 11 |
| Average sea temperature | 21.9°C / 71.4°F |
Things to do in Lanzarote in August
Whatever you plan to do or see in August in Lanzarote, do it early in the day in order to beat the crowds. Or if you are planning in visiting some of Lanzarote's attractions, like Jameos del Agua pictured above, you can wait until late afternoon, when all the tour buses have gone for the day.
Go on the footsteps of Cesar Manrique
If you want to skip the beach for a day, make a day trip around Lanzarote and follow on the footsteps of Cesar Manrique.
Jameos del Agua, Cueva de los Verdes, Cesar Manrique Foundation or Mirador del Rio are some of the most important places for you to visit.
Take a trip to La Graciosa to discover some amazing beaches that will take your breath away
La Graciosa is the island you can see while visiting Mirador del Rio and its beaches are simply the best.
You will have to head over to Orzola in the north of Lanzarote, then take the ferry and cross over to La Graciosa. You can explore the island on foot (there are no paved roads on the island), or you can rent a bike or a car. You can also buy an excursion and they will take you directly to the best beaches and will usually include lunch, so it's a full day trip to enjoy this small paradise.
Events in August
Fiesta de San Gines
San Gines is the patron saint of Arrecife (Lanzarote's capital) and it's the biggest party in town throughout the year. The event usually takes over half the month of August and you should come over if you want to see how the locals like to party.
Fiestas de la Caridad in La Geria
The festivities in honor of the Virgen de La Caridad pay tribute to the wine industry and field workers. Visit Lanzarote's own wine country and taste the various types of wine produced on the island.

LANZAROTE WEATHER - MONTHLY REPORTS