Lanzarote Weather in July - Plan The Perfect Hot Summer Holiday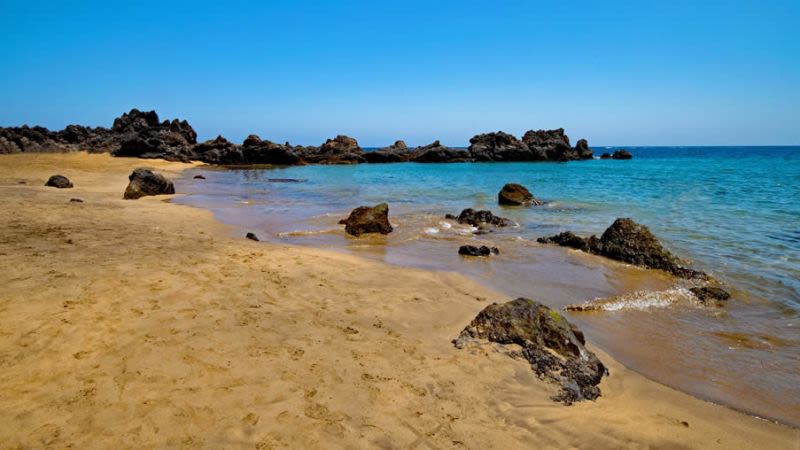 July is the month when temperatures start to rise well above 30°C constantly during the daytime, although July is not the warmest month of the year. That prize is reserved for August, which is the hottest month in Lanzarote, but July is not so far behind in terms of high temperatures and sunshine hours.
July is a busy month in Lanzarote, when families with children on school holiday come to the island for their summer holiday. This means that you can expect crowds at most places to visit, busy beaches, full hotels and a daily race to reserve sunbeds around the pool. This usually comes on top of slightly higher prices compared to previous months, but beach weather is almost guaranteed, so you can be sure you'll go back with a tan.
Weather in Lanzarote in July
There are three main things you need to know about weather in Lanzarote in July:
temperatures are high on most days, around 28-30°C during the day, so being by the beach is mandatory if you want to cool down by swimming in the ocean
July is right in the middle of trade winds season, so you can expect strong gusts of wind throughout the month. The wind actually helps with the "real feel" temperature, since on most days it would be too hot to stay outside during the afternoons
sometimes Lanzarote can be cloudy in July, especially inland. Although the coast is not as cloudy as the inland, the cloud coverage average for July is 30%. But even if some days are cloudy, you will still get a tan, because the sun shines stronger in the Canaries due to their closeness to the Equator.
Please remember to wear high factor sun cream in July, since you can quickly get a bad sunburn at this time of the year. Lanzarote is located just north of the Tropic of Cancer, which means that the sun's rays are much stronger than in other places in continental Europe which are also hot at this time of the year.
Temperatures in Lanzarote in July
The average high temperature in July in Lanzarote is around 28°C, while at night you can expect temperatures of around 20°C. This is a big increase from June temperatures in Lanzarote, when average daytime high temp. is usually around 26°C, so this means a 2°C increase for July.
Record low & record high temperatures
The highest temperature ever recorded in Lanzarote in July (at Airport station) was of 42.9°C and the lowest was of 15.4°C.
Temperatures recorded in Lanzarote in July 2018
Highest temperature during daytime: 28 °C
Lowest temperature during daytime: 24 °C
Highest temperature during nighttime: 21 °C
Lowest temperature during nighttime: 17 °C
Since the island is mostly flat, the temperatures stay pretty much the same across all major resorts in Lanzarote: Puerto del Carmen, Playa Blanca and Costa Teguise.
Rain in Lanzarote in July
July is usually a dry month in Lanzarote, with no rainfall and no rainy days. So July is a good month to be in Lanzarote if you want to escape the wet weather back home.
Sunshine hours in July
Lanzarote gets an average of 10 hours of sunshine per day in July, which means that the days are long and will allow you to explore Lanzarote, as well as spend time on the beach or by the pool, just relaxing and taking advantage of the warm sun.
Sea temperature in July in Lanzarote

These are the average numbers for the sea temperature in July in Puerto del Carmen:
Max: 23°C / 72°F
Avg: 21.3°C / 70.3°F
Min: 19.7°C / 68.7°F
Info from https://www.seatemperature.org
Can you swim in Lanzarote in July?
With an average of 21.3°C / 70.3°F, the sea will be your best friend to cool down during those long hot days.
You can definitely swim in the sea in July in Lanzarote and you can expect the pools to be warm as well, which is great of you plan to spend more time around your hotel or apartment complex.
Things To Do in Lanzarote in July
Summer in Lanzarote is all about the beach time and making the most of the hot weather and warm ocean.
Go to Playas Papagayo
Playas Papagayo are Lanzarote's finest beach, situated close to Playa Blanca in the south of the island.
Here you have a collection of equally amazing beaches, and if you're a beach fan like us, you can come over several times so you can enjoy and explore all of them. Turquoise waters and fine sand is what defines these beaches, which is why they are super popular with locals and tourists as well. This means that you have to come here early, if you want to find a parking place in July, which is one of the busiest months.
Caleton Blanco - White sand and hidden coves
The beaches in the north of Lanzarote are not as popular as the ones in the resorts or the ones in the south, which we mentioned previously. So if you want a bit of privacy and adventure, hire a car and go north!
You will find a sand so white that it looks almost unreal in the broad daylight and you can explore the little coves along the coast until you find the perfect spot for you.
Events in Lanzarote in July
Fiesta de Nuestra Senora del Carmen
30 July - 12 August 2019
This is a big event in Lanzarote, celebrated over two weeks in Puerto del Carmen in Plaza del Varadero.