Lanzarote Weather in November - How warm will it be?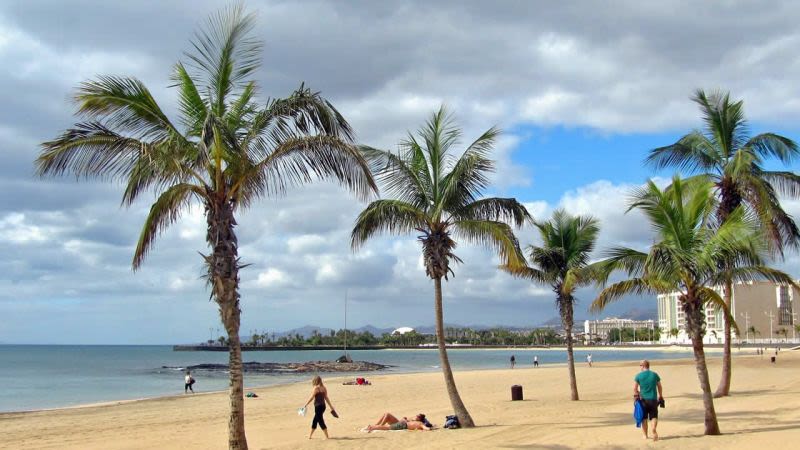 November might not be the warmest month in Lanzarote throughout the year, but it's definitely sunnier and warmer than the UK and mainland Europe.
On most days you can still expect temperatures of up to 24-25°C, so as long as the sun is out you can still sunbathe and swim in the sea. November is one of the more quiet months in Lanzarote, since many people come for a break in October during half term and others will wait until December to come here to spend their winter holidays.
So November is good for a relaxing holiday and will give you the freedom to roam around the island without experiencing long queues anywhere.
Weather in Lanzarote in November
While cold weather is starting to creep up on most European countries, the Canary Islands are still enjoying nice and toasty temperatures during November.
It's true that even in Lanzarote the chances of rain increase and you might get up to 3 wet days during this month. But it's still far better than most other places. People who come here with high expectations, thinking that temperatures will still be around 30°C will be disappointed since Lanzarote is not a tropical island like the Caribbean islands.
Lanzarote's climate is actually a subtropical desert, which still means that it enjoys mild winters, with temperatures around 20°C, just not as hot as some people may think (or want).
But if you want a short-haul warm holiday in winter and you are from Europe, the Canary Islands are your best bet. They are the warmest destination in winter in Europe by far, because technically they are part of the African continent, although politically they part of Spain.
During the daytime in November, you will be perfectly ok in shorts and a T-shirt (you'll be fine even in a swimsuit), but for nights and evenings, you should pack some long trousers and a jacket, because it can get chilly.
Average temperatures in Lanzarote in November
The average high temperature in November in Lanzarote is around 23- 24°C, while at night you can expect temperatures of around 20°C. While it's definitely a drop from temperatures in October, the weather during the daytime still allows for sunbathing.
Average high temperature: 24.2°C (75.6°F)
Average low temperature: 17.2°C (63°F)
Daily mean temperature: 20.7°C (69.2°F)
In Lanzarote, the daily mean temperature is 20.7°C in November, which is calculated as a mean between the average high temperature of 24.2°C and the average low of 17.2°C.
Record low & record high temperatures
The highest temperature ever recorded in Lanzarote in November (at Airport station) was 34.2°C and the lowest was 10.9°C.
Since the island is mostly flat, the temperatures stay pretty much the same across all major resorts in Lanzarote: Puerto del Carmen, Playa Blanca, and Costa Teguise. However, there can be significant differences between resorts, in the sense that while it can be sunny and nice in the south in Playa Blanca, it can be overcast up north and vice versa.
Rainfall
Average rainfall (mm): 15 mm
Average rainy days (>=1mm): 3
November is one of the months that see some rain in Lanzarote, but usually no more than 3 days per month and no more than 15 mm rainfall. There have been some exceptions in the past years, including November 2018, which saw a lot more rain than it's common for this time of the year.
Sunshine hours
Lanzarote gets an average of 7 hours of sunshine per day in November, so the days are shorter but you'll still have time to enjoy in the sun.
Sea temperature in November in Lanzarote

Can you swim in Lanzarote in November?
With an average of 21.2°C / 70.2°F, it is still possible to swim in the ocean in November. However, this the temperature at the water surface, so it totally depends on what is the temperature outside and each person's tolerance and preference.
What's Lanzarote like in November
Wondering what's the island like and what to expect from the weather? Can you sunbathe or not?
You can see the temperatures and info on sunshine hours and precipitation in different areas of Lanzarote.
November Weather
Average
High °C (°F)
Average
Low °C (°F)
Rain
mm (inches)
Rain
Days
Average
Sun Hours
Lanzatore (Airport)
24.2 (75.6)
17.2 (63)
15 (0.58)
3
7
La Graciosa
23.5 (74.3)
17.4 (63.3)
11 (0.44)
3
6
Playa Blanca
24.2 (75.6)
17.1 (62.8)
13 (0.51)
4
7
Things to do in November
Since in November it is possible that not all days are beach days, here's our top proposals of what to do in November in Lanzarote.
Fortunately, there are lots of things to see and places to visit, so you will not have time to be bored as long as you are willing to leave your hotel for the day.
Visit Arrieta and Punta Mujeres on the North Coast
If you want to leave the busy resorts for a chilled day, you can drive up north and go to one of the smaller towns that retain their local charm. You have time to stop in Arrieta and Punta Mujeres and you could even go inland to Haria, where there's a small market on Saturdays.
Go to Rancho Texas in Puerto del Carmen
Update: Due to the ongoing Covid-19 pandemic, Rancho Texas is still currently. Make sure to check their website before planning to go there.
If it's a cloudy day, you can reserve the day for a trip to Rancho Texas, the animal park in Puerto del Carmen. This is a great day out for the entire family and on Fridays and Tuesdays, they even have a Country Night with a cowboy parade, a lasso and cabaret show, dinner, and dancing on country music rhythms.
Events in November
Dia de Todos Los Santos - All Saints' Day

1 November 2020
This is a religious event when locals remember their relatives who have passed away.
It is a festive day here in Spain, which means that everything will be closed (shops, supermarkets, public institutions, etc) so you should do your shopping the day.
LANZAROTE WEATHER - MONTHLY REPORTS
FAQ about Lanzarote in November
Is it warm in Lanzarote in November?
The weather in November in Lanzarote will be warm enough to sunbathe and even swim in the ocean, with an average high temperature around 24°C.
What is there to do in Lanzarote in November?
You can sunbathe and swim just like in summer, plus you can go hiking since it's not that hot anymore. Or you can visit the main attractions in Lanzarote like Timanfaya National Park, Jameos del Agua, Cueva de los Verdes, Mirador del Rio and so much more.
What clothes to wear in Lanzarote in November?
Bring lots of sundresses, T-shirts and shorts, plus something warm and cozy for the evenings. The big question is: should I bring a cardi in November? In our opinion: yes, you should, mostly to use it in the evenings, when it can be chilly.