Lanzarote Weather in October - Still Summer Temperatures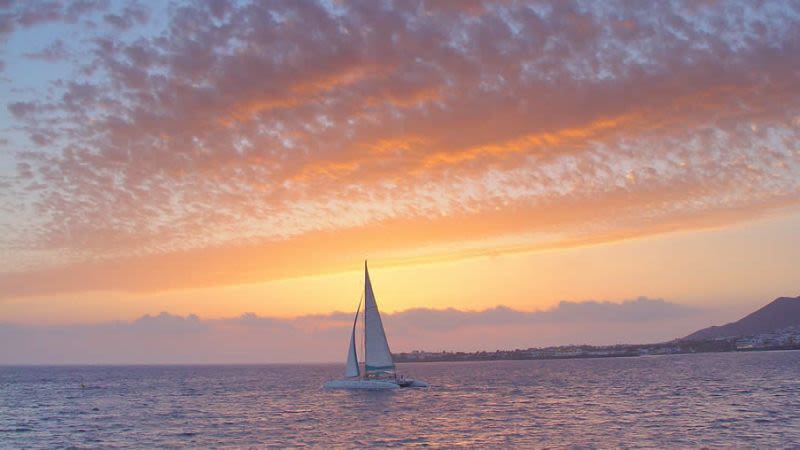 October is a relatively peaceful and quiet month in Lanzarote, apart from the week during the midterm holidays, when prices also go up considerably. So if you are not conditioned by school holidays, try to plan your arrival to the island outside of that period to get a better price for flights and accommodation.
The weather in October in Lanzarote is still quite warm and the water temperature is still perfect for swimming. And although the temperatures start to drop, the weather still feels more like summer, not the autumn as we know it from back on the European continent.
Weather in Lanzarote in October
October is a good month to visit Lanzarote for those who are looking for warm weather but wish to avoid the extreme heats that occur during the summer season.
Rain is still rare during October, with an average of 2 rainy days per month. On most days, the weather will be still hot enough that you will want to hide in the shade during the afternoon hours when the sun is strong and a high SPF lotion is required.
Some mornings during October might be cloudy and it might take a few hours for the sun to come out, but on most days the sun does come and it shines bright up until around 6 PM. But those cloudy days are perfect to explore the island, which is something we always recommend to anyone coming on holiday to Lanzarote.
The island has so much to offer beyond the resorts and the all-inclusive hotels. You might think it's a small island, but it's packed with beautiful natural landscapes and attractions that can keep you busy for weeks if you want to discover them properly. October in Lanzarote is a perfect month for such explorations since it's not as hot as during August or July, when being outside in the afternoons in places beyond the coast would be a nightmare, due to the high temperatures.
Temperatures in Lanzarote in October
The average high temperature in October in Lanzarote is around 27°C, while at night you can expect temperatures of around 19-20°C. At night you might need a cardi or a jacket, so be sure to bring one with you.
Average high temperature: 26.7°C (80.1°F)
Average low temperature: 19.4°C (66.9°F)
Daily mean temperature: 23°C (73.4°F)
In Lanzarote, the daily mean temperature is 23°C in October, which is calculated as a mean between the average high temperature of 26.7°C and the average low of 19.4°C.
Record low & record high temperatures
The highest temperature ever recorded in Lanzarote in October (at the Airport station) was of 37.1°C and the lowest was of 12°C.
Since the island is mostly flat, the temperatures stay pretty much the same across all major resorts in Lanzarote: Puerto del Carmen, Playa Blanca and Costa Teguise.
Rainfall
Average rainfall (mm): 10 mm
Average rainy days (>=1mm): 2
Lanzarote in October usually sees an average of 2 rainy days, so it's not what you could call a wet month. It's a good thing that the island has so many great bars, so you'll be covered in case you see some rainy action while you're here.
Sunshine hours
Lanzarote gets an average of 7.5 hours of sunshine per day in October, so it's true that the days get shorter and you will not get as much sunlight as you would during the summer months. But the days back home where you are from are probably a lot shorter than in Lanzarote; plus here's warm and still sunny, so there are more advantages than disadvantages.
Sea temperature

Can you swim in Lanzarote in October?
With an average of 22.6°C / 72.7°F, the sea is at its warmest in October, especially during the first half of the month.
Swimming is not only possible in October in Lanzarote, but also one of the best pastimes during your autumn break here.
What's Lanzarote like in October
October weather averages for different parts of Lanzarote
October Weather
Average
High °C (°F)
Average
Low °C (°F)
Rain
mm (inches)
Rain
Days
Average
Sun Hours
Lanzarote Airport
26.7 (80.1)
19.4 (66.9)
10 (0.39)
2
8
La Graciosa
25.2 (77.4)
19 (66.2)
23 (0.89)
3
7
Playa Blanca
26.8 (80.2)
19.3 (66.7)
11 (0.43)
3
8
Is Lanzarote very windy in October?
October is not a windy month in Lanzarote, especially coming after the summer months, when the winds are much stronger than in autumn and winter.
October can be a month when storms are known to occur sometimes, especially towards the end of the month, but they don't usually last long and the sun is soon back out.
In terms of which resort to choose for October, the south of the island is usually more sheltered and so Playa Blanca is usually less windy compared to Costa Teguise.
Things to do in Lanzarote in October
Usually, in October you can do everything you could do during the summer months since the weather will be on your side. From sunbathing to swimming and driving around the island, you have plenty of choices to make your holiday one to remember.
Visit Arrecife
Arrecife is Lanzarote's capital and a nice place to visit for the day.
Don't miss brunch at the Arrecife Gran Hotel, the tallest building on the island, from where you'll get a spectacular view of the city and beyond it. Plus, they have great juices and coffee and cakes as well, so why not splurge a little? (although the restaurant is not that expensive to start with).
Playa de Famara
Famara beach is popular among surfers and other sports enthusiasts. Even if you are not a surfer yourself (we're not) you can still enjoy the scenery, with the amazing cliffs in the backdrop. It's also a beautiful place to watch the sunset, especially for those looking for a romantic setup.
See a full list of things to do in Lanzarote while on holiday
Events in October
Artisan and Farmer's Market in San Bartolome
A market with local products, activities for children and different gastronomic tastings with local produce.
Spain's National Day
12 October 2020
Spain's National Day is also known as Dia de la Hispanidad and it celebrates the day when Columbus has first arrived in the Americas.
Remember that it is a bank holiday so most shops and supermarkets will be closed, so you should do your shopping the day before.
LANZAROTE WEATHER - MONTHLY REPORTS