Las Teresitas Beach - The Most Beautiful Beach in Tenerife North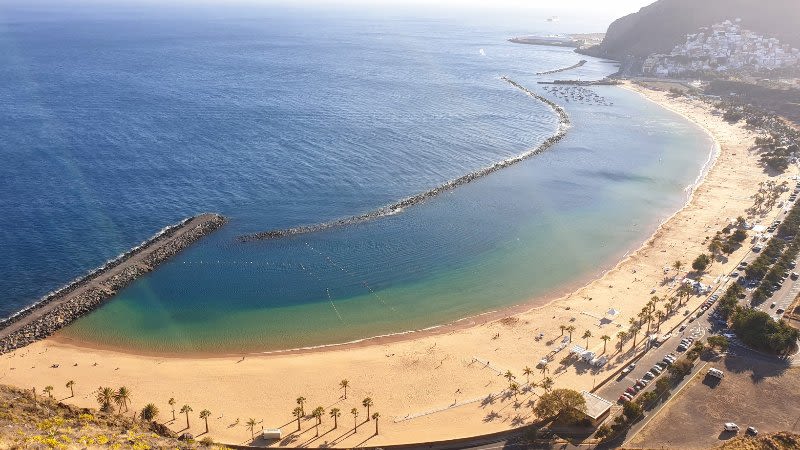 Situated up in the north, in the small village of San Andres, Playa de las Teresitas is one of the most popular and spectacular beaches in Tenerife. With fine golden sand brought here from Africa, this beach stretches for almost 1,5 km, with splendid views of the Anaga mountains.
| | |
| --- | --- |
| Location: | San Andres, Santa Cruz de Tenerife |
| Map: | see on Google maps |
| Beach type: | urban beach with Blue Flag |
| Access: | Easy access |
| Facilities: | Sunbeds, umbrellas, showers, toilets, bars and restaurants |
| Nudist friendly: | No |
| Lifeguards: | Yes |
| Parking: | Yes |
| Public Transport: | Yes |
| Wheelchair accessible: | Yes |
Ideal conditions for swimming at Playa de las Teresitas
The waters here are always calm, due to the breakwaters that have been built in order to stop the waves. This makes Las Teresitas the ideal choice for families with small children, who are looking for a safe beach to spend the day. Since this is considered an urban beach, there are also lifeguards on duty every day.
Arriving at las Teresitas beach is easy, either by car or by bus. You can use the 910 bus line or you can come in your rental car, driving just 7 km from the capital Santa Cruz of Tenerife. There are plenty of parking spaces and it seems that the local council is planning to expand their number and also modernize the area.
The calm water makes this place ideal for sports like paddleboarding and kayaking and you can find some for rent right on the beach. Keep in mind that during the winter the temperatures in the north are lower than in the south and the water will also be colder, sometimes less than 18 C.
Las Teresitas Beach & San Andres - a chilled day in the north of Tenerife
This beach has many facilities like showers, sunbeds and umbrellas, with some bars, shops and restaurants right on the beach. Also in the village of San Andres, you can find many restaurants that sell fresh seafood and local fish and they offer a more authentic experience than the usual restaurants in the south. You can also explore more around the charming San Andres, which in the past used to be a fishing village.
During the summer weekends and during public holidays the Playa de las Teresitas can get crowded with tourists and locals also. It's better to come during the weekdays, so you can explore and relax without lots of people around.
Want to explore more? Read our complete guide for the best beaches in Tenerife.