Los Cristianos Carnival 2020 Dates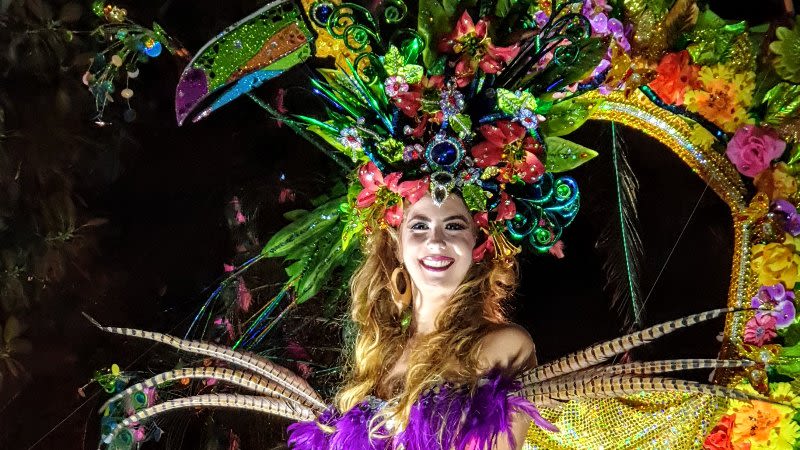 Los Cristianos is the host of one of the largest carnivals in Tenerife South and in 2018 over 35.000 people have participated in the main parade (El Coso Apoteosico del Carnaval de Los Cristianos).
Although the most popular carnival on the island is the one in Santa Cruz, many other towns and resorts celebrate their own carnivals, since Tenerife is a year-round tourist destination and any reason to have a party is happily accepted by everyone.
Los Cristianos Carnival Dates: 12 - 23 March 2020
2020 Carnival Theme in Los Cristianos: to be announced
The carnival in Los Cristianos is probably the most popular event of its type in the South of Tenerife and it's fun to participate in. It doesn't matter if you get dressed up or not, the carnival has a unique energy that spreads among all of its participants, so be sure to join in if you are in Tenerife at this time of the year.
The main events at the Los Cristianos Carnival 2020:
TBA - Announcing Parade in Playa de las Americas
TBA - Election of the Carnival Queen
TBA - Election Drag Queen of the Carnival in Los Cristianos
TBA - Daytime carnival (El Carnaval de Dia de Los Cristianos)
March 22nd, 2020 - Los Cristianos Carnival Parade (El Coso Apoteósico del Carnaval de Los Cristianos)
TBA - Burial of the Sardine (Entierro de la Sardina)
Don't Miss: Best Things To Do in Los Cristianos
Below you have the schedule from the 2019 edition of the carnival, which we will leave up until e have the dates for 2020. The dates will change, but the order of the events usually stays the same, so you can make an idea of what is happening during this big fiesta time.
SCHEDULE FOR LOS CRISTIANOS CARNAVAL 2019

Thursday 21 MARCH
8:30 p.m. Presentation of candidates for Children's Queen, Queen of the Golden Age and Queen of the Carnival.
Location: Auditorio Infanta Leonor de Los Cristianos
Friday 22 MARCH
7:00 pm Inauguration of the Carnival exposition, by Laly González and Mercedes Menéndez. PLACE: Cultural Center of Los Cristianos
9:00 p.m. Contest of Comparsas of the Carnival. PLACE: Carnival zone(in front of the Valdés Center building), Los Cristianos
Saturday 23 MARCH
12:00 pm Carnaval de dia at Recinto Ferial
7:00 p.m. Announcing Carnival Parade . PLACE: Playa de Las Américas, from Shopping Center Gala, Avda. Rafael Puig Lluvina, until Shopping Center. Oasis, Avda. The Americas.
10:00 p.m. Great dance entertained by Dari Sin Fronteras & El Morocho and la Gran Orquesta. PLACE: Carnival área (in front of the Valdés Center building), Los Cristianos
Sunday 24 MARCH
12:00 Carnival Concert by the Music Band of Arona. PLACE: La Pescadora square, Los Cristianos
5:00 p.m. Carnival parade with the municipal groups of the Carnival. PLACE: From the El Pescador Square (Cultural Center) to the beach of Los Cristianos
6:00 p.m. Meeting of murgas de Tenerife. PLACE: Carnival área (in front of the Valdés Center building), Los Cristianos
Monday 25 MARCH
7:00 pm Festival of choreographic groups. PLACE: Carnival area(in front of the Valdés Center building), Los Cristianos
Tuesday 26 MARCH
9:00 p.m. Gala of Election of the Queen of the GoldenAge of Carnival. PLACE: Carnival area(in front of the Valdés Center building), Los Cristianos
WEDNESDAY 27 MARCH
7:00 pm Gala Election of the Carnival Infant Queen PLACE: Carnival area (in front of the Valdés Center building), Los Cristianos
THURSDAY 28 MARCH
9:00 p.m. Gala Grand Election of the Carnival Queen
PLACE: Carnival área (in front of the Valdés Center building), Los Cristianos
Friday 29 MARCH
7:00 pm Dance of the Golden Age of Carnival. PLACE: Patio of the Cultural Center of Los Cristianos.
9:00 p.m. Gala Drag Queen of the Carnival. PLACE: Carnival área (in front of the Valdés Center building), Los Cristianos. At the end: Great dance entertained by the orchestra Wamampy. PLACE: Carnival área (in front of the Valdés Center building), Los Cristianos.
00:00 am DJ area entertained by several local DJs. PLACE: El Pescador Square (outside the Cultural Center), Los Cristianos
Saturday 30 MARCH
Daytime Carnival with two stages:
12:00 Family stage with variuos performances and Carnival workshops. PLACE: La Pescadora, square Los Cristianos.
12:00 Stage 40 with national and international artists. PLACE: Carnival área (in front of the Valdés Center Building)
5:00 p.m. Costume contest of the Carnival. PLACE: La Pescadora square, Los Cristianos
8:00 p.m. VI Carnival beach route in homage to the great songs of the Carnival.

PLACE: From El Pescador Square, promenade, La Alpispa square, Valle Menéndez Street, Juan Reverón Sierra Street, Amalia Alayón Street to the la Pescadora square, Los Cristianos

10:00 p.m. Great dance entertained by the orchestras Deliciosa and The Regueton Band. PLACE: Carnival area(in front of the Valdés Center building), Los Cristianos
11:00 p.m. DJ area entertained by local DJs. PLACE: El Pescador Square (outside the Cultural Center), Los Cristianos
Sunday 11 th MARCH
11:00 Exposure of classic and antique cars. PLACE: Carnival área (in front of the Valdés Center building), Los Cristianos
12:00 Carnival pet competition. PLACE: Carnival area (in front of the Valdés Center building), Los Cristianos
4:00 pm Great Apotheosis Parade of Carnival. PLACE: From Paloma Beach apartments, Avda. Juan Carlos I, to the Cultural Center of Los Cristianos. At the end: Great dance entertained by the Tropin and The Regueton Band orchestras.
PLACE: Carnival area (in front of the Valdés Center building), Los Cristianos
Monday 12 th MARCH
9:00 p.m. Burial of the Sardine of the Carnival of Arona. PLACE: El Pescador Square (Cultural Center), to Los Cristianos Beach. At the end: DJ zone enlivened by local DJs. PLACE: El Pescador Square (outside the Cultural Center), Los Cristianos
Useful Info: Weather in Tenerife in March