Playa Los Guios - The Black Sand Beach in Los Gigantes, Tenerife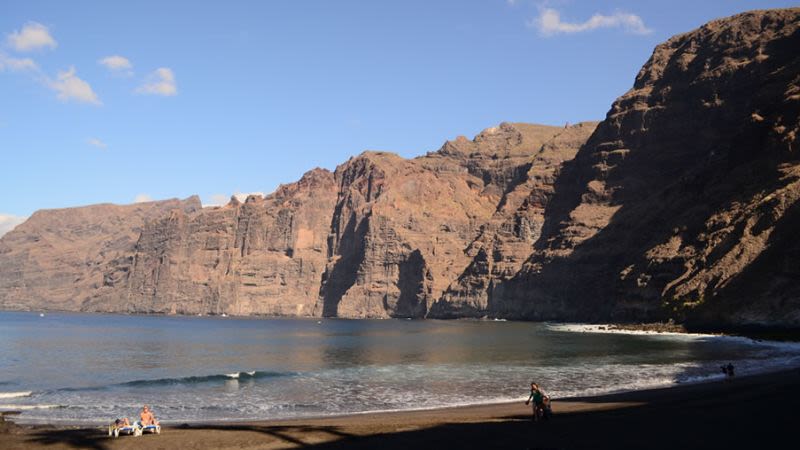 Set in the small town of Los Gigantes, in the municipality of Santiago del Teide, this beach is commonly known as Los Gigantes beach, although it has two other official names: Playa de Los Guios and Playa Argel.
| | |
| --- | --- |
| Location: | Los Gigantes, municipality of Santiago del Teide |
| Map: | see on Google maps |
| Beach type: | urban beach with black volcanic sand |
| Access: | Easy access |
| Facilities: | Sunbeds, umbrellas, showers, toilets, bars and restaurants |
| Nudist friendly: | No |
| Lifeguards: | Yes |
| Parking: | Yes |
| Public Transport: | Yes |
| Wheelchair accessible: | Yes |
WOW factor included: the giant cliffs of Tenerife
This beach offers amazing view of the cliffs of Los Gigantes, also known as Acantilados Los Gigantes, a set of rock formations that rise up from the ocean to the maximum altitude of 800 m. The name translates to English as The Giants and these cliffs represent the main attraction of the area.
At only 100 m in length, Playa Los Gigantes is small compared to other beaches on the island, but it has fairly calm waters, with good conditions for swimming and lifeguards always on site. This black volcanic sand beach seems trapped between the giants cliffs and the sea wall, waiting for its visitors with all the amenities they need for a relaxing day at the beach: sun beds, parasols and even small bars and restaurants close by.
Los Gigantes Beach - the best place in Tenerife for whale watching
If you would like to explore more and get a better view of the cliffs and Los Gigantes beach, we recommend you take a boat tour, with prices starting at only 10-15 euros per person, depending on duration. You could also opt for longer trips, especially during winter months when you have more chances to spot dolphins and whales. If you're feeling more adventurous you could also rent a jet ski or a kayak, but you should be careful with the currents in this area, which can be strong and dangerous.
There are 28 different species of dolphins and whales residing or just passing through the waters around Los Gigantes, so if you want to explore more of the ocean and see these creatures, this is the place in Tenerife for it.
Playa Los Guios may be small, but the place has its unique charm due to the tall cliffs that stand guard, protecting the beach. Be warned that the entire town is set on hills and cliffs, so it's not easy to walk around.
Parking can be difficult around the beach itself, but you should try the area around the harbor, which is close by.