Maspalomas & Playa del Ingles Weather in April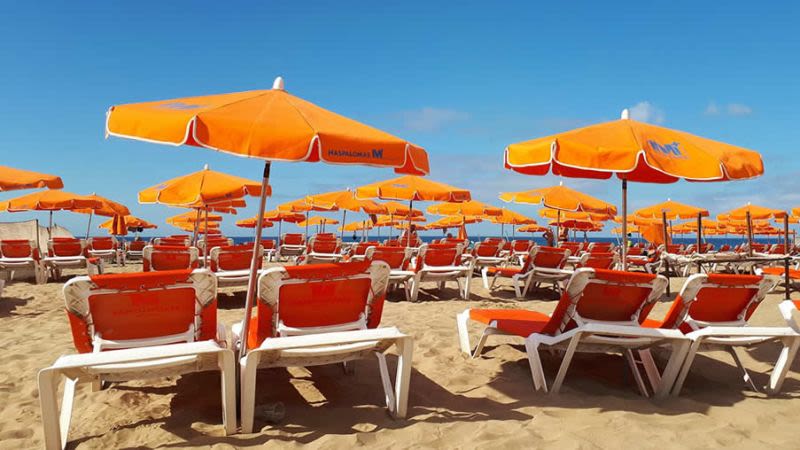 Are you planning to spend your spring holiday in Maspalomas in April?
April is when the weather really starts to warm up after the mild winter that Gran Canaria enjoys. So if you're coming over for Easter it will probably be a sunny and warm one.
Weather averages for April in Maspalomas & Playa del Ingles
RECORD HIGH TEMPERATURE: 33.8 °C
AVERAGE HIGH TEMPERATURE: 21 °C
DAILY MEAN TEMPERATURE: 18 °C
AVERAGE LOW TEMPERATURE: 15 °C
RECORD LOW TEMPERATURE: 13.3 °C
AVERAGE RAINFALL: 11 mm
MEAN MONTHLY SUNSHINE HOURS: 240
MEAN DAILY SUNSHINE HOURS: 8
PERCENT POSSIBLE SUNSHINE: 62
MEAN MONTHLY DAYLIGHT HOURS: 390
MEAN DAILY SUNSHINE HOURS: 13
ULTRAVIOLET INDEX: 9
SEA TEMPERATURE: 19 °C
What is the weather like in Maspalomas in April
By the time April comes around the sun gets much stronger in the south of Gran Canaria and the beach days get longer.
Sunbathing is definitely possible in April in Maspalomas, but the ocean is still relatively cold, similar to March. But this depends on which beach you choose to go to and also the weather from the months before.
Temperatures in April in Maspalomas
The average temperature is 18 °C, which is a mean value calculated between the average high temperature during the daytime of 21 °C and the average low temperature of 14 °C.
So the daily mean temperature is similar to March but it gets warmer towards the end of the month.
Packing tip for April: at night you might still need a cardigan or a small jacket, so you should bring one with you.
We usually bring a jacket with us even in summer in case we decide to go hiking in the mountains, but this depends on what you plan to do on your holiday.
Rainfall
The average rainfall in April: 11 mm
There's considerably less rain in April compared to the winter months and it usually happens in maximum of 1 or 2 days throughout the month.
Sea temperature in April in Maspalomas
Average sea temperature in April: 19°C
April is still is one of the coldest months for swimming in Maspalomas and Playa del Ingles, along with January, February, and March, all situated at 19°C.
Our recommendation is to book somewhere with a heated pool during April, or maybe you can find a hotel nearby your accommodation with a heated pool where you can pay to use the facilities for the day.
Sunshine and daylight hours
Daily hours of daylight: 13
Daily hours of sunshine: 8
With 13 hours of daylight and 8 hours of sun on average per day, the days in April are definitely getting longer. You get one more hour per day of sunlight and sunshine compared to the previous month, which means that you will be able to enjoy a long beach day.
Also, in April you have 62% chances of seeing the sun each day and this number keeps increasing towards the summer months.
UV Index
With a 9 UV Index out of a scale of 11, April is a month that requires good protection against the sun, otherwise, you will burn your skin quickly. We recommend that you use sun lotion whenever you spend time in the sun and if you're coming to Gran Canaria in April definitely choose a high SPF factor.
Should you come on holiday to Playa del Ingles or Maspalomas in April?
Depending on where you are coming from, temperatures in April may feel like early summer for you.
When the sun is shining the temperature feels much higher than what the thermometers indicate, so you will definitely go back home with a tan.
Holy Week and Easter are the busiest weeks in April in Maspalomas and Playa del Ingles and you should book well ahead of time if you wish to visit at that time, otherwise, prices usually increase, especially on flights).
Maybe these articles will help you reach a decision