Maspalomas & Playa del Ingles Weather in August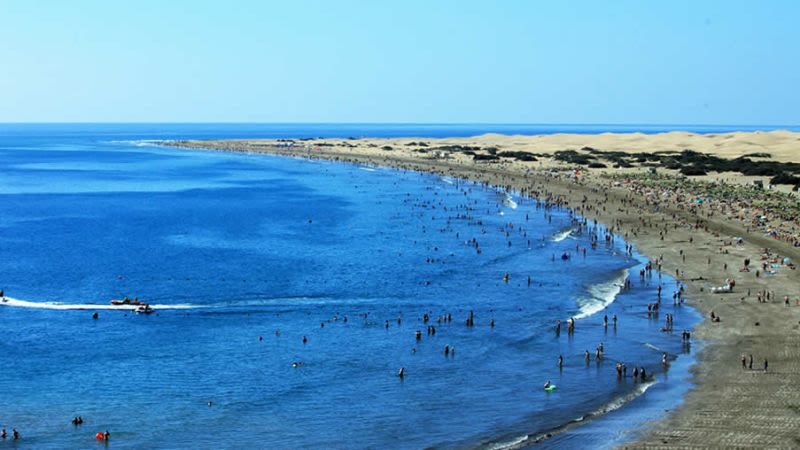 Looking to book a beach holiday to Maspalomas or Playa del Ingles in August?
August is considered the hottest month of the year and the thermometers definitely prove it. During the day you will often see temperatures around 30 °C, which is quite a lot given the fact that the UV index is high and so the sun usually feels like burning if you don't stay in the shade during midday hours.
August weather averages in Maspalomas & Playa del Ingles
RECORD HIGH TEMPERATURE: 42.2 °C (108 °F)
AVERAGE HIGH TEMPERATURE: 27 °C (80.6 °F)
DAILY MEAN TEMPERATURE: 24 °C (75.2 °F)
AVERAGE LOW TEMPERATURE: 20 °C (68 °F)
RECORD LOW TEMPERATURE: 14.9 °C (58.8 °F)
AVERAGE RAINFALL: 0 mm
MEAN MONTHLY SUNSHINE HOURS: 279
MEAN DAILY SUNSHINE HOURS: 9
PERCENT POSSIBLE SUNSHINE: 69
MEAN MONTHLY DAYLIGHT HOURS: 403
MEAN DAILY SUNSHINE HOURS: 13
ULTRAVIOLET INDEX: 11
SEA TEMPERATURE: 22 °C (71.6 °F)
What is the weather like in Maspalomas in August
In August things get heated in Gran Canaria and especially on the Maspalomas Dunes, where the sand gets really hot under the afternoon sun. However, the weather is perfect for sunbathing, relaxing, reading and chilling with a cocktail.
Sunbathing is the perfect activity for an August visit to Maspalomas, and the ocean is perfect for swimming.
The sand on Maspalomas Dunes gets really hot during the long summer days, so if you want to stroll there to admire the landscape, we advise you to do it early in the morning. And if you're looking for more ideas on how to spend your time, check out our lists for things to do in Maspalomas or things to do in Playa del Ingles.
Average temperature in August in Maspalomas
The average temperature is 24 °C, which is a mean value calculated between the average high temperature during the daytime of 27 °C and the average low temperature of 20 °C.
August has the highest daily mean temperature throughout the entire year, so if you are interested in finding hot weather when you're on holiday, August is the best month that you can choose in order to ensure that.
Rainfall
The average rainfall in August: 0 mm
Rain in August is non-existent in Gran Canaria, so if by some chance it happens to rain while you're there, make sure to take a picture, as that is one rare phenomenon.
July and August are the driest months of the year, with no rain at all.
Average sea temperature
Average sea temperature in August: 22 °C (71.6 °F)
The water temperature stays the same as during the previous month but towards the end of August, it continues to warm up a bit.
Sunshine and daylight hours
Daily hours of daylight: 13
Daily hours of sunshine: 9
With 13 hours of daylight and 9 hours of sun on average per day, the days are still long but they do start to get shorter as the month progresses towards the autumn season.
Also, in August you have 69% chances of seeing the sun each day, which makes August the month with the most chances of daily sun.
UV Index in August
With a UV Index of 11 out of a scale of 11, this means that this index is at its maximum in August.
Take all necessary steps to protect your skin from sunburns. Use a high SPF sun cream and even clothing with UV protection, which is easily found at stores that sell sporting equipment.
Should you come on holiday to Playa del Ingles or Maspalomas in August?
The south of Gran Canaria in August is for people who like really hot weather and are looking for a tan. In August you will be getting a tan just by walking outside, no need to lounge on a beach chair all day if that is not your thing.
August is a popular month for family holidays and you will also see many Spanish families from the continent coming to Gran Canaria in summer. This is the reason why prices go up especially in July and August, with these months being the second high season of the year for the Canary Islands after the winter months.
For us the hot August weather in Playa del Ingles and Maspalomas tends to be too much, so we usually avoid coming during the summer months, when temperatures are a bit lower (the UV index drops also).
Maybe these articles will help you reach a decision