Maspalomas & Playa del Ingles Weather in July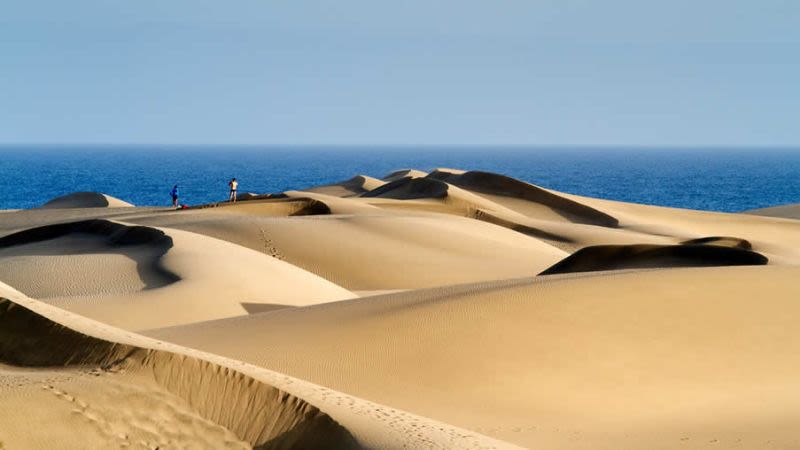 Are you trying to plan your summer holiday and you're wondering if either Maspalomas or Playa del Ingles in July are a good idea as potential destinations? Although the Canary Islands might not be your first choice for a summer trip, Gran Canaria has so much to offer all year round, that you shouldn't discard it when looking for the right destination for your next family holiday.
July and August are the hottest months of the year and the temperatures are ideal for people who like it HOT - the weather that is. If you want to go back with a tan, July is the perfect month for you to come and visit.
July weather averages in Maspalomas & Playa del Ingles
RECORD HIGH TEMPERATURE: 42.6 °C (108.7 °F)
AVERAGE HIGH TEMPERATURE: 26 °C (78.8 °F)
DAILY MEAN TEMPERATURE: 23 °C (73.4 °F)
AVERAGE LOW TEMPERATURE: 19 °C (66.2 °F)
RECORD LOW TEMPERATURE: 17.8 °C (64 °F)
AVERAGE RAINFALL: 0 mm
MEAN MONTHLY SUNSHINE HOURS: 279
MEAN DAILY SUNSHINE HOURS: 9.3
PERCENT POSSIBLE SUNSHINE: 64
MEAN MONTHLY DAYLIGHT HOURS: 434
MEAN DAILY SUNSHINE HOURS: 14.4
ULTRAVIOLET INDEX: 11
SEA TEMPERATURE: 22 °C (71.6 °F)
What is the weather like in Maspalomas in July
With a record high temperature of 42.6 °C (108.7 °F), you can tell that July is a really hot month here in Gran Canaria. If the mild temperatures during the rest of the year are a bit too low you, July comes in full force with temperatures in the late 20s °C and no rain at all.
Sunbathing is the best thing to do if you are visiting Maspalomas in July, and the ocean is perfect for swimming.
Temperature in July in Maspalomas
The average temperature is 23 °C, which is a mean value calculated between the average high temperature during the daytime of 26 °C and the average low temperature of 19 °C.
This is a significant increase from June and you can leave your jacket and your umbrella at home, as you won't be needing those. Just make sure to pack a high SPF sun cream.
Rainfall
The average rainfall in July: 0 mm
There's usually no rainy day in the south of Gran Canaria in July.
July and August are both two dry months and there's no rain, especially in the south where Maspalomas and Playa del Ingles are located.
Average sea temperature
Average sea temperature in July: 22 °C
The water temperature in July goes up by 1°C compared to the previous month, reaching that sweet spot where you can really enjoy swimming in the ocean. So for families traveling with kids, July is a good month to come over.
Sunshine and daylight hours
Daily hours of daylight: 14.4 hours
Daily hours of sunshine: 9.3 hours
With 14 hours of daylight and 9 hours of sun on average per day, the days are still long, sunny and bright.
Also, in July you have 64% chances of seeing the sun each day, the same as in May or June (this number stays fairly constant throughout the seasons in the Maspalomas area).
UV Index in July
With a UV Index of 11 out of a scale of 11, this means that this index is at its maximum in July.
Make sure you apply sun cream often and that you use a high SPF lotion during the summer months. As a tip, sun cream tends to be more expensive here in the resorts compared to prices in the UK for example, so if you have a checked-in bag you should bring it with you from home.
Should you come on holiday to Playa del Ingles or Maspalomas in July?
If you like high temperatures and spending all your time relaxing on the beach, then yes, you should visit in July.
But if you'd also like to do some hiking in the mountains, the temperatures might be too high to be able to do it comfortably. The sun really burns in July and you should avoid physical activities in the sun in the middle of the day.
Maybe these articles will help you reach a decision