Maspalomas & Playa del Ingles Weather in June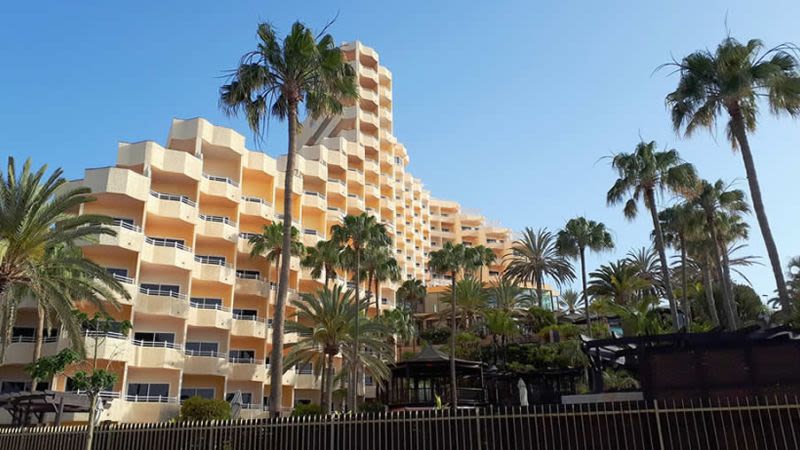 Planning a summer holiday to Maspalomas or Playa del Ingles in June?
In June the weather starts to really feel like proper summer, although the Canary Islands enjoy a rather privileged climate, which feels like spring all year round. This means that although it is warm, the weather is usually not overly hot, although the UV index is very high.
June is a great month for a family holiday to Gran Canaria, if you want guaranteed sunshine with no rain. Maspalomas is a lively resort, with plenty of bars, restaurants and it also has great nightlife, so there's plenty to do and see here during your stay.
June weather in Maspalomas & Playa del Ingles
RECORD HIGH TEMPERATURE: 35.1°C (95.2°F)
AVERAGE HIGH TEMPERATURE: 24°C (75.2°F)
DAILY MEAN TEMPERATURE: 21°C (69.8°F)
AVERAGE LOW TEMPERATURE: 17°C (62.6°F)
RECORD LOW TEMPERATURE: 16.1°C (61°F)
AVERAGE RAINFALL: 1 mm
MEAN MONTHLY SUNSHINE HOURS: 270
MEAN DAILY SUNSHINE HOURS: 9
PERCENT POSSIBLE SUNSHINE: 64
MEAN MONTHLY DAYLIGHT HOURS: 420
MEAN DAILY SUNSHINE HOURS: 14
ULTRAVIOLET INDEX: 11
SEA TEMPERATURE: 21°C (69.8°F)
What's the weather like in Maspalomas in June
For people who love sunbathing, but can't stand the really high temperatures when the sun feels like it's burning, the weather in June might be just perfect. Maspalomas and Playa del Ingles are situated in the south of Gran Canaria, so they enjoy the best weather on the island, with plenty of sunshine (don't worry if mornings start as cloudy, it usually clears up quickly).
Sunbathing should be the main purpose for visiting Maspalomas in June, and the ocean is also warmer than it was back in May.
Temperature in June in Maspalomas
The average temperature is 21°C (69.8°F), which is a mean value calculated between the average high temperature during the daytime of 24°C (75.2°F) and the average low temperature of 17°C (62.6°F).
So the daily mean temperature has increased by 2°C compared to the previous month.
Even nights start to be a lot warmer, so a jacket might not be needed at all at this time of year.
Rainfall
The average rainfall in June: 1 mm
June is the official start of summer in Gran Canaria and the rain is virtually nonexistent for the next 3 months.
With 1 mm of rain, usually happening throughout 1 day, you should leave your umbrella at home and bring only your sunglasses with you.
Average sea temperature
The average sea temperature in June: 21°C (69.8°F)
The water temperature in June goes up by 1 °C compared to the previous month, so it's really starting to feel like a summer beach holiday when the ocean is warm enough to swim comfortably.
Sunshine and daylight hours
Daily hours of daylight: 14 hours
Daily hours of sunshine: 9 hours
With 14 hours of daylight and 9 hours of sun on average per day, you will enjoy long days on the beach.
Also, in June you have 64% chances of seeing the sun each day, the same as in May or July (this number stays fairly constant throughout the seasons in the Maspalomas area).
UV Index in June
With a UV Index of 11 out of a scale of 11, this means that this index is at its maximum in June.
You should avoid exposure to the sun between lunch hours and you should use a sun cream with a high SPF. Getting a sunburn is a serious thing and it can really affect your time while on holiday, so make sure to pay attention to this fact and don't ignore the UV index while in the Canaries.
Should you come on holiday to Maspalomas or Playa del Ingles in June?
YES, definitely yes. It is warm (but not too hot yet), it is more peaceful and less crowded than in July and August and also less expensive as well.
After the school holidays start, the prices tend to go up, so make sure to plan ahead of time. June is perfect for sunbathing and on overcast days you can even venture on hikes in the mountains.
June is a great time to visit Playa del Ingles and Maspalomas, as the weather is not only warm but also dry, which means that you can spend as much time as you want outdoors, enjoying the resorts.
Maybe these articles will help you reach a decision