Maspalomas & Playa del Ingles Weather in May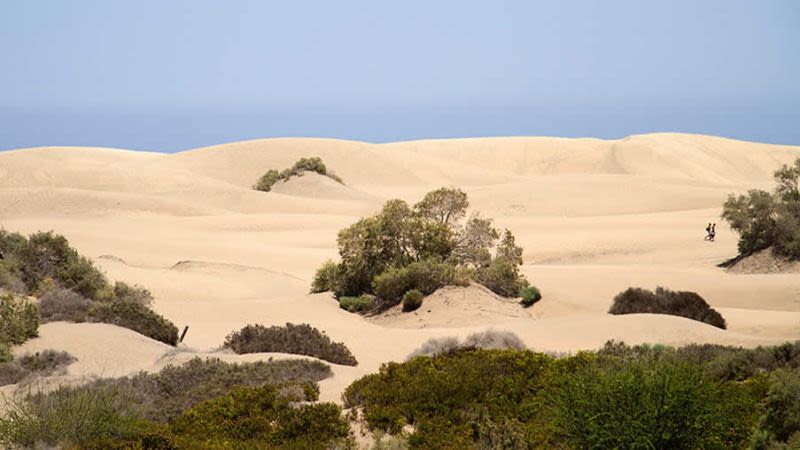 Looking to come to Maspalomas / Playa del Ingles for an early summer break? Or you want to plan come over for a family holiday during half term?
In May the weather start to really get warm but the atmosphere is still chilled and relaxed, compared to the coming summer months. Come over at the start of May if you prefer a quiet holiday, as towards the end of the month the island gets more crowded with families from the UK coming over during school half term.
Weather averages for May in Maspalomas & Playa del Ingles
RECORD HIGH TEMPERATURE: 38.2 °C
AVERAGE HIGH TEMPERATURE: 22 °C
DAILY MEAN TEMPERATURE: 19 °C
AVERAGE LOW TEMPERATURE: 16 °C
RECORD LOW TEMPERATURE: 14.3 °C
AVERAGE RAINFALL: 3 mm
MEAN MONTHLY SUNSHINE HOURS: 279
MEAN DAILY SUNSHINE HOURS: 9
PERCENT POSSIBLE SUNSHINE: 64
MEAN MONTHLY DAYLIGHT HOURS: 434
MEAN DAILY SUNSHINE HOURS: 14
ULTRAVIOLET INDEX: 10
SEA TEMPERATURE: 20 °C
What is the weather like in Maspalomas in May
May weather is still pleasantly warm without being too hot, still ideal for outdoor activities like hiking, before the summer sun comes into full force.
Sunbathing is definitely on the books in May in Maspalomas, and the ocean is also starting to warm up. In May the ocean will we warm enough so that most people will be able to swim and enjoy the beach even more.
Average temperature in May in Maspalomas
The average temperature is 19 °C, which is a mean value calculated between the average high temperature during the daytime of 22 °C and the average low temperature of 16 °C.
So the daily mean temperature is on the rise and it is definitely starting to feel like summer.
Packing tip for May: with average temperatures between 16 - 18 °C, May be warm enough for some people to leave their jackets at home and only bring a long-sleeved shirt or cardigan.
We usually bring a jacket with us even in summer in case we decide to go hiking in the mountains, but this depends on what you plan to do on your holiday.
Rainfall
The average rainfall in May: 3 mm
There's almost no rain in May compared to April and so you needn't worry about this when planning your much awaited holiday. It usually rains for a maximum of 1 or 2 days and even then, it doesn't rain throughout the entire day.
Sea temperature in May in Maspalomas
Average sea temperature in May: 20 °C
The water temperature in May goes up by 1 °C compared to the previous months of the year, so it will be more pleasant to swim and enjoy the beaches and pools, before the summer crowds start to arrive.
Sunshine and daylight hours
Daily hours of daylight: 14
Daily hours of sunshine: 9
With 14 hours of daylight and 9 hours of sun on average per day, the days are 1 hour longer than they were in April and this trend will continue as the month of June comes around.
Also, in May you have 64% chances of seeing the sun each day, only a slight increase from the previous month (this number stays fairly constant throughout the seasons in the Maspalomas area).
UV Index in May
With a UV Index of 10 out of a scale of 11, this means that the May sun in Gran Canaria is getting stronger and more dangerous than it was in winter and early spring. Be careful to protect your skin with a high SPF sun cream as unprotected sun exposure can affect your skin and your health considerably.
Should you come on holiday to Playa del Ingles or Maspalomas in May?
May is warm and fairly quiet in Gran Canaria, before the island gets busy with families coming over during half-term holidays. This is also when prices go up, so if you are restricted to coming over during school holidays, you should make sure to book well ahead of time as last-minute deals on flights to the Canaries during high season rarely happen anymore.
In May the island is already blooming and you'll see a colorful Gran Canaria, with lots of flowers that aren't yet in bloom up until this moment. It is warm but not too hot to spend an entire day at the beach if you want to do that. We like May because the temperatures are still pleasant enough for hiking trips, which is something we love to do when we come over to the Canary Islands.
Maybe these articles will help you reach a decision