Maspalomas & Playa del Ingles Weather in November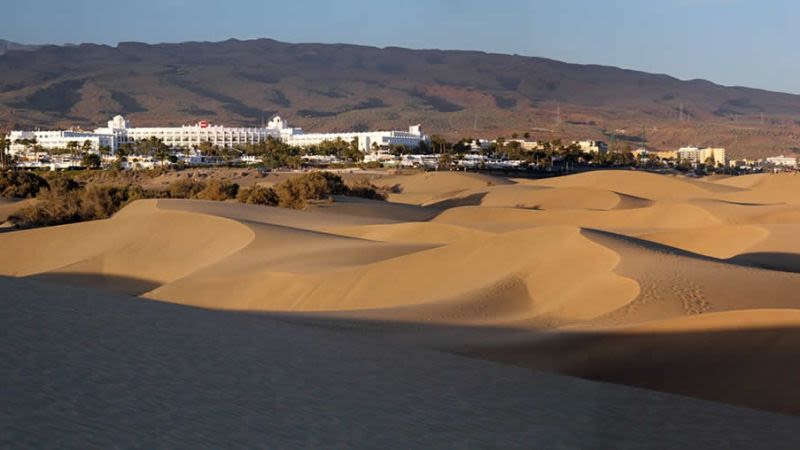 Is it getting cold and rainy at home and you are looking for a bit of sun in Maspalomas or Playa del Ingles?
Then you are looking at the right place because the Canary Islands are the top destination for Europeans when the cold season is just around the corner.
November can be a tricky month in Maspalomas, coming in with a bit of rain compared to previous months, but it will still get far better weather conditions compared to continental Europe.
November weather averages for Playa del Ingles & Maspalomas
RECORD HIGH TEMPERATURE: 32.1 °C
AVERAGE HIGH TEMPERATURE: 23 °C
DAILY MEAN TEMPERATURE: 20 °C
AVERAGE LOW TEMPERATURE: 17 °C
RECORD LOW TEMPERATURE: 14.4 °C
AVERAGE RAINFALL: 31 mm
MEAN MONTHLY SUNSHINE HOURS: 210
MEAN DAILY SUNSHINE HOURS: 7
PERCENT POSSIBLE SUNSHINE: 64
MEAN MONTHLY DAYLIGHT HOURS: 330
MEAN DAILY DAYLIGHT HOURS: 11
ULTRAVIOLET INDEX: 5
SEA TEMPERATURE: 22 °C
What is the weather like in Maspalomas in November
November weather in Maspalomas can be a bit of a hit or miss, to be honest. Although temperatures are still in their 20s°C during the day, this month comes with the possibility of storms, as the season changes from summer to winter. Although the Canary Islands enjoy a mild climate all year round, there is a certain drop in temperature during the winter months and November is considered a transition month.
So although the weather will still be warmer compared to other European destinations, you have to also be prepared for rainy or stormy days is you are visiting in November.
Average temperature in November in Maspalomas
The average temperature is 20 °C, which is a mean value calculated between the average high temperature during the daytime of 23 °C and the average low temperature of 17 °C.
With temperatures still reaching 23 °C during the daytime, in November you will only need a T-shirt and shorts when the sun is out, but at night you might need to wear a lightweight cardigan or a jacket, as well as long trousers.
Rainfall
The average rainfall in November: 31 mm
The amount of rainfall in November almost doubles compared to October and you might get some wet days, although it is very hard to predict when these will happen.
Average sea temperature
Average sea temperature in November: 22 °C
The ocean temperature starts to go down a bit, but it remains at a comfortable 22°C during November, so it is still great for swimming.
Sunshine and daylight hours
Daily hours of daylight: 11
Daily hours of sunshine: 7
With 11 hours of daylight and 7 hours of sun on average per day, the days are similar to the previous month, although the days keep getting shorter as the month advances towards December.
Also, in November you have 64% chances of seeing the sun each day, which is still pretty high, the same as in October.
UV Index
With a UV Index of 5 out of a scale of 11, this means that the sun is not as powerful as it was in summer.
But you still shouldn't neglect to apply sun cream and you should use a sun lotion offering at least medium protection. This way you will be able to enjoy your holiday in Playa del Ingles to the maximum, without worrying about potential sunburns.
Should you come on holiday to Playa del Ingles or Maspalomas in November?
Although the weather in Maspalomas in November can be tricky, it will probably be better than the weather you are trying to escape back home.
You will still be able to sunbathe in November, swim comfortably as the water remains warm throughout the month and you also be able to enjoy the outdoors more, because the UV index drops and the sun won't burn as bad as during the previous months.
Maybe these articles will help you reach a decision