Maspalomas & Playa del Ingles Weather in September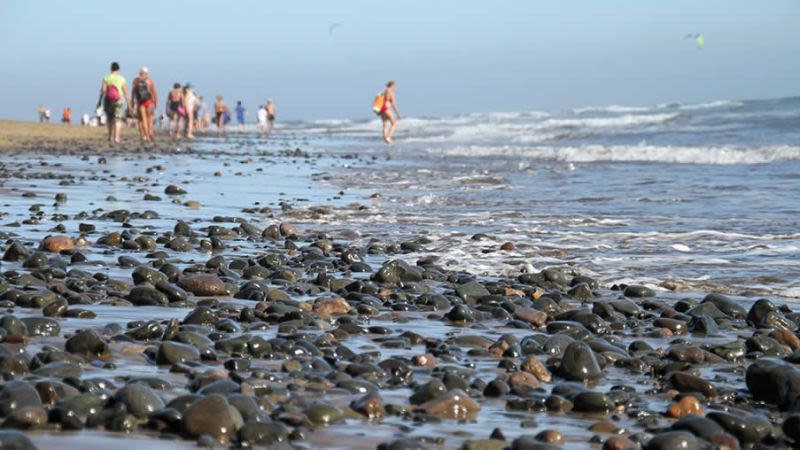 Are you wondering if September is a good month to come to Maspalomas?
September is definitely still hot, no doubt about that. The island also get much quieter after the first half of the month, when most families with children have returned home for the start of the school year. For us, September is an amazing time to be in Gran Canaria.
Check out the weather averages for September in Maspalomas & Playa del Ingles
RECORD HIGH TEMPERATURE: 35.9°C
AVERAGE HIGH TEMPERATURE: 26°C
DAILY MEAN TEMPERATURE: 23°C
AVERAGE LOW TEMPERATURE: 20°C
RECORD LOW TEMPERATURE: 18.4°C
AVERAGE RAINFALL: 9 mm
MEAN MONTHLY SUNSHINE HOURS: 240
MEAN DAILY SUNSHINE HOURS: 8
PERCENT POSSIBLE SUNSHINE: 67
MEAN MONTHLY DAYLIGHT HOURS: 360
MEAN DAILY DAYLIGHT HOURS: 12
ULTRAVIOLET INDEX: 9
SEA TEMPERATURE: 23 °C
What is the weather like in Maspalomas in September
The temperatures stay at high values in September in Gran Canaria and especially in the south. For most people September will look like just another summer month, so you can extend your summer holiday all the way towards October.
Sunbathing is still the best activity to do in September in Maspalomas, and the ocean is perfect for swimming.
Average temperature in September in Maspalomas
The average temperature is 23 °C, which is a mean value calculated between the average high temperature during the daytime of 26 °C and the average low temperature of 20 °C.
Although the daily mean temperature in September is a bit lower than in August, this only means that the days will still be warm, but not so much that you won't be able to wander out and about because of the sun's powerful heat. In summer it is sometimes impossible to walk around at midday, because the sun is so strong, so it gets much better in September.
Average rainfall
The average rainfall in September: 9 mm
There's a bit of rain potentially happening in the south of Gran Canaria in September, but don't worry much about it, as it usually only around for a day two.
Average sea temperature
Average sea temperature in September: 23 °C
The ocean gets even warmer than in summer and actually September and October are the months with the highest water temperature in the area of Maspalomas and Playa del Ingles.
Average sunshine and average daylight
Daily hours of daylight: 12
Daily hours of sunshine: 8
With 12 hours of daylight and 8 hours of sun on average per day, the days are still long but they are getting shorter when compared to the summer days.
Also, in September you have 67% chances of seeing the sun each day, which is still pretty high, almost the same as it is in August.
Average UV Index
With a UV Index of 9 out of a scale of 11, it means that this index has dropped compared to the previous months, but it is still considered very high.
Make sure to protect your skin from sunburns. Use a high SPF sun cream and even clothing with UV protection, which is easily found at stores that sell sporting equipment.
Should you come on holiday to Playa del Ingles or Maspalomas in September?
We love coming to the Canary Islands in September. Any destination in the Canary Islands, doesn't even matter.
In September you will still have guaranteed warm weather, a pleasantly warm ocean and fewer crowds than in summer. Even prices might be better at this time, but it definitely depends on how long you wait to book your holiday.
We would definitely recommend coming to Playa del Ingles or Maspalomas in September to anyone who wants to enjoy the sun, without having to endure the hot temperatures during the summer.
Maybe these articles will help you reach a decision
FAQ about September weather in Maspalomas and Playa del Ingles
Is the weather sunny in Maspalomas and Playa del Ingles in September?
Yes, most days are sunny in September and the weather still feels like proper summer.
What is the UV index in September in Playa del Ingles and Maspalomas?
The UV index is 9, which means it's high and you will need a high SPF sun lotion.
Can you swim in September in Maspalomas and Playa del Ingles?
September is one of the months with the highest ocean water temperature, so it is perfect for a swim.