Visit Morro Velosa Viewpoint in Fuerteventura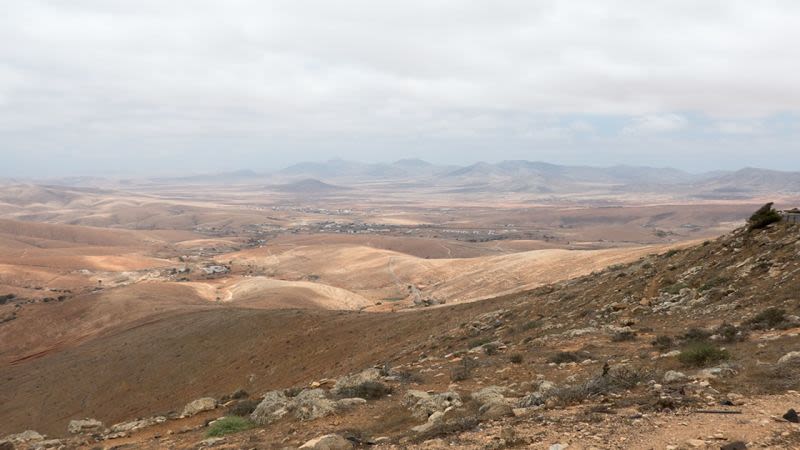 Mirador Morro Velosa is situated on the road between Antigua and Betancuria, at only 9 km distance from the old capital of Fuerteventura, Betancuria. The building itself is situated on the top of Tegu mountain (montana Tegu) at an altitude of 669 m.
The view from the Morro Velosa viewpoint is breathtaking, as you can see all the way towards El Cotillo, Montana de Tindaya, the Corralejo dunes and on really clear days, you can even see a bit of Lanzarote.
Some say this is the best view of the inland territory of Fuerteventura. You can check the complete list of the best viewpoints in Fuerteventura, to see what else there is to visit.

A visit to the Morro Velosa Viewpoint
If you are on your way to Betancuria, you should definitely make a stop first at this place to admire the view and maybe enjoy a cup of coffee.
The entire place for designed by Cesar Manrique, the famous architect native from Arrecife, in Lanzarote, who is responsible for many of the attractions on the neighbor island.
A beautiful garden will welcome you at first and you have to follow a set of stairs towards the observation platform.

From there you can admire the entire Valle de Santa Ines, the volcanoes near Tiscamanita, the town of Antigua and all the way towards Corralejo and the north of Fuerteventura.
On some days the wind here can be pretty strong, so you might want to bring a cardigan or a jacket with you.
Inside the building of the mirador, you can find a small cafe, where you can have a snack and something to drink, while admiring the view through the amazing glass wall.
From the mirador, you get a wide view of the landscape of plains and volcanoes, which make up the northern and central part of Fuerteventura.
After you visit the mirador and continue on the way towards Betancuria, you should also make a stop at the Morro Velosa statues: Guise and Ayose.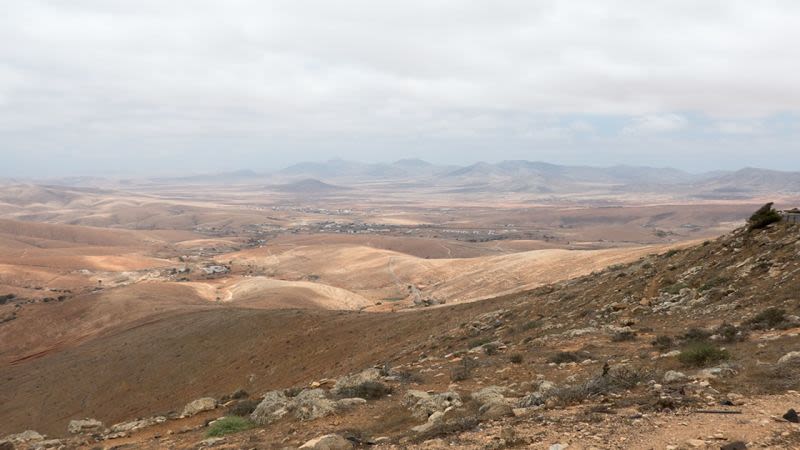 Address: Camino Velosa, 35637 Betancuria, Las Palmas, Spain
The entrance to Mirador Morro Velosa is free.
Parking is also free.
Opening hours: 10:00 - 18:00, Tuesday to Saturday. On Sundays and Mondays, the viewpoint is closed.
When the Mirador is closed, there is a barrier that prevents the access to the road that leads to it. For this reason, you must visit only during opening hours.