Morro Velosa Statues - The Legend of Guise and Ayose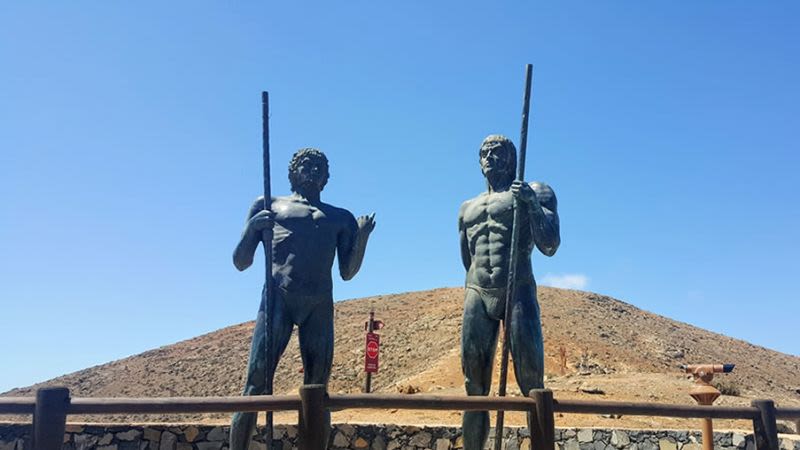 The Morro Velosa Statues are situated in the Rural Park Betancuria, very close to the viewpoint with the same name: Mirador Morro Velosa.
If you want to go to Mirador Morro Velosa as well, keep in mind that it is closed on Mondays, so go on any other day.
Mirador de Guise and Ayose or Mirador Corrales de Guize is situated at an altitudine of 600 m, in a place where you can see towards the north of Fuerteventura: the dunes of Corralejo, Tiscamanita and even El Cotillo.
The legend of Guise and Ayose - the history of Fuerteventura
In 1402 the Norman conquerors came to the island and found it divided between two kingdoms. The border of the two kingdoms is believed to have been at the actual location of La Pared today, but this fact is not known with certainty. Some historians say that the border was more up north, closer to the place were the mirador and the statues are built today.
Guise and Ayose were the kings leading these kingdoms and for a while they tried to fight against the strangers that wanted to conquer their island. But the Normans had a more advanced army than the native people of Fuerteventura, so they soon won the battles and became the rulers on the island.
Both Guise and Ayose were re-christened and given the names of Luis and Alfonso.
After the conquest, the town of Betancuria was formed and at that time it was called Santa Maria de Betancuria.
The line than ran between Puerto de la Pena and Barranco de la Torre would have been the boundary of the areas ruled by Guise and Ayose. Following a tradition kept until the 17th century, two annual leaders were chosen, one by Guise and one by Ayose and each one represented the interests of its people in the council.
If you're ever on this road you should make a stop to see the Morro Velosa statues and learn more about their history.
Parking
There is a small car park next to the statues.