Playas de Papagayo Beach - The most famous beach in Lanzarote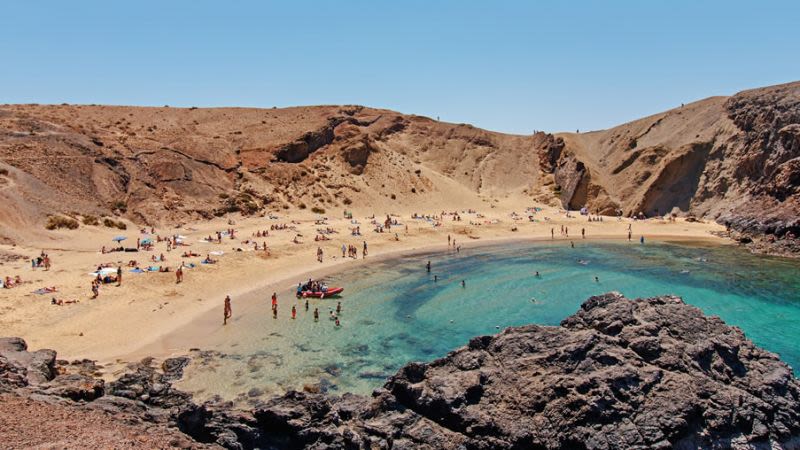 If you're looking for the most beautiful beaches in Lanzarote, then you needn't look further than Playas de Papagayo. Although located far away from any resort on the island, this collection of beaches are the pride and joy of Lanzarote and they are definitely worth a visit while you're on holiday here.
Papagayo Beaches: a collection of 5 amazing beaches in Lanzarote
Although most people talk only about Playa Papagayo, once you enter the natural park where the beaches are located, you will see that there is not just one beach to go to, but 5 beaches, spread over a relatively large area, with many beautiful spots.
Good to know - bring water and something to eat / snack if you plan to spend an entire day here since there is only one small restaurant and the prices are above average (understandable due to the location). There are no shops, so you need to bring with you anything you may want to consume.
Playa Mujeres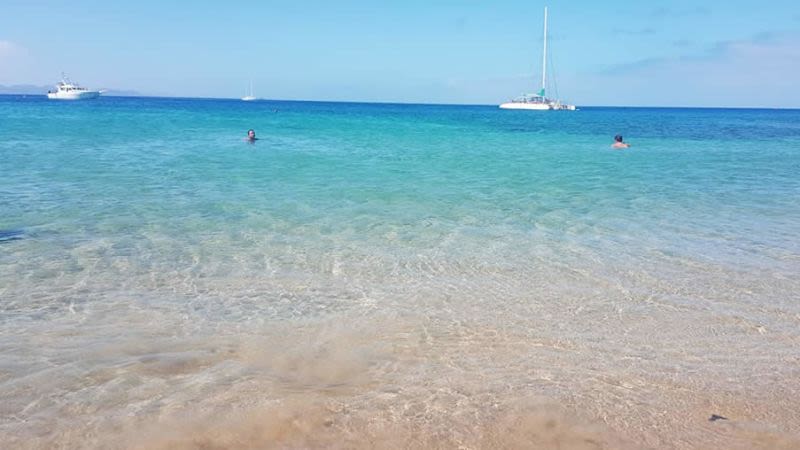 Once you pay the fee and enter the park the first beach that you will encounter will be Playa Mujeres.
There's plenty of room to leave the car right close to the beach, so you don't need to go far if you don't like driving on dirt road.
This beach is extensive but there is no natural shade, so you should bring an umbrella if you don't want to stay in the sun all day long.
Also, since this beach is very open, often times the wind brings up the sand, so it might feel unpleasant the mix of sand and wind.
However, the beach is beautiful and the water is turquoise and ideal for swimming.
Playa de la Cera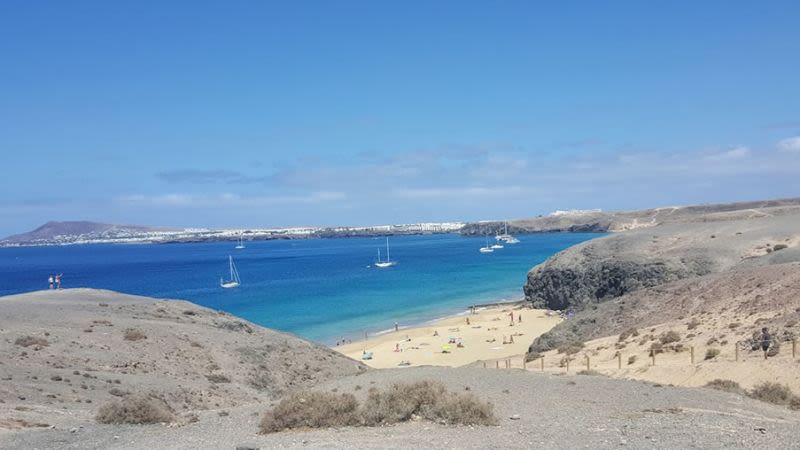 Playa de la Cera is the one situated right next to the famous Papagayo beach.
Once you get to the parking and see the restaurant in front if you go left you to go to Papagayo beach and if you go right, you will be at Playa de la Cera.
There is a dirt path that goes down to the beach from the car park and you can even find some spots in the shade, next to the giant rocks that shelter this beach.
In the summer this beach is pretty popular, which is not a surprise given how pretty it looks.
When the tide is low you can pass from one beach to another if you climb on the rocks that separate them, but you need to be really careful.
Again, the water at Playa Cera is a beautiful turquoise and ideal for swimming and there are lots of families with children that come to the beach.
See also our recommendations for the most beautiful beaches in Lanzarote
Playa Papagayo - the most famous beach in Lanzarote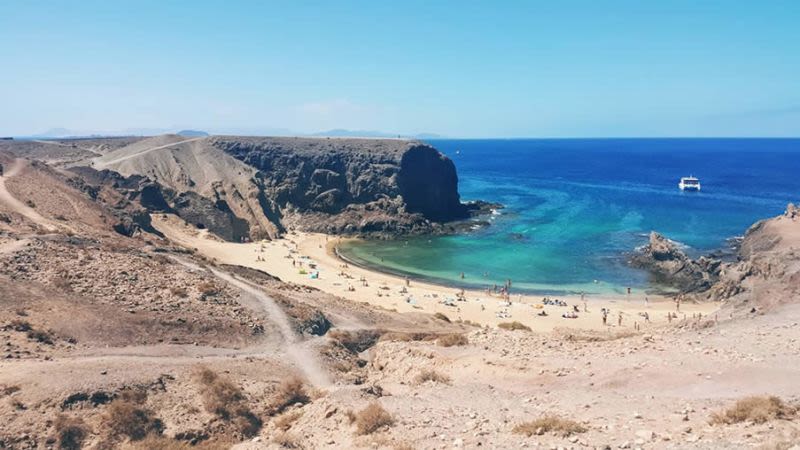 Once upon a time, this beach was a well-kept secret and not many tourists arrived on its shores.
Nowadays, Papagayo beach is the most advertised beach in Lanzarote and there are many boat trips that bring tourists here.
The beach is beautiful, there is no arguing about that, but be prepared for large crowds, especially during the summer weekends.
If you think that Papagayo beach is too crowded for your taste, then it's a good thing that there are still so many other beautiful beaches surrounding it, so you can switch places easily.
Personally, I prefer Playa de la Cera to Playa Papagayo, but since they are one next to the other, it's not much difference in crowd size during the summer days.
Caleta del Cangrio and Puerto Muelas
The next two beaches inside the Ajaches Natural Park are Caleta del Cangrio and Puerto Muelas.
You will see a sign to the left that points towards the direction where these two beaches are located.
Caleta del Cangrio and Puerto Muelas are less popular compared to Playa Mujeres, Playa Papagayo and Playa de la Cera, so if you're looking for a more hidden beach in Lanzarote, you might try your luck there.
Is the trip to Papagayo Beaches worth it?
YES!
There's no doubt, these beaches are simply beautiful and you should definitely pay them a visit while in Lanzarote.
However, we must say that access is difficult, if not impossible, for people with walking disabilities, since there is only a dirt road for cars and then dirt paths that lead to the beaches.
For families with children, these beaches offer plenty of space to explore and run around, so they would be great for older kids. However, remember that on most of these beaches there is no place to hide from the sun, so a parasol or a beach tent would be great to have with you.
Neither Playa Mujeres nor Playa de Papagayo is supervised by lifeguards, so you need to be careful when going into the water.
If you can, search online for the tide levels before heading to the beach and if possible, go when the tide is low.
This way you will be able to make the most of the trip, as it's easier to get around the beach when the tide is low.
How to get to Playa Papagayo from Playa Blanca
Situated inside Los Ajaches Natural Park, Papagayo beaches are located in the south of Lanzarote, very close to the resort of Playa Blanca, at around 10 km distance.
Drive from Playa Blanca to Playas de Papagayo
From Playa Blanca, you have to head East on to Calle de Papagayo and at the roundabout, take the second exit onto Avenida de Papagayo.
It is very easy to reach the beaches and there will be street signs.
You can also walk from Playa Blanca, depending on where you are staying, but in this case, you should make the trip early in the morning, before the heat gets too unbearable.
You could also rent a bike to make the trip, or take a boat excursion from Marina Rubicon than will take you straight to Papagayo Beach.
Honestly, we don't recommend walking there, since there is no shade anywhere on the road and in the afternoon it will probably be too hot for you to make the return trip to Playa Blanca.
Pickup included
Duration 4 hours
Lunch on board
Unlimited draft beer, sangria, soft drinks and water
Free cancellation up to 24 hours before the activity starts
Driving to Playas de Papagayo from the other resorts
From Puerto del Carmen
Puerto del Carmen is located 30 minutes away from Playas de Papagayo and around 27 km distance.
You first need to drive towards Macher, then take the LZ-702 road up to a big roundabout, where you will see a sign indicating the exit towards Papagayo.
From Costa Teguise
Costa Teguise is the furthest resort from Papagayo beach, situated at 45 km distance and 50 minutes driving time.
You need to take the LZ-2 road towards Tias, then the road is the same as from Puerto del Carmen.
Entry fee for Papagayo Beaches
Since the Papagayo beaches are located inside Los Ajaches Natural Park, a protected natural space, there is a fee of 3 Euros/day to enter by car.
You will enter the park by a dirt road that is in pretty good condition and is accessible for any type of car (even small cars).