Piedra Playa (Playa del Castillo) in El Cotillo, Fuerteventura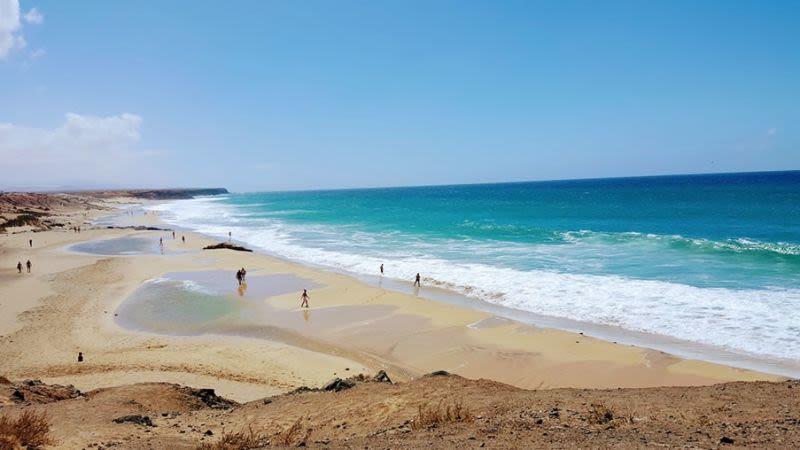 Piedra Playa, also known as Playa del Castillo is situated 1 km down south from the sleepy village of El Cotillo.
This beach is flanked by Castillo El Toston, the fortress from where the locals used to keep a watch over the north coast of Fuerteventura.
Access to the beach Piedra Playa
You can get to this beach by car, following a dirt road that will take you on top of the cliffs that surround this amazing beach.
You have to leave your car parked there and get down to the beach following one of the gravel paths. You just have to be careful and remember to take everything you need with you. You don't want to make this trip up and down too many times!
Playa del Castillo is still up to this day a wild beach, with no bars, restaurants, sunbeds or umbrellas.
Most of the visitors come here for the surf and there are lifeguards on-site during the summer months - from July up to October.
Just keep in mind that like most beaches on the west coast of Fuerteventura, the currents here are strong and oftentimes there are huge waves, so swimming is dangerous.
The landscape is however beautiful and you can spend at least half a day walking on this beach from one end to another.
Sometimes, depending on the tide, a few lagoons form on the beach and the water there becomes extremely warm, a great place for kids to play (although given the difficult access down to this beach, it might not be a good choice for families with young kids).
Playa del Castillo is a great spot for surfing
Playa del Castillo is a popular place for many types of watersports: kite surfing, surfing and windsurfing. The busiest months are the summer months, between July and September/ October.
There's no actual surfing school on the beach, but you can look around El Cotillo before heading to the beach.
If you're looking for a beach in El Cotillo where you can also swim, you should go to Playa de la Concha or to the lagoons.