Playa de Las Gaviotas - Nudist friendly beach in Tenerife North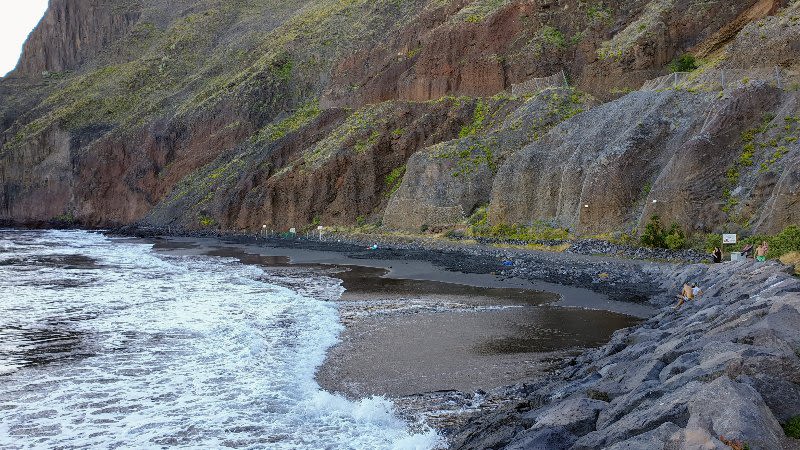 Located in the north of Tenerife, very close to Playa de Las Teresitas, Las Gaviotas beach is charming and well worth a visit if you have a rental car and want to explore the island's northern coast.
Getting to Playa Las Gaviotas from Santa Cruz de Tenerife is easy, and you can drive all the way to the beach, although there are not many parking spaces.
| | |
| --- | --- |
| Location: | Las Gaviotas, municipality Santa Cruz de Tenerife |
| Map: | see on Google maps |
| Size | Length: 250 meters; Width: 40 meters |
| Beach type: | Urban beach, Black volcanic sand |
| Access: | Easy access |
| Facilities: | None (no sunbeds, umbrellas, toilets or beach showers) |
| Nudist friendly: | Yes |
| Lifeguards: | No |
| Parking: | Yes (small parking, without room for many cars) |
| Public Transport: | Yes, line 945 |
| Wheelchair accessible: | Yes |
Las Gaviotas beach is actually situated very close to the much popular Playa de Las Teresitas, the golden sand beach for which Santa Cruz de Tenerife is famous.
Playa de Las Gaviotas is around 200 m long, with dark volcanic sand and is sheltered by a tall massif that helps protect it from the wind.
Playa Las Gaviotas is a nudist-friendly beach
Las Gaviotas is recognized as a nudist beach, so don't act too surprised when you arrive here. However, this beach is pretty isolated and away from the big tourist resorts, so the occupancy is usually low, especially during winter months. In summer, it gets crowded during the weekends, when the locals in Santa Cruz come here to escape the noise of Las Teresitas beach.
Although naturism is allowed on Las Gaviotas beach and it used to be a very popular beach for nudism, recent years have seen a change in terms of what sort of crowds come to enjoy this wild volcanic beach.
Nowadays, especially in summer, you will see a lot of families with children coming to spend the day at Las Gaviotas beach, so naturists might not find exactly what they were hoping for.
The proximity to Santa Cruz de Tenerife and the easy access by car and also by bus has transformed this once wild beach, in a popular weekend destination, for folks who don't like the artificial look of Las Teresitas.
But if you're coming to Playa de Las Gaviotas in winter, when you still get nice and sunny days even in the North of Tenerife, you'll find a virtually deserted beach, that you'll be able to enjoy all by yourself.
No restaurants or bars on Las Gaviotas beach
There are no facilities or restaurants close by, so if you want to spend some time here you should bring your own food.
There are no sunbeds, umbrellas or beach showers on Las Gaviotas.
There are also no restaurants or beach bars, which is why we recommend bringing your own food.
When to visit
The best time to visit is during low tide, so you enjoy the whole beauty of the place. Also, keep in mind the fact that because of its location and the tall mountain behind it, the sun disappears around 5 or 6 PM, so make sure to visit while the sun is still out.