Playa Paraiso, Tenerife - Things to do & Where to stay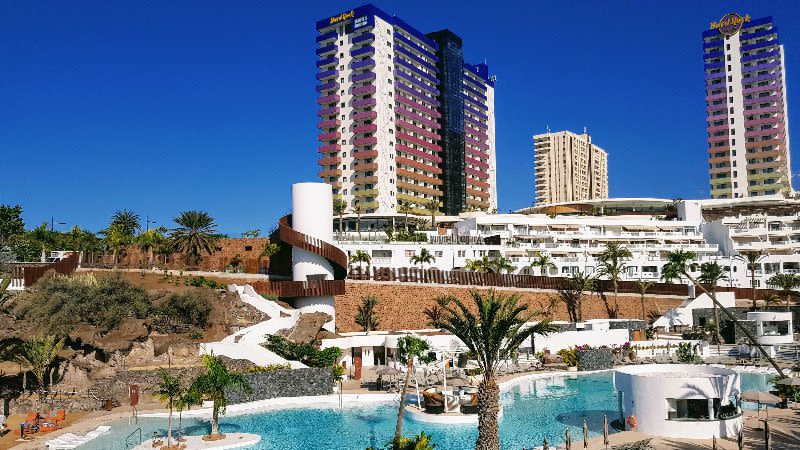 Playa Paraiso is a quiet and chilled place in Tenerife South, close enough to grab a taxi to the more popular resorts if you want to go for a night of fun, but far enough to enjoy a tranquil holiday in the sun.
Playa Paraiso is nestled on Tenerife's southern coast between Callao Salvaje and the popular Costa Adeje, with the quiet little resort of La Caleta in the immediate vicinity.
Where to stay in Playa Paraiso, Tenerife - Best hotels
Sunlight Bahia Principe Costa Adeje
Hotel RIU Buenavista
Although a small resort compared to Playa de Las Americas, Costa Adeje and Los Cristianos, Playa Paraiso is home to some big and popular hotels, especially for those looking to spend most of their time enjoying the facilities the hotel has to offer.
Hard Rock Hotel Tenerife is the newest addition in the chain of big hotels in the resort and it's the place to stay in Playa Paraiso if you're also looking for some nighttime entertainment, as they have theme nights like the popular Children of the '80s night. The Hard Rock Hotel has quickly gained a lot of popularity and is now among the most popular luxury hotels in Tenerife, due to its amazing entertainment, exquisite restaurants and top SPA facilities.
Beaches in Playa Paraiso
Although the beaches in Playa Paraiso are not the best you'll find in Tenerife, you still have easy access to 3 small beaches:
Playa Las Galgas - small little cove, close to the Hard Rock Hotel. It's a rocky beach, in a really unique natural landscape, between large rock walls of yellowish color. There are no facilities here and no beach bar or restaurant. The place is beautiful but be careful while swimming, as the rip currents can be strong and dangerous.
Playa El Pinque - another small beach with a rocky shore, right next to the Beach Club of Hard Rock Hotel.
Playa Las Salinas - A small and laid back beach, from where you get a gorgeous view of the sunset in Tenerife. At low tide, you can see various sea creatures under the stones like crabs or starfish.
What to do in Playa Paraiso
Besides enjoying your hotel's facilities and the bars and beaches in town, you can easily explore the surroundings on foot.
El Puertito
A small and still undeveloped beach in Tenerife, that can be reached on foot from Playa Paraiso, although the road back might prove more difficult as you'll have to climb back to Playa Paraiso.
If you have a car it's only a few minutes away driving.
La Caleta
La Caleta is yet another small nearby resort, that you could reach in 15 minutes by car.
Playa Diego Hernandez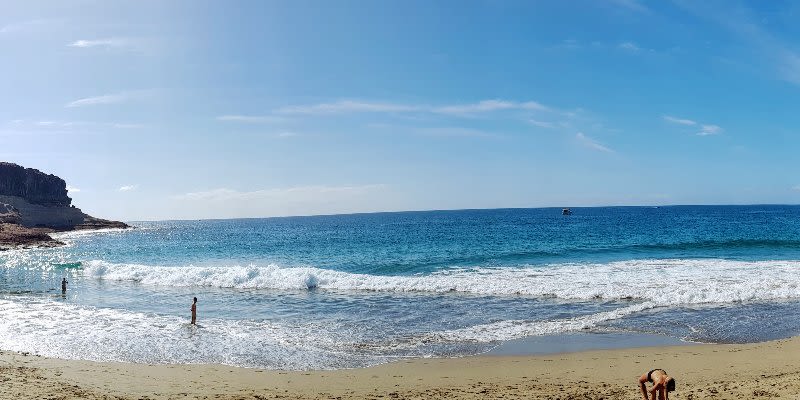 A beautiful and wild nudist beach in Tenerife, where you have to walk along the coast following the trail leaving from El Puertito.
It's a really gorgeous place and popular especially among naturists. However, compared to the beaches in the resorts it is still an undeveloped beach, one of the nice secluded beaches in Tenerife South, so you need to bring your own drinks and snacks, as it's completely undeveloped and you won't find any bars or restaurants there.
FAQ about Playa Paraiso, Tenerife
Can you walk from Playa Paraiso to Costa Adeje?
There is no paved path between Playa Paraiso and Costa Adeje. The path between Playa Paraiso and La Caleta can be quite dangerous in some places, as you will need to walk along the cliff's edges. But you can easily walk from La Caleta to Costa Adeje if you get a taxi to La Caleta. Or you can get the bus or a taxi all the way to Costa Adeje from Playa Paraiso.
What is Playa Paraiso like?
Playa Paraiso in Tenerife is a more laid back resort compared to Playa de Las Americas and Costa Adeje. You do get some shops and restaurants and easy access to 3 small beaches and the bigger and noisier resorts and only a few minutes away by taxi.