Rancho Canario Recipe - Authentic Canarian Cuisine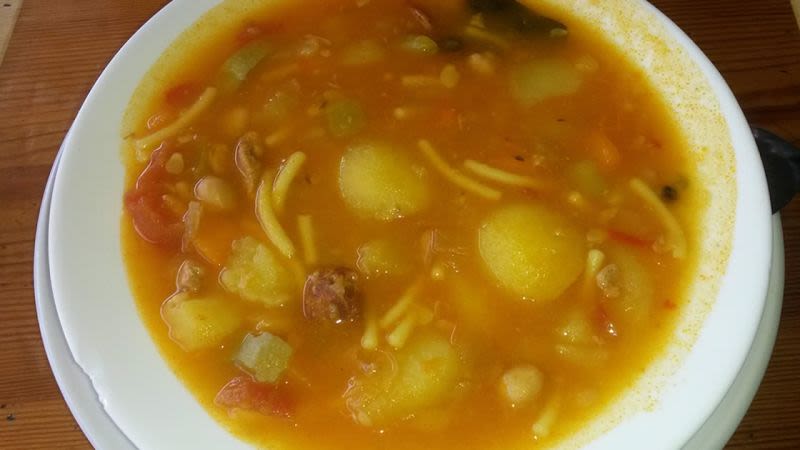 Rancho Canario is a popular type of stew, served in all the Canary Islands, so if you've visited an authentic restaurant during your holidays you might have tried it already.
The recipe usually calls for beef and chicken meat, but there are lots of variations and you can also add chorizo or smoked pork ribs for more flavor.
The recipe also calls for a special type of thick pasta, which you can easily find in most supermarkets in the Canary Islands. If you're making this at home and you can't find the exact kind, you can use a thicker type of spaghetti (they have a number on the package depending on their size - usually no 4 is good).
Ingredients for Rancho Canario:
250 g beef meat
250 g chicken meat
500 g chickpeas (soaked in water overnight)
500 g potatoes, diced
100 g thick pasta (like no. 4 pasta)
1 onion
2-3 garlic cloves
1 tomato
2-3 tbsp olive oil
1 tsp sweet paprika
1 bay leaf
salt and pepper
2 l water
Preparation:
1. Rinse the soaked chickpeas several times and then add them in a pot, along with all the meat and the water and bring everything to a boil. Let it boil covered for around 1 hour.
2. In this time prepare the sofrito or frying base: heat the olive oil in a pan and cook the onion until it's softened up, but be careful not to burn it. Add the garlic, tomato, paprika and allow them to cook for a few minutes.
3. After the meat and chickpeas are cooked through, add the frying base to the pot, the salt, pepper and bay leaf also. You could also add saffron for more color, or maybe some chorizo when you cook your sofrito.
4. Add the diced potatoes and allow them to cook for about 10 minutes.
5. The final step is to add the pasta and cook for another 5 minutes.
This recipe for Rancho Canario is great especially during the colder months, since it's a thick and hearty soup, almost with a stew-like consistency. It's definitely not the type of food popular on Instagram, since it does not look pretty in photos, but it's tasty and it represents a typical dish in the Canary Islands cuisine.
TRY ALSO