Shopping in Fuerteventura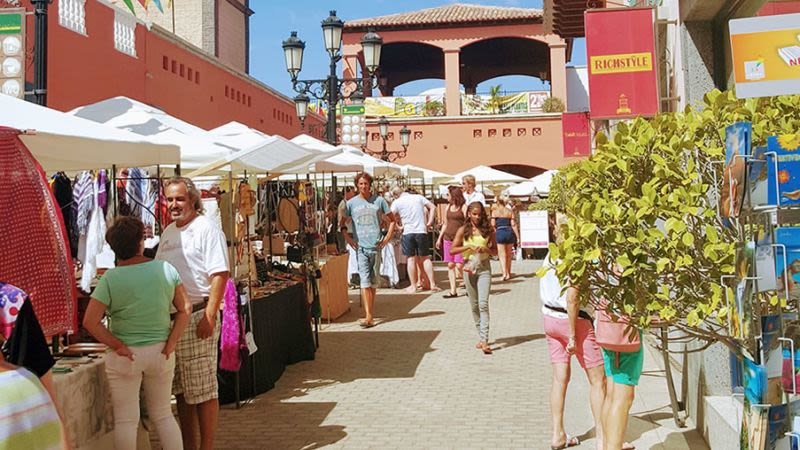 The shopping experience in Fuerteventura has changed a lot in the last few years, with more big brands coming to the market and new stors opening all over the island. From shopping center, to local shops and markets, now the locals and tourists as well have access to various products and brands, some at better prices compares to mainland Europe.
Shopping in Corralejo
Corralejo offers a good shopping experience espcially for tourists, but remember that prices for food items can be higher in tourist resorts compared to the rest of the island.
Supermarkets
Corralejo has several supermarkets: Hiperdino, Supermercados Inpescasa and Eurospar. It should be easy to find one close to where you are staying. There is also a big Mercadona in the south of the resort, near the Bahia Azul villas.
Shopping centers in Corralejo
C.C. Las Palmers
This commercial center is located on the main shopping street in Corralejo and it has a free underground parking.
There are some clothing brands: Zara, Mango etc, a sports shop, a Padilla supermarket and a few smaller shops.
Las Palmers is open every day of the week, including Sundays, from 10:00 to 22:00.
El Campanario
This shopping center is further from the town center, but it's really popular especially on Sundays, when there's a craft market going on.
El Campanario, true to its name, has a bell tower where you can go up to admire the view. Just avoid going to the top on the hour (for example 12:00, 13:00 etc) because the bell rings at that time and it can be really noisy.
El Campanario has an underground parking as well and there's a Hiperdino supermarket inside, as well as around 30 other shops (both local shops and international brands), plus some cafes and restaurants, some with really nice food.
Markets in Fuerteventura
Every resort in Fuerteventura and almost every bigger town/village has its own market day and you can go and visit some of them to buy souvenirs, jewellery or just to look around. You can see more details in our dedicated article to markets in Fuerteventura
Shopping in Puerto del Rosario
The capital of Fuerteventura offers also the best opportunities for shopping, but it always depends on what you after to buy.
CC Las Rotondas
Las Rotondas Shopping Center is the largest commercial center on the island, with a large Hiperdino supermarket and 2 floors full of shops, plus one floor serving as a food court.
You can find here the usual Spanish clothing brands: Zara, Bershka, Stradivarius etc, plus C&A also a cinema (good if you understand Spanish).
Las Rotondas is closed on Sundays.
In Puerto del Rosario you can find also the only Lidl in Fuerteventura, which is easy to get to if you have a car. Across the street from Lidl there's an industrial park and a large Chinese shop, where you find a lot of knick knacks at good prices.
Puerto del Rosario also has the pedestrian street with some local shops, but these shops usually close during the lunch hours (siesta) and then reopen in the evenings and the restaurants on the street as well.
Puerto del Rosario is the best place to come for shopping especially for residents in Fuerteventura, because here you will find also furniture shops and other types of specialized shops that you can't find the resorts.
Shopping in Caleta de Fuste
Since Caleta de Fuste is located very close to the capital it is fairly easy to go to Puerto del Rosario if you have to do some major shopping. But for visitors the shops that you will find in the resort will be just enough for most things you'll need: some groceries maybe, toiletries and snacks.
CC Atlantico
Atlantico Shopping Center may seem rather small, but it has a few clothing shops and jewellery stores. There's also a good Spar supermarket, which is rather useful for grocery shopping. It is open every day of the week, including on Sundays.
Caleta de Fuste also has 2 weekly markets, so if you're interested in in that please check our dedicated article linked above.
Besides the commercial center you will also find a lot of small shops with the usual souvenirs and a lot of chinese and indian merchandise, so look carefully before buying somethings, as most things you will be able to find repeatedly in many shops but at drastically different prices: example - the same beach towel can range between 3 to 6 euros, depending on where you buy it.
Shopping in Morro Jable
Unfortunately in the south of the island you won't find as many shopping opportunities compared to Caleta de Fuste or Corralejo.
There were a few shopping malls built, but some of them where abandoned during the financial crisis and haven't recovered yet.
There's also a weekly market and some local shops and souvenir shops in the old town and the pedestrian area of Morro Jable.
Shopping for perfumes and cosmetics in Fuerteventura
Perfumes and brand cosmetics can be cheaper in the Canary Islands compared to the UK and the rest of mainland Europe.
Fundgrube is a popular store chain that sells perfumes, make-up and cosmetics and you will find their shops in all the large Canary Islands.
Fundgrube stores in Fuerteventura:
Palm Garden in the town of Jandia
Avda. del Saladar s/n
Locales 2-9
Jandía, 35625
Las Palmeras in Corralejo
Centro Comercial Las Palmeras
Avda. Nuestra Sra. del Carmen, Local 5
Corralejo
Campanario inside the El Campanario shopping Center in Corralejo
Calle Hierro, 1
Centro Comercial El Campanario
Corralejo
Shopping for electronics in Fuerteventura
We would advise that you don't buy expensive electronics products while on holiday on the island, as sometimes the prices are larger compared to mainland Europe and there's also the question of authenticity.
Don't buy electronics such as phone, cameras etc from Indian shops or small street shops. Many of the products are not authentic and you should be suspicious if their price is much lower compared to the usual price elsewhere.