Tenerife in Autumn - What To Expect From The Weather?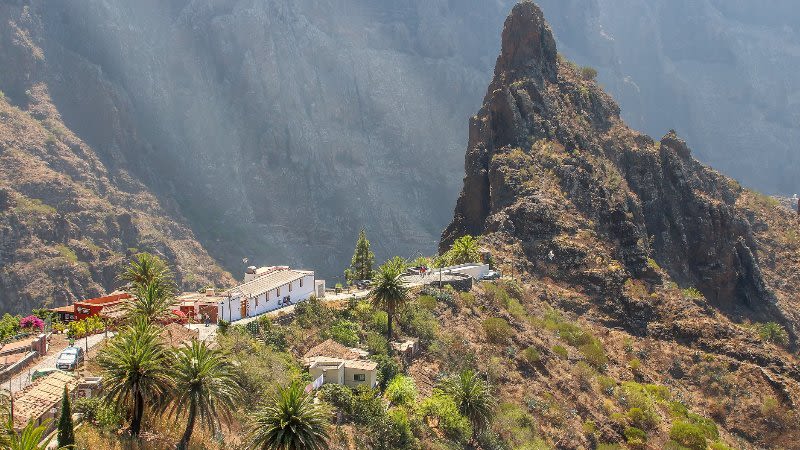 Tenerife is a year round holiday destination, with warm weather and sunny days during all seasons, while the temperatures stay fairly constant throughout the year, as opposed to the rest of Europe where they vary by a lot between winter and summer.
Should you come on holiday to Tenerife during the autumn months?
The short answer is... YES.
The long answer has all to do with the weather and what you can expect from it during this particular season.
Tenerife weather in autumn
While most other parts of Europe are starting to get plenty of rainy days and drops in temperature, the Canaries remain still warm most of the times, with temperatures almost feeling summer like (not as hot as southern Italy summers, but most likely warmer than normal summers in the Nordic countries... although climate changes have affected all places, so "normal" is not a relative term).
September and October can still be really hot in Tenerife, with temperatures even surpassing 30°C on some days. And although these types of temperatures are rarer in November, they will still be higher than 25°C on most days.
September and October is actually when the water temperatures is also at its warmest, perfect for swimming, so you might as well take advantage of that.
Average sea temperature in September: 23.7°C / 74.7°F
Average sea temperature in October: 23.6°C / 74.5°F
Average sea temperature in November: 22.1°C/ 71.7°F
Why visit Tenerife in autumn: 5 best reasons to come for an autumn holiday
Each season has its perks and its characteristics and these are the main reasons why you should should book an autumn holiday. If the warm weather itself isn't enough to convince you, then maybe one of the following things will.
1. Perfect weather for sunbathing
While places like the Greek islands or the Balearics are perfect for the summer months, by the time October comes around their holiday season is over, as the weather starts to turn cold.
This is not the case with Tenerife, so for a cheeky sunny holiday that will help you make it through the winter, you should come over and enjoy the sun a little longer.
2. Less crowded and more chances to get a better deal
Like you would expect, flights are costly especially during the school holidays, so if you are not bound by that, you should plan your trip outside of the school holidays.
The most expensive autumn week in Tenerife is (how you can probably imagine) during the autumn half term, so if you absolutely need to come during that time, make sure to plan well ahead of time, as flight prices go really crazy for those particular days.
Outside of that, you should be able to find some nice deals on accommodation and flights, even you decide on a last minute holiday.
Also, autumn is a great time to visit Tenerife is you are looking to avoid the big crowds at the beach and by the pool, because no one really wants to wake up early in the morning on their holiday, just to be able to find an empty chair by the pool at their hotel. With less people here, you won't have that problem anymore, so you can enjoy your day in peace and quiet (if that is what you are looking for).
3. Autumn is the best season for hiking in Tenerife
If you want to discover Tenerife by foot and explore its many paths and trails, then autumn is the best season for it.
In summer the temperatures during the daytime are usually too hot to be out in the sun making continuous effort while hiking, so in autumn and also in spring, the temperatures are just perfect for hiking, with fewer chances of rain compared to winter.
See the list with our favourite hikes in Tenerife (most of them are easy to complete even for beginners).
Even in autumn, our advice for walking in Tenerife (and even more for hiking) is to wear a hat, apply sun cream with high SPF, wear proper shoes and keep hydrated.
4. Visit the animal parks and water parks when they're less crowded
Especially in the case of Loro Park and Siam Park, they can get quite busy during the summer months, when many families come over to Tenerife for their family holiday.
If at Siam Park during the summer months you usually need to buy a fast pass in order to avoid the long queues at the main attractions, in autumn you'll have to wait shorter waiting times and the park will be considerably less crowded. The pools are heated at a comfortable temperature all year round and with the daytime temperatures of around 25°C, you will be able to enjoy the park better than you would during the busy summer season (plus you'll save some money, for for needing that fast pass).
Skip the line ticket
Printed or mobile voucher accepted
The same is the case for Loro Park as well, if you are able to visit sometimes in September, October or November (besides the half term school holiday of course). The shows won't be as crowded, it'll also be easier to find places at the restaurants to have lunch and also finding a place to park should be easier even if you don't get there first thing in the morning.
Skip the line ticket
Printed or mobile voucher accepted
5. Autumn is the best time for surfing in Tenerife
The Canary Islands are a perfect destination for surfers of any kind, experienced or just starting out to learn, and the best season for surfing in Tenerife are definitely autumn and winter.
Depending on your experience you might want to go to the North of Tenerife, in the area of Bajamar in the case of experienced surfers, or you might choose a place in the south like Playa de Las Americas or La Tejita if you are more inexperienced.
The fact remains that in autumn you can catch some of the best waves possible in Tenerife and it's the perfect time for those who want to learn also, with plenty of surfing schools available on the island and also some surf camps where you can get cheap accommodation as well.
So you see, Tenerife really is a great choice for an autumn holiday destination, especially if all you really want is to extend your summer for a bit longer and take advantage of the warm climate characteristic for the Canary Islands.