Tenerife Weather in August - It's the hottest month of the year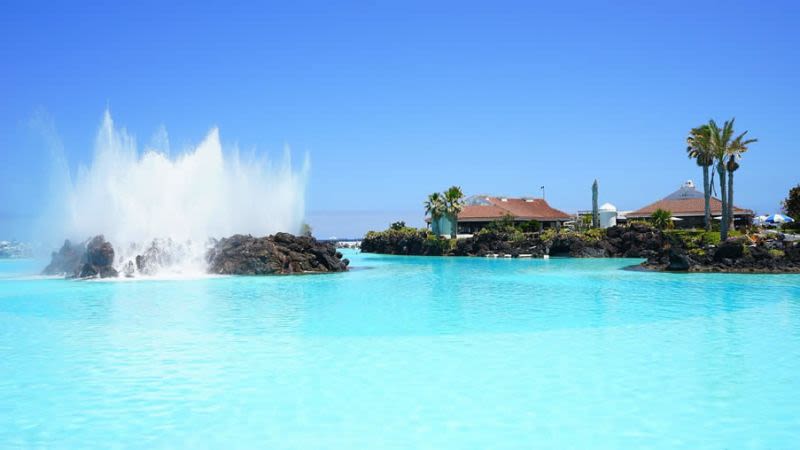 August comes with full-on summer temperatures, very low chances of rain and long sunshine hours all over the island. Tenerife embraces the summer weather in August and attracts the crowds that are looking for a hot place in the sun, where they can sunbathe and swim all day long without having to worry about rain.
August is the hottest month of the year in Tenerife
If Tenerife in July was already hot, in August it becomes even hotter.
The south of Tenerife starts to feel like a desert almost, with extremely high temperatures during the daytime and virtually no rain, which makes it look arid and lifeless almost in some places. The beaches all around the island are filled with tourists and locals as well, while they all enjoy this perfect weather for swimming even in places that are not accessible at other times of the year.
If you want to escape the August heat in Tenerife South, we encourage you to go north to explore other places that are harder to visit during winter or spring. There are lots of hikes and trails that you can explore in the Anaga Rural Park and the dense laurel forest may provide shelter from the otherwise blazing sun.
Weather in Tenerife South in August
Tenerife South in August is all about time spent at the beach, at water parks and swimming in the sea while it's still warm and pleasant.
During the summer months the water parks Aqua Land and Siam Park become very crowded with visitors, so be prepared to queue for most rides, even if you have a fast pass.
Advice for fast passes at Siam Park, especially during the months of July and August: if possible, arrive at the park early, as soon as it opens. Buy your fast pass when you get there, as they sell out fast. There are 2 types of fast passes: passes for mornings and passes for the afternoons. You should buy a fast pass for the afternoon slot and in the morning you can just regularly go on rides (without using a fast pass). The park tends to get busier after lunch anyway, and by that time you can use the fast pass you bought. This way you can make the most of your visit to Siam Park, especially when you are going in August, which is one of the busiest months at the park.
The weather in August in Tenerife South is mostly hot hot hot, with slim chances of rain, almost non-existent. This means that summer in the Canaries is a great season for outdoor explorations, as long as you remember to start your walks early and bring water with you and lots of sun cream. Climbing Montana Chayofita or hiking in Barranco del Infierno are two great options, easily accessible for everyone staying the south, but we strongly recommend to start your hikes early in the mornings, before the sun heat starts to feel like burning. The thing is that on most of these trails there are no places to hide in the shade, so the heat and the blazing sun will feel almost unbearable by lunchtime.
The south of Tenerife gets almost no drop of rain the entire month of August, so the landscape usually looks arid and barren, but none of that matters as everyone is attracted to the beaches anyway. Troya beach, Torviscas, Playa las Vistas, they all get packed with tourists in August, mostly families with kids, taking advantage of the school summer holidays.
In the area of Las Americas and especially the Veronicas strip there are lots of young people coming for the night clubs and parties on the beach, so it tends to get loud at night in those areas and music keeps on going 'till morning hours. So this not be the best place to stay in Tenerife if you are after a quiet holiday. Actually, for a chilled holiday in Tenerife, we would recommend that you avoid August altogether and if possible come in the second half of September, especially if you are looking for a romantic couple's escape.
Temperatures in Tenerife in August
August is the hottest month in Tenerife, when days are long and warm, the sea gets warm as well and everyone lounges on the beach or by the pool with a cocktail in hand. The temperatures in August in Tenerife often go above 30°C during the daytime and nights are warm as well.
In Tenerife South, you can expect maximum temperatures around 33°C - 35°C (91.4°F - 95°F), and the area of Santa Cruz de Tenerife can be equally hot sometimes, with days of calima which can occur during this time of the year.
At night you can expect minimum temperatures around 20°C (68°F).
Record low & record high temperatures
The highest temperature ever recorded at the Tenerife South Airport station in August was 44.3°C (111.74°F) and the lowest was 17.1°C (62.78°F).
Rainfall
August is a dry month in Tenerife and the south hardly ever receives any rain.
Even in the North, the chances of precipitation are below 20% across the month, and even if it happens to rain it will be light rain or a drizzle, not the endless rains that fall sometimes in winter and even autumn/spring.
The last month of summer in Tenerife South almost comes with the guarantee of no rainy days, so don't hesitate to book your holiday due to this concern.
Sunshine hours
Tenerife gets an average of 10.5 hours/day of sunshine in August. The sun continues to shine for long hours, which means that the weather in August in Tenerife is still perfect for sunbathing and swimming.
Sea temperature in August in Tenerife South

The average sea temperature in August in Playa de las Americas is 22.9°C / 73.2°F.
In Tenerife South the ocean is just perfect for swimming in August. The natural pools around the island are also a pleasure to swim in and you should explore some of them, like Charco de la Laja, near San Juan de la Rambla.
August is a busy month in Tenerife, so we recommend you to explore further from the busy south if you want to escape the crowds (as much as this is possible). The weather is usually so warm and nice in August that swimming is a MUST, even if you don't spend the entire day at the beach. These are places we recommend visiting in August in Tenerife:
Garachico natural pools
Join the fun and the locals and swim in what are probably the most famous natural pools in Tenerife. It is not possible to swim in the natural pools of Garachico in winter, so so take advantage of the season and do it now.
Playa de Benijo
One of the wildest and most photogenic beaches in Anaga, Playa de Benijo is one of the places you shouldn't miss when visiting that part of Tenerife. The view at sunset is particularly beautiful and it is worth staying in the area for those special moments.
Lago Martiánez in Puerto de la Cruz
Similar to Parque Maritimo in Santa Cruz de Tenerife, Lago Martianez is a collection of saltwater pools in a location designed by Cesar Manrique as well. There are 4 swimming pools for adults and 3 for children. Lago Martianez is particularly popular during the summer months, otherwise, the water might feel too cold for swimming for many visitors (the pools are filled with seawater every two days).
Events in August
Magic Nights at Siam Park in August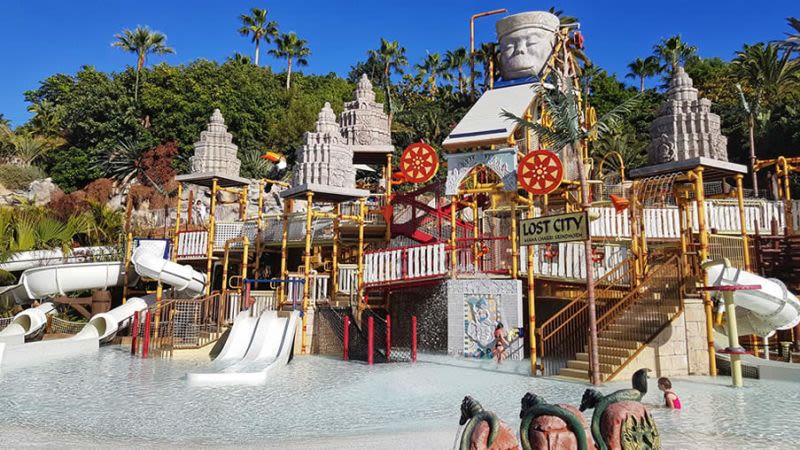 UPDATE: In 2021, due to the pandemic, these special events are not being organized anymore. Let's hope that we will get to enjoy the Magic Nights at Siam Park once again in the future!
Only in July and August, you get the chance to enjoy a special experience at Siam Park, one of the best water parks in Spain!
Magic Nights are usually organized only on Fridays and Saturdays of July and August and you can experience the same thrilling rides under the magic of the night in Tenerife South.
FAQ about visiting Tenerife in August
How warm is Tenerife in August?
Tenerife can be very warm in August, so in the south, of the island, you can expect maximum temperatures around 33°C (91.4°F) during the day and minimums around 20°C (68°F) at night.
Is Tenerife too hot in August?
For some people, August may be too hot, especially if you happen to be there while there are days of calima or if temperatures rise above 36°C (96.8°F) during the daytime.
Is Tenerife busy in August?
Tenerife is usually quite busy in August, with many Spaniards from the continent coming over for a holiday, as well as many international visitors.