Tenerife Weather in February: What Temperatures Can You Expect?
Tenerife is an all year round destination - people come here for different reasons and during all seasons, because winter is considered one of the high seasons in Tenerife, since the island is one of the places where you can escape the cold in Europe.
It's true that January and February are the months with the most rain in Tenerife, but it's still better than the snow most countries in Europe receive during those same months.
How warm is Tenerife in February?
The truth is that due to climate changes, the weather has become pretty hard to predict.
Rain in Tenerife in February is mostly in the north of the island and less in the south, although it's not unusual to get stormy days in the south as well. Rainy days are usually accompanied by storms and wind bursts, but they usually don't last for long in the south.
During our 2018 holiday in Tenerife in February we had only sunny days in the south and we got to spend our time on the beach relaxing. We also made a trip to Candelaria and although it wasn't as warm as in the south of Tenerife, the temperatures were still around 18° - 19° Celsius and the weather was sunny, so it was a good day.
In our perception, Tenerife is the warmest Canary Island during winter, and definitely one of the top choices for a sunny and warm winter break in Europe.
What's the weather like in Tenerife South in February
If you're looking to get some winter sun, choose a hotel or a villa/apartment in the South.
We love the north of Tenerife as well, it's really beautiful and authentic, but we wouldn't choose it as our base during the winter months. We always stay in the south and we often make day trips to visit the north as well. But knowing that in the evening we get to come back to the pleasant warmth of the south makes all the difference.
In the south of Tenerife temperatures during the day were of around 23°C to 25°C, but with the sun shining it felt even hotter than it actually was.
The beaches in the south of Tenerife were full of people even in February, as the weather was lovely most days and we were able to get a tan in the middle of winter.
Los Cristianos Weather in February
Los Cristianos is one of our favourite destinations in Tenerife and we spent a few days on the beach here. Actually, we thought that the water temperature in Playa de Los Cristianos was the most acceptable out of all the beaches we visited this winter. Of course, this is totally a personal opinion, not a proven scientific fact. But, if it helps, there were lots of children playing in the ocean at this beach and at Playa del Camison also.
Average temperatures
Well, if you're looking for extremely high temperatures and roasting weather, then visiting Tenerife in February might not be the best choice for you.
Tenerife will probably welcome you with mild temperatures in the low and mid 20°s Celsius if you decide to stay in the south.
We are addicted to visiting Tenerife in winter because it's less crowded than during the summer months and the atmosphere is more chilled. There are fewer families with children and more mature couples, who sometimes spend the entire winter season in Tenerife.
Average high temperature: 22°C (71.6°F)
Average low temperature: 15.1°C (59.2°F)
Daily mean temperature: 18.5°C (65.3°F)
In Tenerife South, the daily mean temperature is 18.5°C in February, which is calculated as a mean between the average high temperature of 22°C and the average low of 15.1°C.
Record low & record high temperatures
The highest temperature ever recorded in Tenerife in February (at Tenerife South Airport station) was 30°C and the lowest temperature was 9.8°C.
Rainfall
Average rainfall: 20 mm
Average rainy days: 2
Statistically, January and February are the months with the most rain in Tenerife.
But if you plan to spend your holiday in the south of Tenerife, the prospect of rain shouldn't scare you too much. Yes, there are chances of rain, but it will still be warmer than back home.
Also, the sun doesn't come up as early in the morning as it does during summer, so expect to get cloudy mornings. We are not put off by this and we enjoy the chilly air early in the morning while walking on the beach when no one is around.
However, the weather is always unpredictable, so if you do get a few days of rain, check out our article about what to do in Tenerife when it's raining.
Snow in February

Can it snow in Tenerife in February?
YES, it can happen. But not in the south of the island. You will not see any snow covered beaches in Tenerife.
You may, however, see the top of Mount Teide covered in snow from the comfort of your sunbed. Snow in Tenerife is not unusual during the winter months, but it does NOT snow in the area of Los Cristianos, Playa de las Americas, Costa Adeje, or the other popular tourist destinations located in the south.
Sunshine hours
Monthly sunshine hours in February: 209
Daily average sunshine hours: 7
UV index: 6
Tenerife gets an average of 7 to 8 hours/day of sunshine in February, which is really good for a winter month.
The UV index is higher than it was in January, situated at a 6 on a scale that goes up to 11 as max.
Sea temperature in Tenerife South

This is the average temperature for the sea temperature in February in Playa de las Americas:
Average water temperature: 19.5°C / 67.1°F
The sea around Tenerife can be too cold for most people to swim comfortably in February.
But not all years are the same, and in 2019 for example not only did we swim almost every day in Tenerife South, but we also went swimming in Playa de Las Teresitas, which is located close to Santa Cruz de Tenerife, so pretty far from the sunny south.
February weather averages for different parts of Tenerife
For those of you who wonder how warm is Tenerife in February, you have below a list of temperatures for this month.
February Weather
Average
High °C (°F)
Average
Low °C (°F)
Rain
mm (inches)
Rain
Days
Average
Sun Hours
Puerto de la Cruz
21 (69.8)
15 (59)
36 (1.42)
6
7
Tenerife North Airport (SC La Laguna)
16.7 (62.1)
10 (50)
70 (2.76)
7
6
Izana (Teide)
8 (46.4)
1.3 (34.3)
67 (2.64)
4
8
Santa Cruz de Tenerife
21.2 (70.2)
15.3 (59.5)
35 (1.39)
7
7
Guimar
20.1 (68.2)
12.9 (55.2)
43 (1.69)
4
7
Tenerife South Airport
22 (71.6)
15 (59)
20 (0.78)
2
7
Los Cristianos
22 (71.6)
15.1 (59.2)
20 (0.79)
2
8
Costa Adeje (Playa de Las Americas)
22 (71.6)
15.1 (59.2)
20 (0.79)
2
8
Garachico
18 (64.4)
11 (51.8)
54 (2.13)
6
7
What to expect from a winter break in Tenerife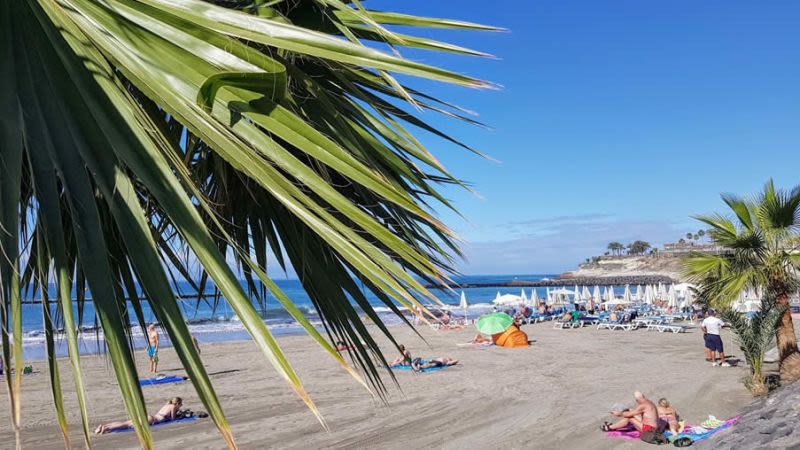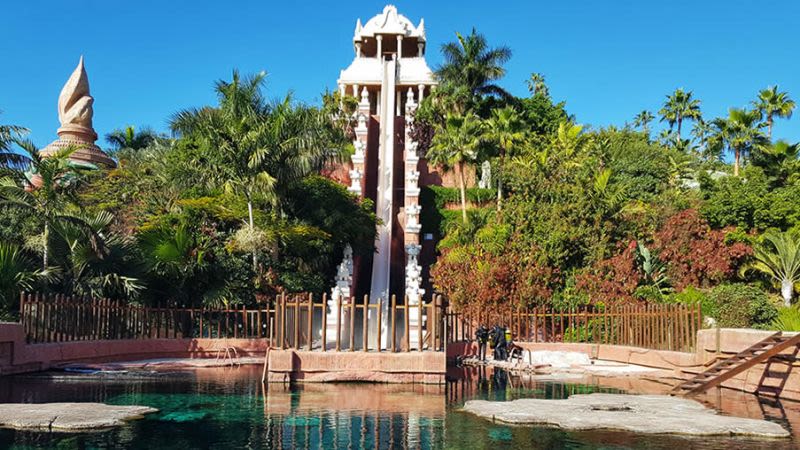 February is usually carnival month in Tenerife, so check out the carnival in Santa Cruz if you want to participate in the largest event of its kind in Europe.
During the day, you can "work" on your tan and chill by the beach with a cold beer in hand. Yes, you can still find a 1 Euro pint in some places in Tenerife, but 1.5 to 2 Euros is not so bad either, when you get to have your drink with an ocean view.
Go to Siam Park on a warm sunny day
The pools are heated and for us the temperature was perfect.
In winter Siam Park is less crowded than during summer, so we didn't even need a fast pass.
Winter is also a good time to explore the island, as there are so many amazing things to do in Tenerife and it would be a shame to sit in one place only throughout your entire holiday.
Is Tenerife hot in February?
For our family, winter months in Tenerife are ideal. We escape the cold back home and enjoy the island with fewer crowds and hustle and bustle. Yes, we don't get those HOT scorching days as you get in July or August, but we don't like it when it's that hot anyway.
If you're planning a winter holiday to Tenerife you can read our other articles on the subject:
Warmest destinations in Europe during winter
Should you go on holiday to Tenerife in February?
Honestly, you're the only one who can answer that question.
There's no guarantee anymore when it comes to weather; but if you're on the lookout for a holiday to relax and unwind, Tenerife is the perfect place. You just have to do some research to find out when is the best time to visit Tenerife for you and your family, according to your needs and expectations.