Tenerife Weather in March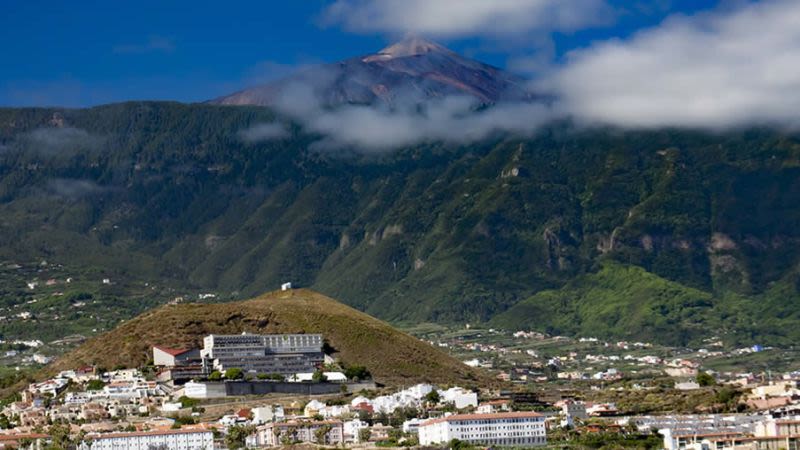 March is still a cold month pretty much all over Europe, so we understand that you're looking for a warm place to holiday at this time of year.
Tenerife is the most popular destination in the Canary Islands and the main reason is the great weather in the South.
Weather in Tenerife in March
March can be a tricky month.
Mid-February until end of March marks the changing of seasons in Tenerife, the passing from winter to spring and so it can bring some rainy days and even storms.
Although it may sound funny to "hear" us speaking about winter in Tenerife, because the weather is still sunny and warm especially in the south of the island, the fact is that there is a shift between seasons even in the Canaries and there's no point in denying the fact.
The north of the island is still considerably colder than the south and also more prone to rain, so during this month we would advise you to stay in Tenerife in the southern region, were you have the best chances for a sunny holiday.
How warm is Tenerife in March?
The short and truthful answer is: it depends.
If you're in the South, temperatures will probably be above 22°C on most days. In the north it will be cooler and at night you will still definitely need a cardigan or a jacket.
But if you are from countries like the UK, Germany, or from countries in Northern Europe, then the weather in Tenerife in March will be much warmer than back home. When continental Europe can still struggle under heavy snows than refuse to go away, Tenerife remains a sunny paradise that is close enough for you to reach in about 4-5 hours depending on where you are.
It is still possible to get some stormy days even if you are staying in the area of Los Cristianos and Las Americas, but the goof thing is that there are plenty of things to do in Tenerife even when it's raining. It's true that sometimes you can look up at the weather and find a place on the island that is untouched by bad weather, so you can rent a car and go on an excursion for the day. But it's also true that on some days there's no escape from rain, storms or bad weather in general and you shouldn't allow this to spoil your holiday here.
What should you pack for a spring/winter break in Tenerife in March?
Bathing suit
UV protection lotion (or you can buy it locally - but it's important to never skip on it)
A light jacket (preferably waterproof)
A cardigan or a thicker button down shirt, that you can layer if needed
Long trousers
Closed footwear - in case of rainy days
For more info on the subject you can read our article about what to wear in Tenerife.
Things to Do & Tenerife Weather in March
March can be a great month for surfing in Tenerife. You can catch some great waves in the north of Tenerife or in the area of El Medano, and it's a great time if you love water sports.
Beautiful colors around Teide National Park in March.
Temperature in Tenerife in March
LOS CRISTIANOS temperatures - MARCH 2018
Max. temperature during daytime: 26 °C
Min. temperature during daytime: 21 °C
Max. temperature during nighttime: 18 °C
Min. temperature during nighttime: 14 °C
COSTA ADEJE temperatures - MARCH 2018
Max. temperature during daytime: 25 °C
Min. temperature during daytime: 21 °C
Max. temperature during nighttime: 18 °C
Min. temperature during nighttime: 14 °C
SANTA CRUZ DE TENERIFE temperatures - MARCH 2018 (the capital of the island)

Max. temperature during daytime: 24 °C
Min. temperature during daytime: 14 °C
Max. temperature during nighttime: 14 °C
Min. temperature during nighttime: 8 °C
As you can see, temperatures in Tenerife in March are similar between towns and resorts in the south, but the temperatures can drop in the north, where it also rains more compared to the south.
What about rain in Tenerife in March?
Although January and February are considered month with more rain than March, you can still expect to get some rainy days as well.
Usually you will encounter more rain the north of Tenerife, so if sun is what you're after, you should stay in the south and use it as a base, even if you want to explore the island from there. We honestly love the north of the island, but we usually stay in Tenerife south, just to make sure that we have more chances for warm weather and sunny days. And when the weather permits it, we venture out to the north and spend as much time as possible there.
However, rain in itself can bring a different experience if you don't let it spoil your day.
For example, every time we went to La Oratava (and I really mean EVERY TIME, literally) it has been raining. The last time we went it was just cloudy while we stopped to get some lunch in a guachinche and we were just comment on that: "Wow, we are here and there's no rain!"
Turns out...we spoke too soon. 5 minutes after we left the guachinche the rain began. And it wasn't just any rain. It was horizontal rain - something that you can experience mostly in this area or in the Anaga forest and as we said... it's an experience in itself and you shouldn't allow it to spoil you day or your opinion about Tenerife as a holiday destination. We have some great memories from that day and the fact that it rained that way made the entire day special. After all... what would be a visit to La Orotava for us with no bit of rain?
Water temperature in March in Tenerife South

These are the average numbers for the sea temperature in March for Playa de las Americas:
Max: 20.4°C
Avg: 19.3°C
Min: 18.3°C
You can also read about weather in Tenerife in December, if you're trying to decide when to come for your winter holiday.
March is still a month when it can be cold to swim in the ocean, but you can still find small coves with warmer water, where you can go in. It also depends on how every person tolerates the water temperatures. For many people 19 °C is warm enough to go in for a swim. If you wear a neoprene suit you will probably be ok to go in at any time of the year.